Grill Like an Italian with Colavita: Caper-Pesto Grilled Chicken with Crushed Tomato Pasta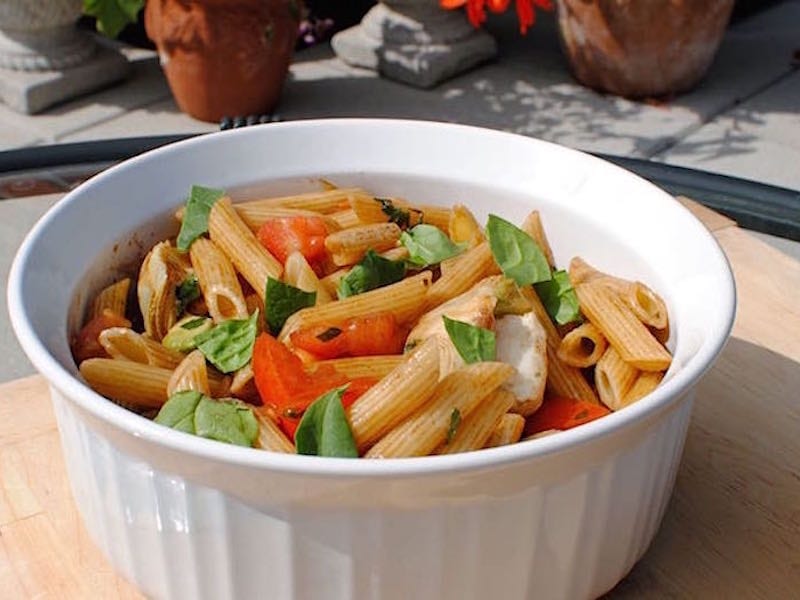 PARTNER POST — Grilling season is here and it is time to explore Italian grilling with authentic ingredients from Colavita.
Even if you don't have a sprawling backyard to barbecue in, grilling with simple Italian staples can be so easy and flavorful.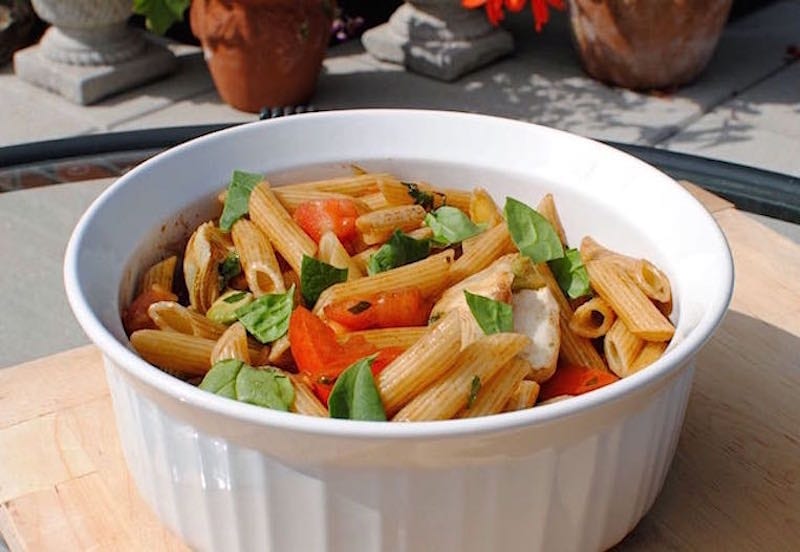 If you live in an urban city, outdoor grilling can be hard to come by. Most of us don't have the luxury of space – backyards, patios or even a balcony to perch a grill on. But, that doesn't mean grilling is out of the question!
You CAN cook without an open wire grid iron grill. Grilling is a cooking method that uses directly applied dry heat to food from above or below (when the heat comes from above, that's broiling!). A branding cast iron skillet, grill pan or panini press can mimic directly applied 'dry' heat of a traditional, large grill.
Nothing is more simple – or delicious – than grilling Italian style. Using flavorful Italian ingredients – like brine-y capers, luscious crushed tomatoes, herbaceous pesto, and delightfully acidic vinegars – summer grilling a la Italiana is my summer go to. I love grilled chicken and pesto, so it was only so natural to put them together for an easy grilled chicken. I used Colavita's roasted garlic olive oil for extra savory flavor and crushed capers for a flavorful bite.
My secret (not-so-secret anymore), easy to pull together dish is pasta salad. In about 20 minutes flat, I can have a large bowl of cooling pasta salad to feed a crowd, heaping with fresh veggies and tons of flavor. Instead of using bottled salad dressings, I like to make my own by using extra virgin olives oils, balsamic vinegars and (get this) crushed tomatoes. It's like a secret serving of vegetables.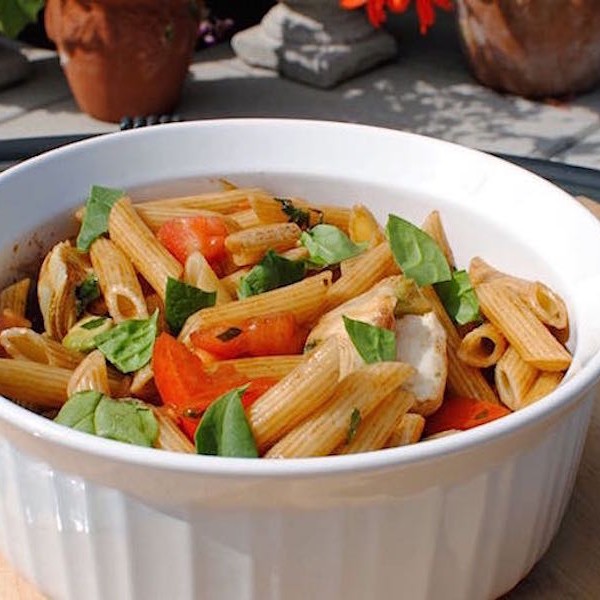 Marisel Salazar
Ingredients
Caper Pesto Grilled Garlic Chicken
1

tablespoon

Colavita Roasted Garlic Extra Virgin Olive Oil

Rachael Ray Salt from the Sea and Malabar black Peppercorn grinder

4

boneless

skinless chicken thighs

2

tablespoons

Colavita capers

4

tablespoons

Colavita pesto sauce
Crushed Tomato Pasta Salad with Grilled Artichoke Hearts
1 16

oz.

box your favorite short-cut pasta

like penne or rotini

1 6

oz.

jar of marinated artichoke hearts

1

plum tomato

cubed

1/2

of an avocado

cubed

1

box Cirio Italian Crushed Tomatoes with Basil

2

tablespoons

Colavita Extra Virgin Olive Oil

1

tablespoon

Colavita Balsamic Glace Original or White Balsamic Vinegar

Rachael Ray Salt from the Sea and Malabar black Peppercorn grinder
Instructions
Caper Pesto Grilled Garlic Chicken
Heat oil in a large branding cast iron skillet or grill pan over medium high heat. Season both sides of chicken with salt and pepper. Place chicken in pan and cook until golden brown and "grill marks" appear, about 3-4 minutes each side.

Meanwhile, mash capers with a fork. Mix mashed capers with pesto sauce until thoroughly combined.

Serve chicken with pesto spooned over the top.
Crushed Tomato Pasta Salad with Grilled Artichoke Hearts
Bring a large pot of lightly salted water to a boil; cook pasta until tender or al dente (firm to the bite), about 8 minutes; drain and rinse under cool water. Set aside.

While the pasta boils, drain artichokes. Heat a branding cast iron skilled or grill pan over medium high heat; sear artichoke hearts until slightly blackened or char marks appear. Remove from heat.

Combine grilled artichokes, tomato, avocado, crushed tomatoes, olive oil and vinegar. Season with salt and pepper to taste. Note: For a lighter colored pasta salad with a lighter flavor, use white balsamic vinegar. For a tinted pasta salad with stronger flavor, use original balsamic vinegar.
Marisel Salazar
Marisel Salazar lives and works in New York City as a food writer, enthusiastic home chef and restaurant habitué. She comes to NYC by way of Panama and Japan, which imparted on her a deep love of tortillas (the thick, fried sort), sashimi and noodles.