This fragrant Green Veg Curry can be thrown together in 15 minutes, it's quicker (and healthier) than ordering in. All will love it, and it is great served with quinoa. Quick, mid-week comfort food for the family.
By Martyna Candrick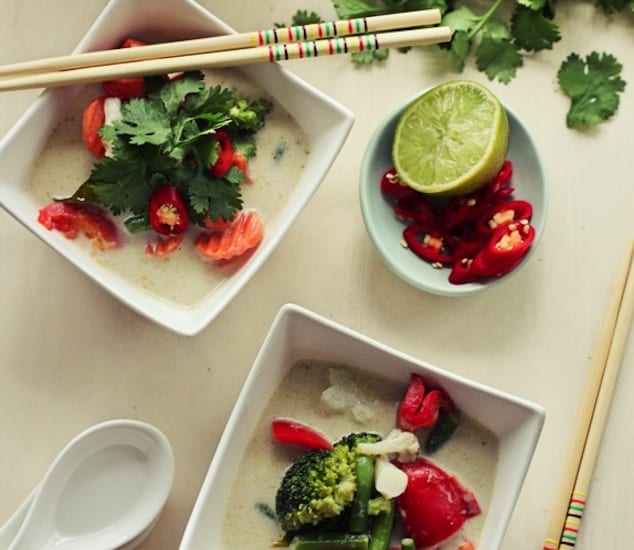 A 15 minute number that is beautifully fragrant with the aroma of fresh kaffir lime leaves and just the right amount of heat from the green curry paste. Frozen veggies make the bulk of this dish, and are a nutritious fall back for when you don't have time to shop, wash and chop fresh ingredients. I always keep a bag in the freezer. If we are especially hungry I add a thinly sliced organic chicken breast to the curry and let it poach for a few minutes. Otherwise, we are quite happy to go vego on this as well or add a can of chickpeas to bulk the dish out.

Green Vegetable Curry
The recipe suggests 2-3 tablespoons of paste to be used, I'd start with two and add the extra tablespoon gradually. For vegetarian and vegan versions, try looking using a shrimp-free curry paste – look for the Lamyong brand in your health food store or order directly online. You can also add thinly sliced chicken breast to this curry to bulk it out. I suggest serving with steamed Quinoa Rice.
Ingredients
1 tablespoon coconut oil
2-3 tablespoons green curry paste (shrimp-free if you can get it – see note above)
½ small capsicum, cut into chunks
1 (270ml) can coconut milk
1 cup water
6-8 medium fresh whole kaffir lime leaves
3 cups (300g) organic frozen vegetable mix (cauliflower, broccoli, carrot and green bean mix)
Optional: 1 (400g) can chickpeas, rinsed
To Serve:
1 sprig coriander, chopped
1 red long chilli, sliced thinly
1 lime, cut in half
Instructions
Heat coconut oil in a medium saucepan over medium heat. Add curry paste and capsicum and allow to sizzle for a minute, stirring. Pour in coconut milk and water.
Gently crush kaffir lime leaves with your fingers and drop into the liquid. Increase heat to high and bring the liquid to a boil.
(If using thinly sliced chicken breast, add it in here and cook for two minutes, bringing the liquid back to the boil).
Add frozen vegetables and chickpeas, if using. Bring back to a boil then reduce heat to a simmer and cook for a further 5 minutes.
To serve:
Serve hot with a sprinkling of coriander leaves, sliced chilli and a squeeze of lime juice.
Martyna Angell
Martyna is a Polish-born Australian recipe developer and food blogger. Her creativity and passion for good food shines through in many of the delicious and easy to prepare meals which she cooks, styles and photographs for her blog, Wholesome Cook. Fresh cream-filled eclairs are her only weakness.