Brady Evans with a healthy brown rice dish dosed in parsley and sesame seeds.
By Brady Evans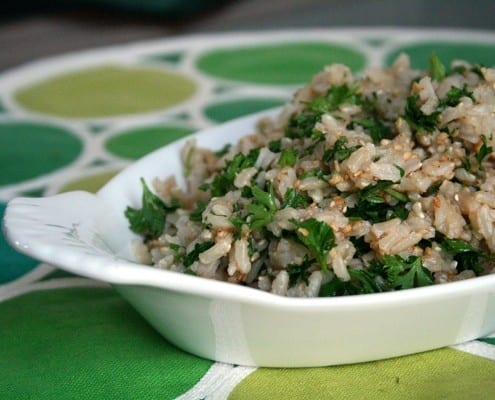 Sometimes I spend so much time investigating main courses that I totally forget the other parts of the meal.  This recipe is so good, however, that it'll make you forget the main course. The tiny toasted sesame seeds add such a nutty flavor and the copious amount of parsley keeps the dish light and fresh.
I served this dish with simply sauteed squash but I think it would be a great accompaniment for salmon, or any fish really, or chicken.  Or beans.  Or anything.  Or nothing.  Just alone.  Yum.

healthy brown rice dosed in parsley and sesame seeds
Author:
adapted from the Natural Cookbook
Ingredients
1 cup (240 mL) brown rice
5 cups (1 L) water
½ cup chopped parsley
¼ cup sesame seeds
1 tablespoon olive oil
1 tablespoon soy sauce
Instructions
Bring water to a boil and add rice.
Cook rice 30 minutes or until tender.
Pour water and rice through a fine strainer and return drained rice to cooking pot.
Place rice, covered with a lid, in pot off heat for 10 minutes while you prepare other ingredients.
Toast sesame seeds by bringing a skillet to medium-high heat and adding seeds. Cook until fragrant, stirring often, about 4 minutes.
Add chopped parsley, sesame seeds, oil, and soy sauce to rice. Mix thoroughly.