Green Pea Pasta Salad with Halloumi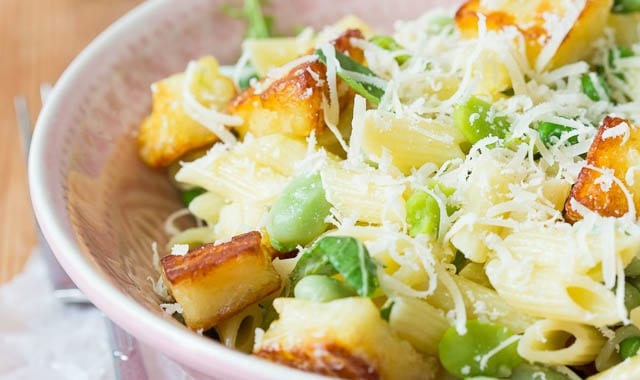 A cool pasta salad studded with green peas and flavorful wasabi rocket. Halloumi cheese add a great crispy texture and salty accent the the summer salad.
By Simone Van Den Berg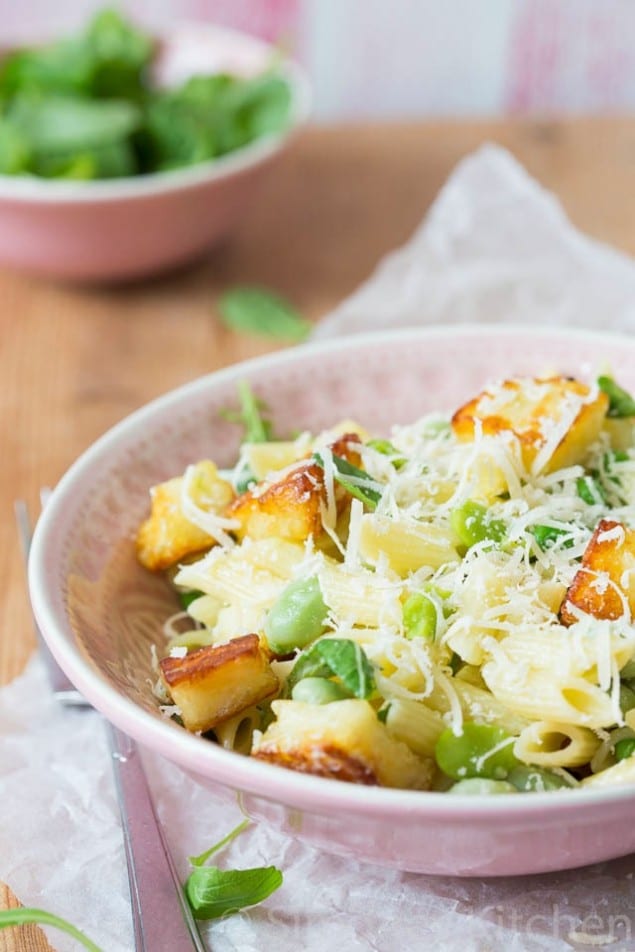 Don't leave the halloumi cheese in the pasta salad long before serving time as it will become weak and soggy in no time. You want them nice and crispy.
Halloumi adds that little crispy and salty accent in your salad that is delicious. You can also substitute the cheese for crispy baked chorizo if you prefer.

Green Pea Pasta Salad with Halloumi
A cool pasta salad studded with green peas and flavorful wasabi rocket. Halloumi cheese add a great crispy texture and salty accent the the summer salad.
Author:
Simone Van Den Berg
Ingredients
150 gr pasta of your choice
fava beans
green peas
piece of halloumi
basil
wasabi rocket (or regular rocket if you can't find)
avocado
Dressing
2 tbsp of wasabi mayonaise
3 tbsp of greek yoghurt
1.5 tbsp of lemon juice
white pepper
0.5 tsp salt
Instructions
Cook the pasta according to package instructions, drain and rinse under cold water. Add a little oil to prevent sticking and leave to cool
Briefly cook or blanch the beans and peas, drain and leave to cool
Cut the halloumi into smaller pieces and quickly fry in a pan. Leave to drain on kitchen paper
Make a dressing by combining the ingredients and stir it well
Add all ingredients together except the halloumi and salad and mix to combine
When serving add the salad leaves and the halloumi on top.
Simone Van Den Berg
Simone van den Berg is a Netherlands based freelance food photographer and food blogger. She has a passion for cooking, food and travel, which she shares on her blog Simone's Kitchen and of course right here on Honest Cooking.