We all love ripe mangos, right? But don't wrinkle your nose at the unripe ones, as they are excellent in a fresh spring sallad.
By Jessica Smith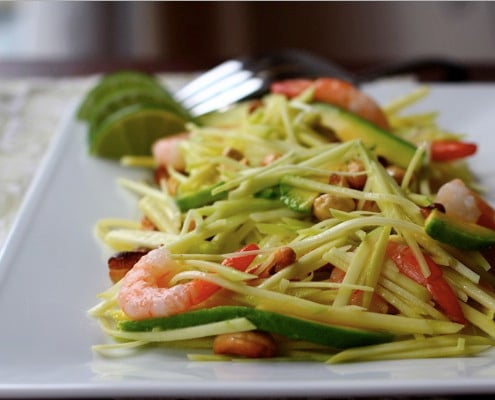 Mango season is upon us, and the fruit is available in abundance in Thailand. Here, ripe mangos are purchased (and consumed) by the bag-full this time of year.  Although ripe mangos have a profound and unique sweetness, their green (unripe) counterparts are worth a second look.
The green variety is delicious on its own, as evidenced by its popularity as a snack in Bangkok.  Sliced into wedges, tossed in a plastic bag and topped with a mixture of salt, sugar and ground chili, green mangos are a common treat for people on the run.
Green mangos also bring texture and dimension to savory dishes.  This simple salad highlights their crisp, tart, almost citrus flavor.
Green Mango Salad with Avocado, Shrimp and Cashews
serves 4 as a side dish
See Also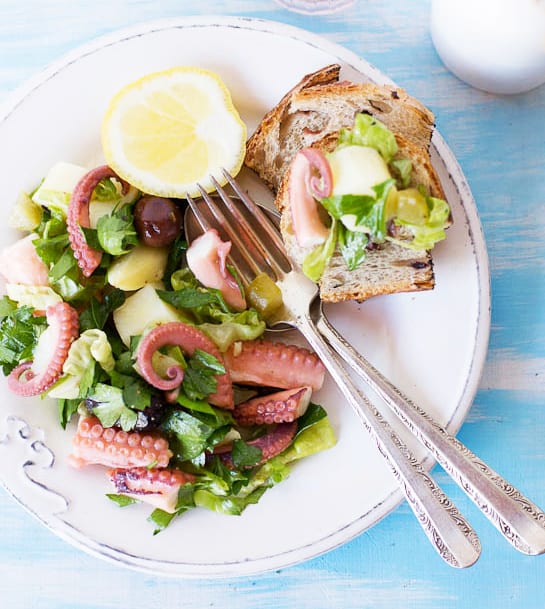 -Ingredients-
2 green (unripe) mangos
3 Tbsp. (45 ml) sunflower or other mild oil
1 Tbsp. (15 ml) rice vinegar
1 Tbsp. (15 ml) fresh lime juice
1/2 tsp. honey
1/4 tsp. salt
pinch of cayenne pepper (optional)
1 cup (125 g) boiled shrimp, peeled and de-veined, tails intact
1/2 cup (70 g) roasted unsalted cashews
1 ripe avocado, cut into thin slices
several wedges of lime, for serving
Peel mangos and cut into matchsticks or shred using the large holes on a box grater.  In a small bowl, whisk together oil, vinegar, lime juice, honey, salt and cayenne.  Toss mangos in dressing just until lightly coated (not all of the dressing may be needed).  Add shrimp and cashews, stirring gently to combine.  Just before serving, top with avocado slices and garnish with lime wedges.  Serve at room temperature or slightly chilled.
Jessica Smith
Jessica Smith is a native of the American Midwest, currently living in Thailand where she writes about food and travel throughout Southeast Asia. Jessica believes that the best way to understand a place is through its local cuisine.