This simple side dish will be a welcome addition to the Thanksgiving dinner table.
By Jessica Smith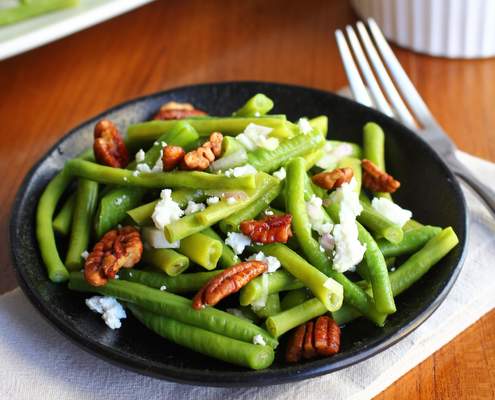 When it comes to Thanksgiving, there are two types of people – turkey people and side dish people.   Maybe it stems from the years I spent as a vegetarian, but I could take or leave the turkey.  I'll put a token slice on my plate, but it's the side dishes that are the real stars.
You can never have too many side dishes.
This green bean dish is not necessarily traditional, but the addition of sweet spiced pecans and creamy goat cheese elevate these humble crisp beans so that they are absolutely worthy of the Thanksgiving dinner table.
And these caramelized pecans with just a hint of cayenne pepper?  Well, you may want to make a double batch.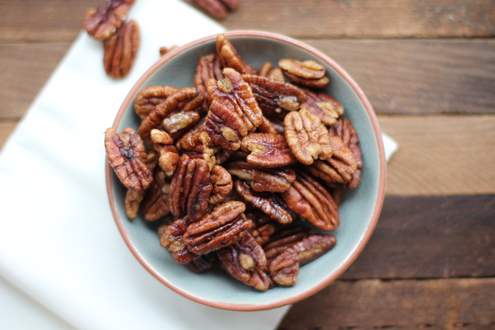 Print
Green Beans with Sweet Spiced Pecans and Goat Cheese
Not your ordinary green beans, these get a boost with tangy vinaigrette, sweet spiced pecans, and creamy goat cheese.
Author:

Jessica Smith

Prep Time:

20 mins

Cook Time:

20 mins

Total Time:

40 minutes

Yield:

6

1

x
For the Pecans:
2 cups

pecan halves

2 Tbsp

. unsalted butter

3 Tbsp

. granulated sugar

1/2 tsp

. cinnamon

1/8 tsp

. cayenne pepper

1/4 tsp

. salt
For the Green Beans:
Salt, for the cooking water (about 2 tsp for a large pot of water)

1 1/2

pounds trimmed green beans, cut into

2

–

3

inch pieces

2 Tbsp

apple cider vinegar

2 tsp

. Dijon Mustard

4 Tbsp

olive oil

1/4

of a red onion, very finely chopped

1 1/2 cups

sweet spiced pecans (recipe below)

3 oz

. mild goat cheese, crumbled
Instructions
In a large saucepan, melt the butter over medium heat. When the butter melts, add the pecans and cook, stirring constantly. In a small bowl, stir together the sugar, cinnamon, cayenne, and salt. Just as the pecans start to turn golden brown and fragrant (about 5 minutes), add the sugar mixture to the pan and stir vigorously to coat the pecans. Cook, stirring frequently, until the sugar starts to sizzle and caramelize on the pecans, about 2 minutes more. (Remove the pecans immediately if they show any signs of starting to burn.) Pour the pecans out onto a piece of parchment paper or baking sheet and allow to cool. When cool, break apart and store in a sealed container for up to a week.
Bring a large pot of salted water to a boil. Add the green beans to the water and boil, just until the beans are tender and bright green, about 5 minutes (for very fresh green beans, they may only need about 3-4 minutes). While the beans boil, fill a large bowl with water and ice. Use a slotted spoon to transfer the beans to the ice water to stop the cooking process. When the beans are cool, strain them and transfer them to a serving bowl. Refrigerate until ready to serve.
In a small bowl, whisk together the apple cider vinegar and mustard. Whisk in the olive oil until well incorporated. Add the chopped red onion and stir to combine. Refrigerate until ready to serve.
About 30 minutes before serving, remove the green beans from the refrigerator to allow them to come to room temperature. Drizzle the dressing over the top of the beans. Sprinkle spiced pecans and goat cheese over the green beans.
Notes
Gorgonzola makes a great alternative for the goat cheese in this recipe.
Jessica Smith
Jessica Smith is a native of the American Midwest, currently living in Thailand where she writes about food and travel throughout Southeast Asia. Jessica believes that the best way to understand a place is through its local cuisine.