From the cream sauce to the fresh green beans and right down to the homemade fried onions, this Thanksgiving staple gets a culinary update.
By Taylor Kadlec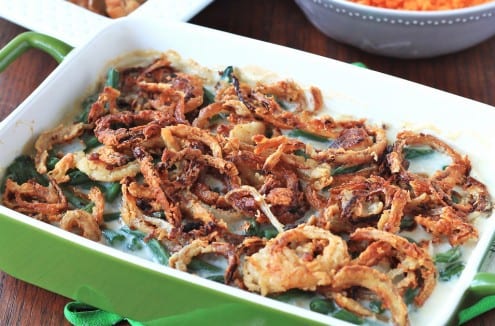 Green Bean Casserole
From the cream sauce to the fresh green beans and right down to the homemade fried onions, this Thanksgiving staple gets a culinary update.
Ingredients
for the fried onions:
1 large yellow onion, sliced (not diced)
1 cup buttermilk
2 cups flour
1 tbsp garlic powder
1 tsp salt
3 tbsp canola oil
for the green bean casserole:
16 oz fresh green beans, ends trimmed and cut in half
3 tbsp butter
1 onion, diced
2 cloves garlic, minced
3 tbsp flour
1 cup whole milk
1 cup vegetable or chicken broth
Instructions
To make the fried onions:
Add onions to buttermilk in a large bowl, tossing until onions are drenched.
In separate bowl, combine flour, garlic powder, and salt.
In batches, toss the buttermilk-drenched onions in flour mixture, shaking to remove excess.
Heat oil in skillet, and pan-fry the onions, stirring and flipping so both sides get browned. I did about 5 minutes for each batch, and I had 3 batches.
Place fried onions on paper towel lined plate, to remove excess grease.
Store in air-tight container once cooled.
To make the casserole:
Preheat oven to 350 degrees F.
Spray 2-quart casserole dish with cooking spray.
Bring a pot of water to boil.
Once boiling, add green beans and cook them for 5-6 minutes, until they are bright green.
Drain green beans, rinse with cold water, and set aside.
In large skillet, melt butter over medium heat.
Add diced onion and cook for 5-6 minutes, until they are softened and translucent.
Add garlic and cook one more minute.
Add flour, and stir well to combine. Cook for another minute, stirring continuously.
Slowly add milk, stirring continuously, then slowly add the broth.
Bring mixture to a simmer, then lower heat and let simmer for 7-10 minutes, until it has thickened.
Season with salt and pepper.
Add green beans to sauce and stir to combine, then pour into prepared casserole dish.
At this point, casserole can be covered and refrigerated.
If refrigerating, top with fried onions right before baking, then bake 30 minutes.
If not refrigerating, top with fried onions, bake 20-25 minutes.
Enjoy!
Taylor Kadlec
Taylor Kadlec is a lover of all things food including baking, cooking, and of course, eating. She is a self-taught baker and cook, and she shares her kitchen adventures on her blog Greens & Chocolate, where healthy cooking meets sinful indulgence.