Enjoy an awesome and super tasty green bean casserole recipe from Alisha Randell. Now get cooking.
By Alisha Randell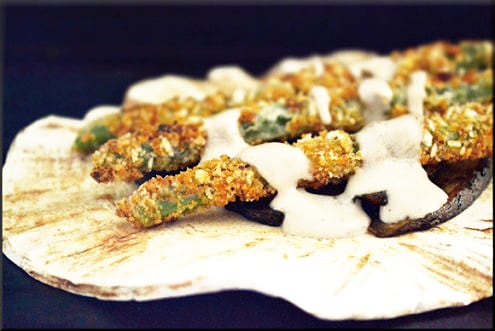 Green Bean Casserole
Enjoy a great and super tasty green bean casserole recipe from Alisha Randell.
Ingredients
For the baked green bean fries
1 pound fresh whole green beans
2 eggs
½ cup garbanzo bean flour
½ teaspoon fresh pepper, ground
¼ cup panko bread crumbs
½ cup crispy French fried onions, lightly salted
Ice and large pot for blanching.
For the sautéed portabellas
2 large portabella mushrooms
pinch of salt
½ teaspoon crushed red peppers
2 tablespoons olive oil
For the cream of mushroom sauce
11 ounce carton of portabella mushroom soup
6-8 ounces half and half
fresh ground pepper to taste
Instructions
For the baked green bean fries
Start by preparing your eggs by gently whisking them, adding
Fresh ground pepper and continue to whisk to incorporate. Then
Place in a large enough bowl to accommodate the green beans.
Next mix panko and crispy onions in a mortar or heavy bowl
and crush.
Then take two separate plates,
or one large serving plate, and place your flour on one with the panko/onions
on another .
Now take a large pot filled with water and bring to a boil. Have ready
a bowl with an ice bath. Drop raw beans into the boiling water
for no more than 2-3 minutes, then quickly remove placing in the
ice bath until completely cool.
Leaving the beans still damp, dredge through flour shaking off excess.
Next place into egg bath and coat all sides, then dredge through panko/onion mixture.
Then lay coated beans onto a lined baking sheet, slightly spaced.
Bake in a pre-heated oven at 425 degrees 8-10 minutes, turn and continue
to bake another 8 minutes or until panko crumbs are golden brown and beans
are just tender.
For the sautéed portabellas
Gently brush off any debris from your mushrooms and
slice into ¼ inch pieces lengthwise.
Place mushrooms into a dry non-stick pan, or with just
a drizzle of oil. Sprinkle with a pinch or so of salt
to help sweat out excess liquid.
Once they begin to loose liquid and start to become limp and
tender, add a bit of oil and crushed red pepper. Continue to sauté
for a few minutes until tender.
For the cream of mushroom sauce
Add condensed mushroom soup and half and half to
a medium pot. Heat gently until hot and keep warm.
To arrange place mushrooms on individual plates, top with
crispy green bean fries then drizzle this cream of mushroom sauce.
Alisha Randell
Alisha Randell is a former Executive Chef turned Private Chef and Culinary Instructor. She is the Co-Creator/Author of The Ardent Epicure blog "An Ode to the Pleasures of Food". Growing up with a dad as a culinary guide, whom was as well an executive chef, food and seeing food as an art form has been a lifelong passion and exploration.