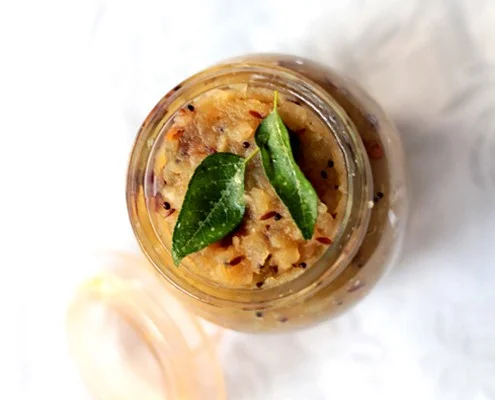 An new innovative recipe if you have already had too many apples pies this season, but still have apples left. Sweet, tangy and lip-smacking.
By Chinmayie Bhat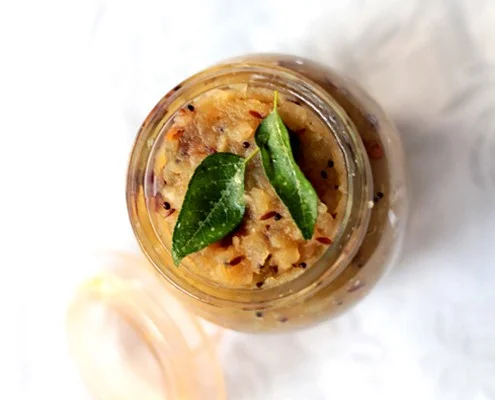 I had a few leftovers from the apples I bought for some apple muffins. I wanted to make something which is quick and something that can be enjoyed with my lunch. I was having a simple Indian meal of rice and curry that day and I was wondering how to fit in Granny Smith apple into it. That's when my delicious sweet and tangy Apple Chutney was born. Green apples are a little like tangy raw green mangoes. So I thought they can work well in a typical Indian chutney. I wasn't wrong. We all loved this new creation and have been eating it with our Dosas, Idlis, Flat breads and Rice every single day.
There really is no reason for me to be buying imported green apples to make this again as mangoes are locally available to me but for all you people in the other side of the globe where apples are in season now please make this! If you like Indian food you will LOVE your Indian Apple Chutney. A very refreshing taste if you have already had too many apples pies.
A simple recipe which will surely not disappoint you.
Green Apple chutney. A very new innovative recipe if you have already had too many apples pies this season. Sweet, tangy and lip-smacking
Ingredients
3 granny smith apples
1 tbsp oil
½ tsp cumin seeds
tsp mustard seeds
2 dry red chilies
1 spring of curry leaves
1-2 tsp sugar
1 tsp salt
Instructions
Grate the apples with skin and keep it aside. Do it only when you have all the other ingredients in place as the apples will change colour really fast!
Heat oil in a pan. Add mustard, cumin and dry red chili (cut into pieces) and wait for it to splutter. Now add the curry leaves and grated apples. Fry for a couple of minutes. Then add salt and sugar and stir to combine. Taste and adjust the seasoning to your palette. Continue to fry a few more minutes till the apple is soft and cooked.
Let it cool and store in an airtight container. It will stay fresh for up to a week in the refrigerator.
Chinmayie Bhat
Chinmayie is a food blogger and a graphic designer who lives in Bangalore, India. Her food blog www.lovefoodeat has simple, fast and easy vegetarian recipes which are healthy and tasty. Her food is fresh and local food which is cooked with a lot of love.