A juice sweet and sour turkey tenderloin with a crisp exterior and topped with fresh cilantro.
By Nicole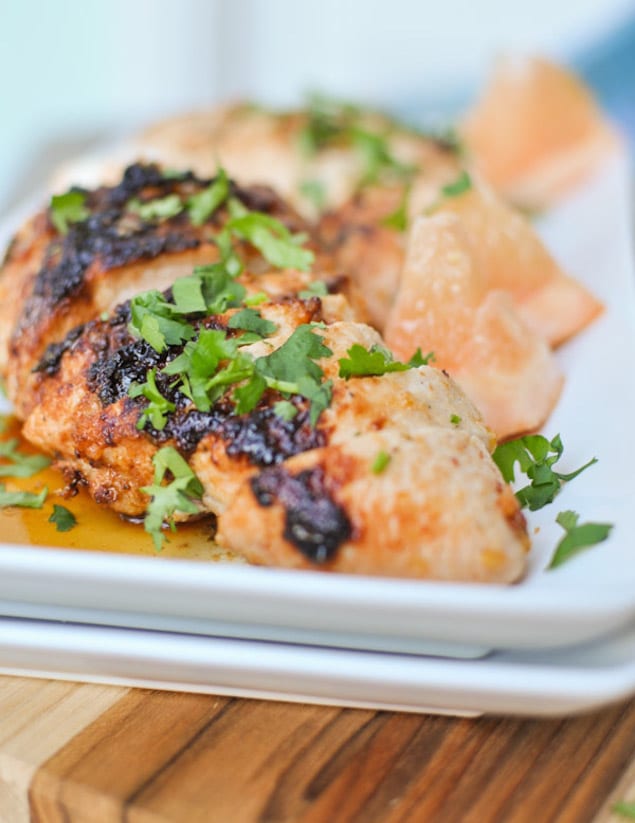 This Grapefruit Glazed Turkey Tenderloin recipe was a juicy, delicious, and happy accident! The other day, while at the grocery store I came across an organic turkey tenderloin that was on sale for a good price, and I never pass up a good price on high quality organic meat because it is happens so rarely. Anyways, I got home, and stuck it in the fridge instead of the freezer because I wanted to use it sooner rather than later, plus I had an idea for a marinade brewing in my head.
The next day, I took the tenderloin out of the fridge and started putting together the ingredients for the marinade, but I didn't get too far. I had initially wanted orange juice in my marinade, but the orange that I thought I had…I had eaten a few days earlier…Hmm, should I run to the store. I could, it's only 5 minutes away, but then I would have to pack my kids in the car, and listen to them beg and beg me for a treat, and finally give in (right before dinner) because I was sick of hearing about it. Instead, I decided to improvise. I had a grapefruit in my fridge, so I thought, why not?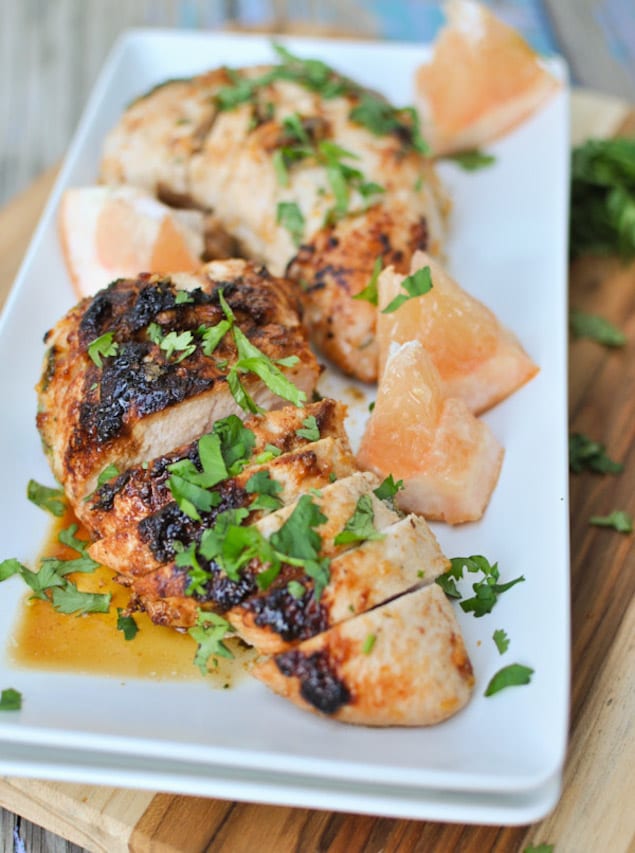 Wow, I am so glad I decided to go with the grapefruit. I am 99.9% positive it was a better choice than the orange. Turkey tenderloin is really lean cut of meat, so it tends to come out dry when cooked, but I assure you, this was far from being dry. It was juicy with just the right amount of sweet and sour flavor from the grapefruit. Both me and my husband couldn't get enough of it! It is going right on my weekly dinner rotation menu; it's super yummy, flavorful, and simple to make. My kind of dinner!
Notes: I am sorry about the marinade, I know that it can be a pain to plan out a dinner that far in advance, but it is worth it – promise. Also, organic meat is strictly optional and is only a personal preference. It is by no means required. Finally, I have not used a pork tenderloin for this recipe, but I am guessing that it would work as a substitute.
Print

Grapefruit Glazed Turkey Tenderloin with Cilantro
---
Author:

Nicole

Total Time:

1 hour

Yield:

8

1

x
Description
A juice sweet and sour turkey tenderloin with a crisp exterior and topped with fresh cilantro.
---
1.5

–

2

pound turkey tenderloin

1/2

pink grapefruit juiced

2 Tbsp

grapefruit zest

2 Tbsp

olive oil

1 Tbsp

fresh cilantro, minced

1/4 tsp

salt

1/4 tsp

pepper

1/4 tsp

garlic powder

1 Tbsp

Honey
---
Instructions
Combine all ingredients (except tenderloin) in a bowl and mix well
Pour into a one gallon freezer bag, add the tenderloin, and seal the bag
Place in the refrigerator and allow to marinade for 30-60 minutes
Preheat oven to 375 degrees
Heat an oven safe skillet on medium heat on the stovetop
Place the tenderloin on the skillet and brown each side (2-5 minutes each side)
Once browned brush on some of the remaining marinade
Place in the oven and allow to cook 25-30 minutes or until cooked through, flip over the tenderloin half way through the cooking time, and baste with excess marinade every 5 minutes
Top with additional fresh cilantro if desired.
Prep Time:

30 mins

Cook Time:

30 mins

Category:

Main
Nicole Cragun
Nicole is a wife, mom, and registered nurse that is passionate about all aspects of healthly living. She especially loves sharing healthy recipes on her blog.