Joana Mendes finds herself in Grandma's kitchen, where she learns the secrets behind the perfect cabbage soup.
By Joana Mendes
Portuguese cuisine is well known for its huge variety of soups, soups that are so deeply satisfying that can almost be considered meals on their own. From north to south, spring to winter, they make their daily appearances at restaurant menus, school cantines, lunchboxes, as well as at my grandmother's kitchen table, and usually incorporate the most humble ingredients – Caldo Verde, probably one of the most popular, has potatoes and kale playing the role of leading characters.
But, of course, there are others: soups made from a combination of root vegetables (turnips, carrots, potatoes and so on), greens (from cabbage to spinach) and sometimes cooked beans are also very common. Bread or broa (a type of bread, very dense, made of corn and wheat flours) is usually served along. In my opinion, what makes this kind of soup special is not the ingredients it calls for (which are well known and not particularly exquisite), but actually how it's made. The root vegetables (as many as you have on hand) are cooked in boiling water until very tender, after which they're puréed, making an impromptu and flavorful base; then, the cabbage is added and cooked in the said liquid; finally, handfuls of cooked beans come into play and the soup is ready to serve, complemented by a good drizzle of olive oil.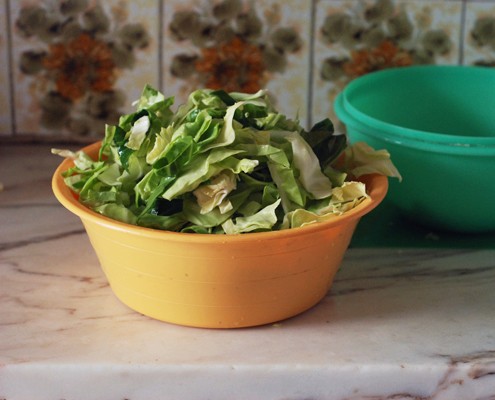 If I'm going to make a soup like this, I won't think twice and seek my grandmother for help and advice. So there I was, yesterday, ten o'clock in the morning, at her place to cook a huge pot of soup. Not only I brought the camera with me but also a scale and measuring cups – she rarely measures, as she highly trusts on the spontaneous accuracy brought to her by years of soup making. "A handful of this, a tiny bit of that", she keeps saying as I take my notes. Almost thirty minutes after we've started peeling and dicing the vegetables, our soon-to-be lunch was done. Raw olive oil was added at the very the end, over each bowl of steaming soup. "This is not the kind of soup you usually make at home, is it?", she asked me. In fact, it isn't. My mom keeps telling her on the phone about my culinary adventures, about soups that have orange juice, seaweeds, fermented soybean pastes (aka miso) and other ingredients on it, soups that are way distanced from the traditional portuguese concept. Anyway, I can't get enough from the traditional fare: I feel there's something deeply honest and comforting about it, as there's no "trickery", no secret or special ingredients involved – what you see is what you get, and what you get tastes good. I'd rather say it's Honest Cooking at its best.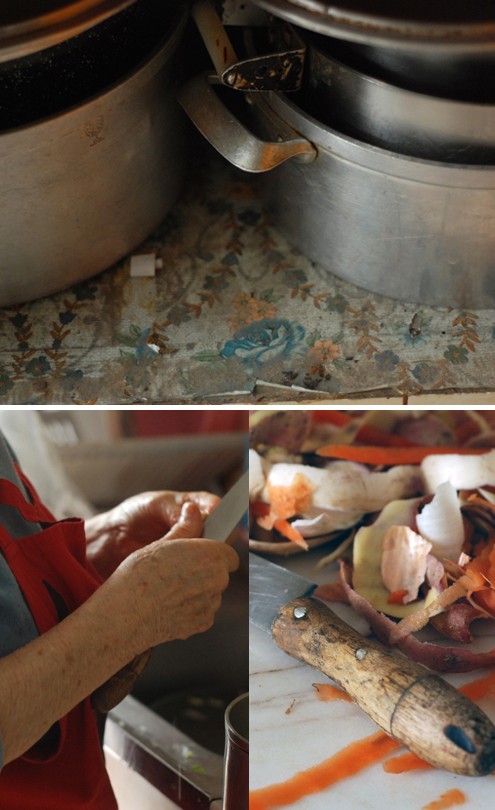 Print
Grandma's Cabbage Soup – Portuguese Soup
Joana Mendes finds herself in Grandma's kitchen, where she learns the secrets behind the perfect cabbage soup. Get this delicious cabbage soup recipe here.
Author:

Joana Mendes

Prep Time:

10 mins

Cook Time:

35 mins

Total Time:

45 mins

Yield:

6

-7

1

x
Category:

Soup

Cuisine:

Portuguese
3

medium sized turnips
(2 1/3 cups / 320 grams), peeled and diced into 3 cm ( 1.2 inches) cubes

2

to

3

large russet potatoes
(2 ½ cups / 420 grams), peeled and diced into 3 cm ( 1.2 inches) cubes

2

medium sized white onions
(2 cups / 220 grams), peeled and diced into 3 cm ( 1.2 inches) cubes

4

large carrots
(2 ½ cups / 420 grams), peeled and diced into 3 cm ( 1.2 inches) cubes

6 cups

(1 ½ liters) water

2

medium sized white or savoy cabbages
(10 cups / 680 grams), roughly cut into strips

1 ½ cups

(

320 grams

)
cooked cannellini beans

½ teaspoon

sea salt
olive oil
to taste
Instructions
In a large pot over high heat, bring the water to a boil. Once boiling, add the  turnips, potatoes, onions and carrots to the pot. Decrease the heat to a simmer, add the salt and cook, covered, from 15 to 20 minutes, or until the vegetables are tender.
With the help of an immersion blender, purée all the ingredients until totally smooth – you're looking for a creamy and slightly thick broth here. Have a taste and add a bit more salt if necessary. Now, add the cabbage strips to the pot and cook for additional 5 minutes, or until the cabbage is cooked through but still holding some texture.
When the cabbage is cooked, turn off the heat and add the cooked cannelini beans to the soup.
Serve the soup in bowls and drizzle a little olive oil over each serving. Perfect along with a good slice of crusty bread.
Joana Mendes
Based in Porto, Portugal, Joana Mendes is the cook, photographer and editor of the Veggies On The Counter food blog. She loves seasonal and natural produce, and her focus as a cook and writer is on whole foods and vegan cuisine.