We all love re-creating old classics, especially food from when we were kids. When it comes to quintessential childhood foodie favourites, you can't go pass up a reinvented corn dog.
By Michelle Tchea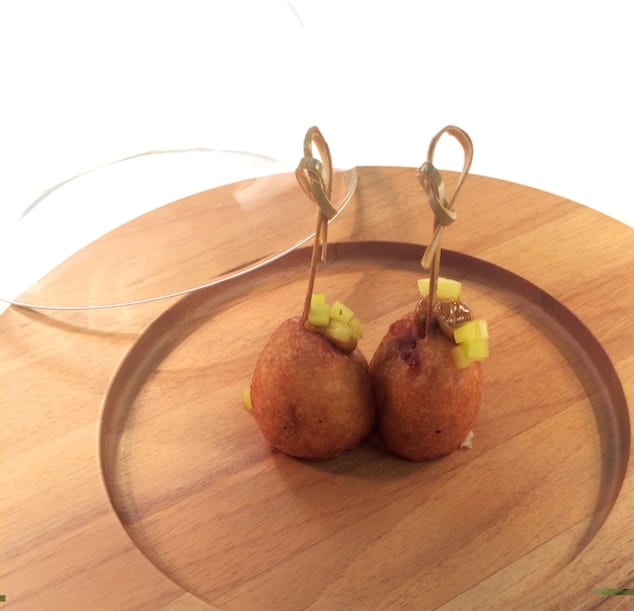 But wait… gourmet corn dogs? That's exactly what new chef of Herons Restaurant in The Umstead Resort and Hotel has created to embody progressive American cuisine in the heart of North Carolina.
One bite and you will fall in love with the crunchy corn dogs and fluffy, succulent balls of yum!
Get great tips from the the inventor of the Gourmet Corndogs, with my exclusive interview with Chef Steven Greene on here
For those who don't have time to visit The Triangle, here is a taste of what you're missing.
See Also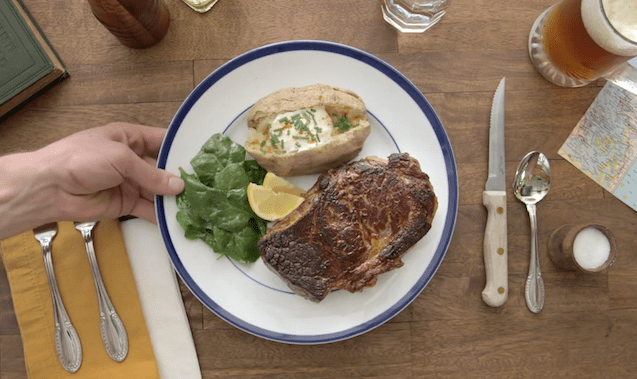 Print
Gourmet Corn Dogs from Herons Restaurant, North Carolina
A gourmet take on the traditional hot dog.
Author:

Steven Greene

Category:

Main
2 Cups

Salt

2 Cups

Sugar

10

each Garlic cloves

4

each Chicken leg quarters

4

–

5

Cups Duck fat, vegetable oil to substitute

1 Cup

All-purpose flour

2/3 Cup

Corn Meal

1/4 Cup

Sugar

1 ½ tsp

Baking powder

½ tsp

Baking soda

1 tsp

Salt

1

Egg, Whipped

1 ¼ Cup

Buttermilk

2 Cups

Chicken Confit

½ Cup

Duck Fat

¼ Cup

Whole grain mustard

1 ½ tbsp

Sherry vinegar

4 tbsp

Chives, sliced

2 tbsp

Thyme, picked & chopped

3 tbsp

Parsley, picked & chopped

6 oz

Veal, ground
Salt & pepper, To Taste
Instructions
Mix two cups of sugar and salt and the garlic together and immerse the chicken in the mix. Allow to sit in the cure for 8 hours. Rinse the chicken and pat dry.
Place the chicken in a suitable pot or pan and cover with the fat. Place in a 275 degree oven with a cover on and allow to cook for four hours.
When finished the meat should fall off the bone. Cool down and remove from the fat. Pick off all the meat and reserve.
Batter
Combine the flour, cornmeal, salt, sugar, baking powder and soda in a medium sized mixing bowl and whisk together. In a separate bowl, combine the buttermilk and the egg and whisk together so that they are evenly incorporated.
Next, begin to incorporate the buttermilk and egg mix into the dry ingredients using a spatula, mix well and ensure that there are no lumps. Refrigerate the batter for use.
Sausage
Place the chicken confit into a medium bowl and run through it with your hands, ensuring that there is no cartilage, sinew or bone fragments in the mix. Once the confit is properly clean place it onto a cutting board and chop it into medium/small pieces. Place the chopped confit back into the mixing bowl and add in the remaining ingredients and mix well. Cook a small piece of mix in a frying pan and taste- adjust the seasoning accordingly. Refrigerate the mix well, at least 4 hours.
Once the mix is sufficiently chilled begin to shape the mix into the shape that is desired. For bite size corndogs shape into 1 ½ inch logs that are the diameter of your index finger. Place the sausages onto a baking sheet and place into a preheated 350F oven and bake for 7-10 minutes. When the sausages are cooked through remove from the oven and chill.
To Serve
To finish the corndogs, skewer the sausages with an all wood or bamboo skewer and place into the premade corndog batter, coating evenly but not excessively. Fry in a pot of oil heated to 375? until the batter is golden brown on all sides. Remove from the oil and place on paper towels, allow to cool slightly before consuming.
Exclusive Recipe from Chef Steven Greene

Michelle Tchea
Michelle Tchea is a 4-time bestselling author. Her books include, Building a Perfect Meal, My Little SoHo Kitchen, Signature Dishes (Australia's Best) and Chefs Collective. Her work can be found in other leading luxury travel and food magazines including Travel+Leisure Asia, SMILE, NUVO Magazine and The Telegraph