Gooseberries have absolutely nothing to do with poultry. But they are a mean addition to any good crumble.
By Nancy Lopez-McHugh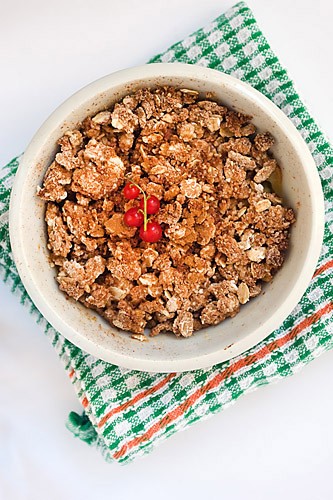 Duck, duck, Gooseberry…? Gooseberry, what do you picture when you see that word? A berry shaped like a goose? Or a berry with little feathers sticking out of it? I know, all weird things to say but it's a funny name. To be honest I've never seen or heard of these berries until recently. I first spotted them sitting between red currants and grapes at my local green grocer and wondered what on earth they were. When I ask the shop attendant what they were or tasted like he shrugged his shoulders and said he didn't know. Very helpful, I know. Being the curious creature that I am those berry things came home with me.
When I came home I noticed the label saying these little translucent green berries were called Angrešt, or Gooseberries in English. Online research will also reveal that they are native to Europe, northwest Africa and southwestern Asia* . They come in either green or an almost purplish hue, they can be tart but sweet at the same time, feel a bit firm on the outside and inside are squishy like a grape. Also to me they felt like they had a thin fuzzy layer on the skin. The taste is kind of hard to describe because it is quite a unique flavor. But if you can find them I highly suggest you try them. Gooseberry season is quite short so make sure you don't skip purchasing a pack until next time or worse next year.
See Also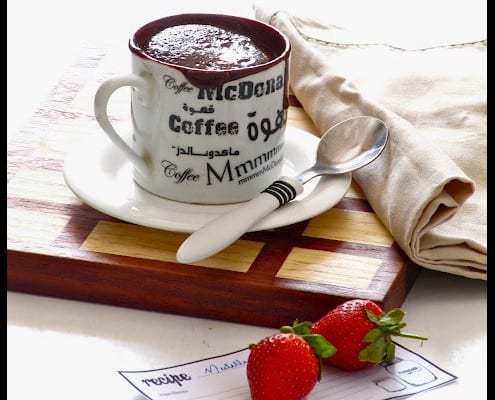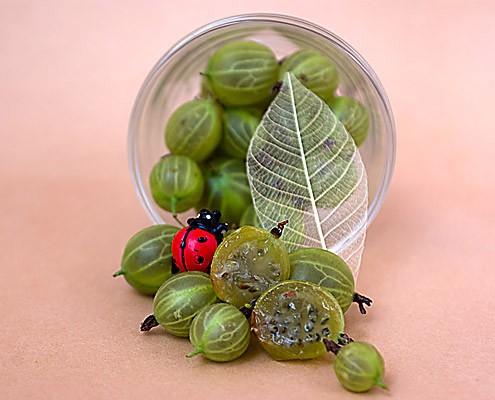 My research also found that Gooseberries were most often cooked in desserts like crumbles and pies. Perhaps because of their slightly tart taste most prefer to bake the Gooseberries so they can be sweetened up more. So I went the crumble way. Crumbles are a perfect and lighter dessert option for summer.  Top with a scoop of ice cream and you'll have yourself a real summertime treat.

Gooseberry Apple Crumble for 2
Author:
Nancy Lopez-McHugh
Recipe Type:
Baking, Dessert
Ingredients
Fruit Filling:
4.5 oz. /130 grams fresh Gooseberries
1 small golden apple ( 3.88 oz /110 grams)
1 Tbs. brown sugar
pinch of cinnamon
Crumble Ingredients:
¼ cup / 20 grams rolled oat
¼ cup / 40 grams almonds
¼ cup / 40 grams wheat flour
2 Tbs. brown sugar
1 Tbs. cinnamon
⅛ cup / 40 grams plain white yogurt
Instructions
Preheat the oven to 392F/200C. Butter a couple of ramekins or small baking dishes. Set aside.
Halve the Gooseberries and remove the stem. Dice the apple into small pieces. Mix the fruit with the cinnamon and sugar in a large bowl then set aside.
Process the almonds in a blender to break up into a coarse meal. In a large bowl combine the almonds, oats, flour, sugar and cinnamon until well combined. Adding a little bit at a time of the yogurt to the dry ingredient begin mixing into the ingredients. Continue until the mixture becomes sticky and you have coarse crumbs, if needed add a little more yogurt or melted butter or milk .
Divide the fruit into the two ramekins or baking dishes. Cover the fruit with the crumble and bake. Bake for 15-20 minutes or until the crumble has browned a little.
Allow to cool before serving or if not serving right away place in the oven after they have cooled to room temperature. They can be reheated in the oven or microwave for a warm treat.
Notes
Top with a scoop of ice cream for a special summertime dessert.
As you can see in the photo below, the Gooseberries breakdown to nicely. The juice and pulp from the Gooseberries spreads evenly with the rest of the filling ingredients making a moist and delicious crumble. Enjoy!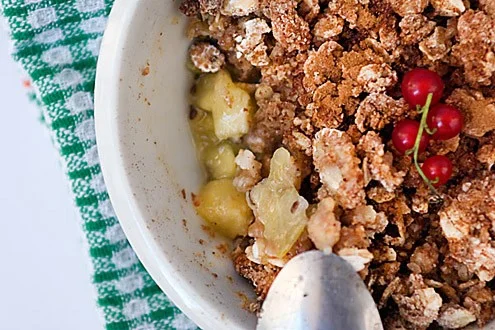 Nancy Lopez-McHugh
Nancy Lopez-McHugh is a food blogger, photographer and published author. Most recently she has published "Yummy Pics: A Food Blogger's Guide To Better Photos".