Absolutely decadent, rich chocolate brownies are baked perfectly sweet and salty caramel. Make these and you will be in dessert heaven.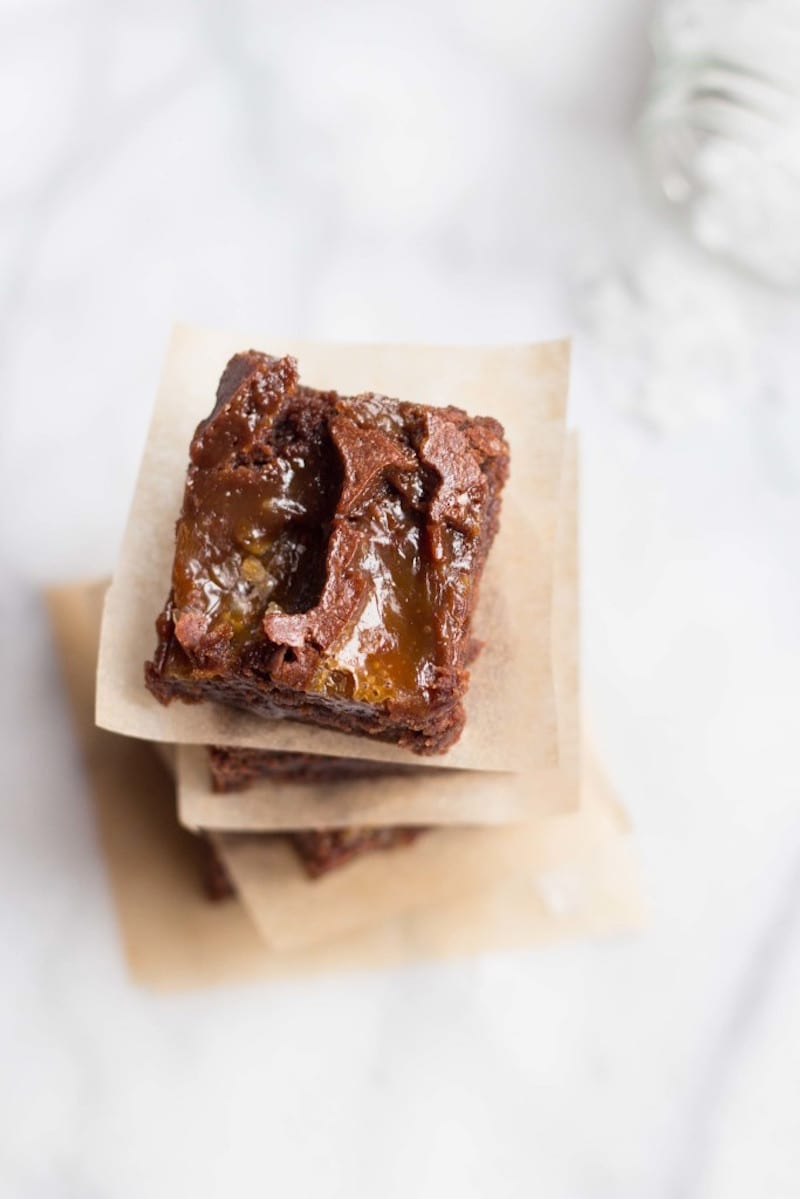 I've been keeping this salted caramel brownie recipe all to myself. I am so, so sorry. You deserve better than that, you really do.
Let me clarify… I wasn't doing it on purpose. I'm actually not quite sure what to say about it. For whatever reason, it just never crossed my mind that this was something I needed to post. In reality, your waistline should be thanking me, but your taste buds should be very, very upset. These brownies are my single most requested recipe / food to bring to a party by my family and friends. Ever. They are mind-bogglingly stupid good, and I'm so excited to finally share the recipe.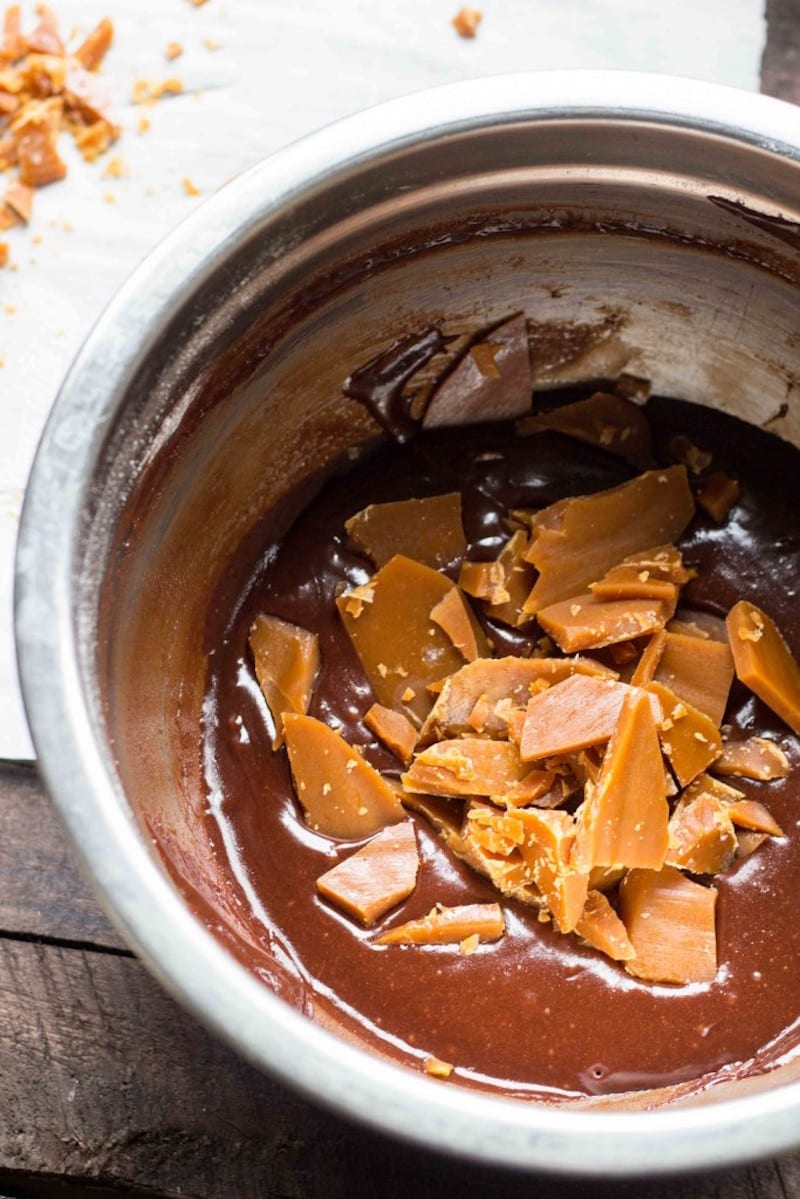 These aren't your average, everyday brownies.
I first discovered these gorgeous, chocolatey nuggets back in 2013 when the recipe appeared on Smitten Kitchen. Deb is like my cooking spirit animal. Almost everything she makes, I want to make, too.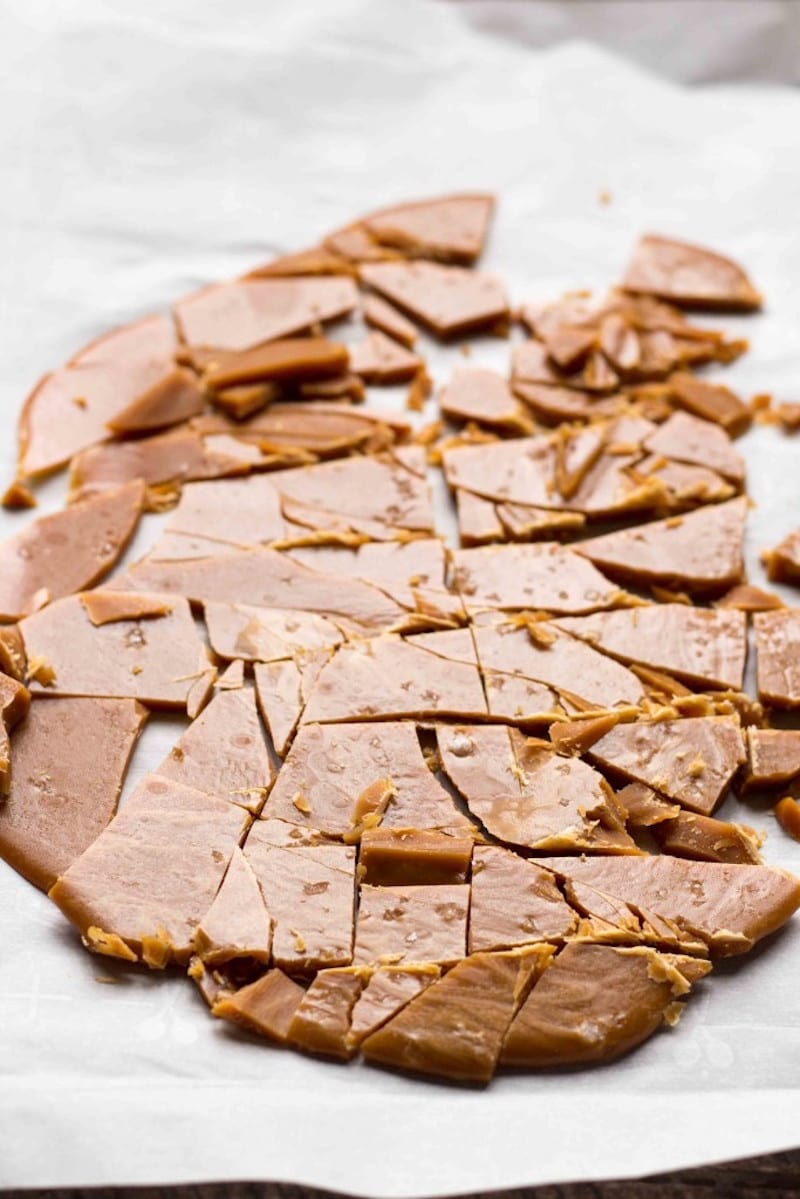 I started bringing these brownies to various gatherings with family and friends. They're easy to make, portable, and everyone who tries one pauses, closes their eyes and says, "Oh my god. What are these, and who made them?"
They're. Seriously. So. Good.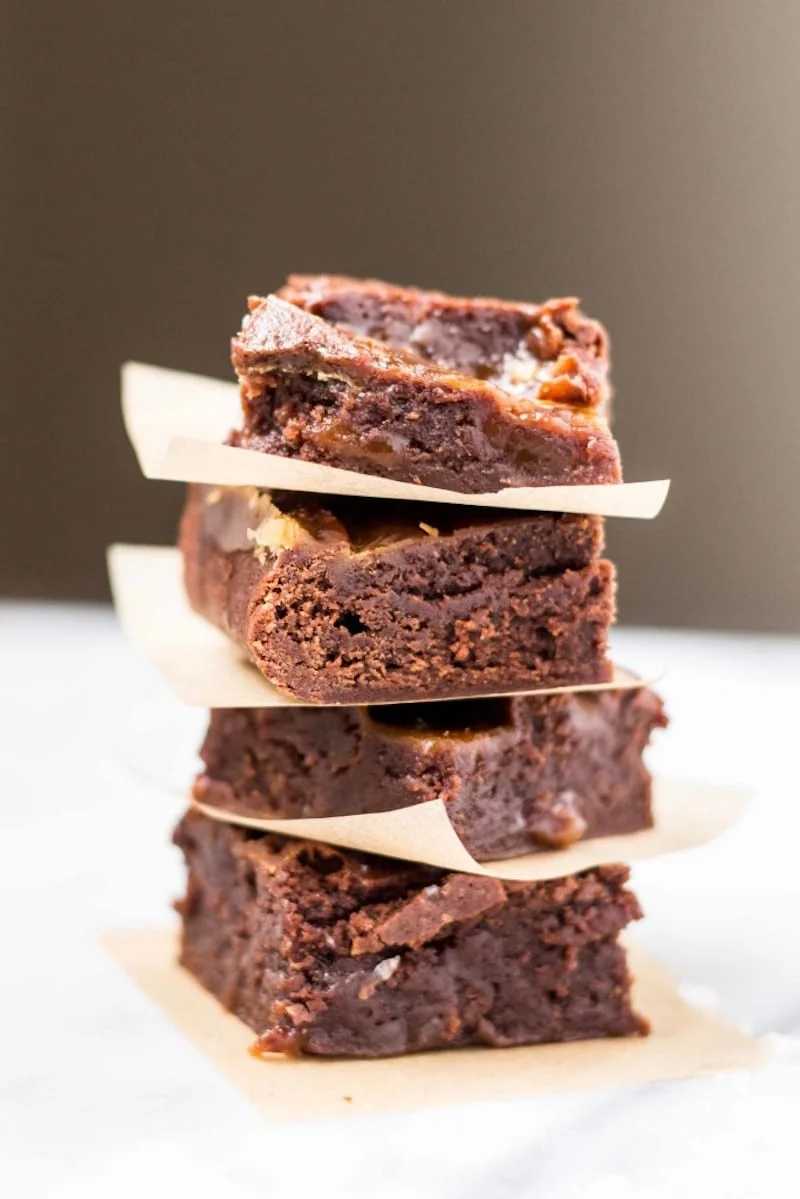 The brownie base, on it's own, without any caramel, is absolute heaven. It's incredibly rich, dense and fudgy. A good brownie, at least to me, is made with real chocolate, sugar, butter, flour and eggs. Get out of here with all that cocoa powder nonsense. Whenever I see a brownie recipe that uses only cocoa powder and no actual chocolate, I turn my nose up. If you're a lover of cocoa powder based brownie recipes, I'm very interested to see what you think of this one. In my experience, they're just never as rich, never as chocolatey and just overall not as good.
This recipe uses unsweetened chocolate, and I love that because it's a money saver. A bar of unsweetened Ghiradelli chocolate (my preferred baking brand) is the same price as a bar of milk, semisweet or bittersweet chocolate. But, since it contains only chocolate and no sugar, you only need to use a little bit.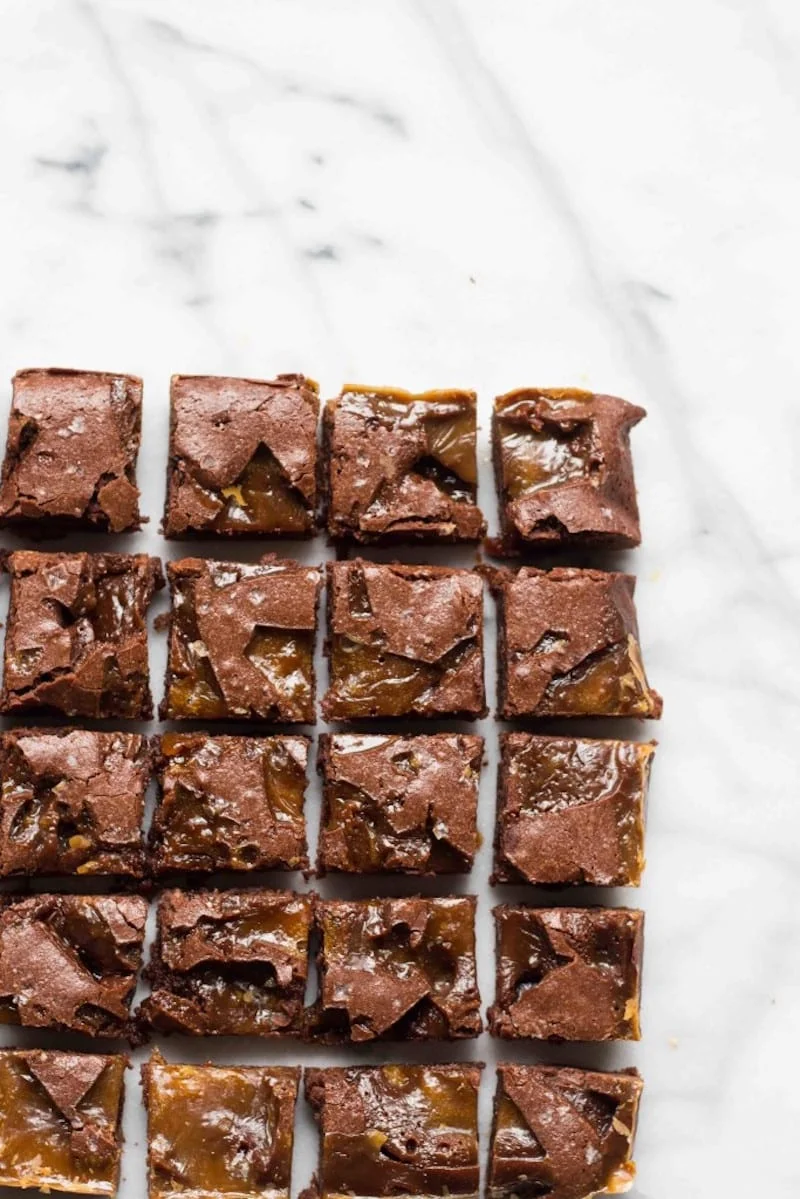 When you add buttery, chewy caramel to this already insanely fudgy brownie, it's just over the top. Then that little sprinkling of flaky sea salt at the end just completely seals the deal. I'm telling you, if you bring a batch of these brownies to your next gathering (and I'm sure there's one coming up soon), you will immediately become the favorite person in the room, and everyone will want to invite you to their next party. The only thing is you'll never really know if it's you they like, or if it's just the brownies.
I prefer to eat these,and all brownies for that matter, ice cold. It will be hard to resist the temptation of molten, fudgy, caramely brownies straight out of the oven, but I promise, if you practice patience, you will be deliciously rewarded.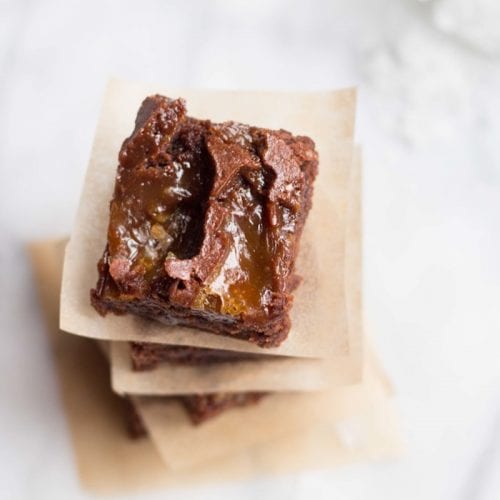 Ingredients
For the Caramel
1/2

cup

granulated sugar

4

tablespoons

unsalted butter

1/2

teaspoon

kosher salt*

3

tablespoons

heavy cream
For the Brownies
8

tablespoons

1 stick unsalted butter, plus extra for greasing the pan

3

ounces

good quality unsweetened chocolate

roughly chopped (recommended: Ghirardelli)

1

cup

granulated sugar

2

large eggs

1

teaspoon

vanilla extract

1/2

teaspoon

kosher salt*

2/3

cup

all purpose flour

1/2

teaspoon

flaky sea salt

for sprinkling, more or less to taste (recommended: Maldon)
Instructions
MAKE THE CARAMEL
Line a small pan or plate with a sheet of parchment paper and butter or spray with cooking spray, then set aside.

Melt the sugar by placing it in a medium, dry sauce pan over medium heat. If doubling the recipe, you'll want to make sure the saucepan is on the wider side so there's more surface area for the sugar to melt. Try not to stir the sugar as it melts, but rather swirl the pan around a bit to help it out. It should take about 5 minutes, and once it's mostly melted, you can stir a bit to break up any large pieces. Once melted, it should be copper in color, and if it's not, continue cooking until it is. Lower the heat and stir in the butter first, and then the heavy cream. Be ready for it to bubble rapidly. Turn the heat back up to medium, and cook until it reaches 240 degrees on a candy thermometer, or use the water test** (explained in the notes below).

Immediately remove the caramel from the stove and pour onto the parchment lined pan or plate, then transfer to the freezer until solidified, about 30 minutes.
MAKE THE BROWNIES
Preheat the oven to 350 degrees, then line an 8×8-inch square baking pan (or 9x13 inch pan if doubling) with parchment, then rub it with softened butter or spray it with cooking spray.

Fill a medium saucepan with about an inch of water (I use the same dirty pan I made the caramel in, as the boiling water will actually help clean it) and set it on the stove over medium heat. When the water starts to simmer, place a medium heatproof bowl over top. Allow the butter to melt in the bowl, and once it's almost fully melted, add in the chocolate and give it a quick stir. Turn the heat off, and let it sit for 2-3 minutes, then remove the bowl from the simmering water and stir until it's totally smooth. Use a whisk or a wooden spoon to beat in the sugar, then add the eggs one at a time, being sure to fully incorporate the first before adding the second. Add the vanilla and salt, then stir vigorously. Stir in the flour until fully incorporated, but try not to overmix.

When the caramel is firm, remove it from the freezer and chop it into pieces about 1 inch in size. Gently fold 3/4 of the caramel bits into batter. Pour the batter into the prepared pan and spread out until even. Arrange the remaining caramel bits evenly on top, then sprinkle with the flaky sea salt. Bake for about 30 minutes, or until a toothpick inserted into the center comes out clean.

Allow the brownies to cool thoroughly before cutting, preferably in the refrigerator for several hours, overnight is best. Cut into squares and serve cold for best results.