Goat Cheese Panna Cotta with Figs, Honey and Pistachios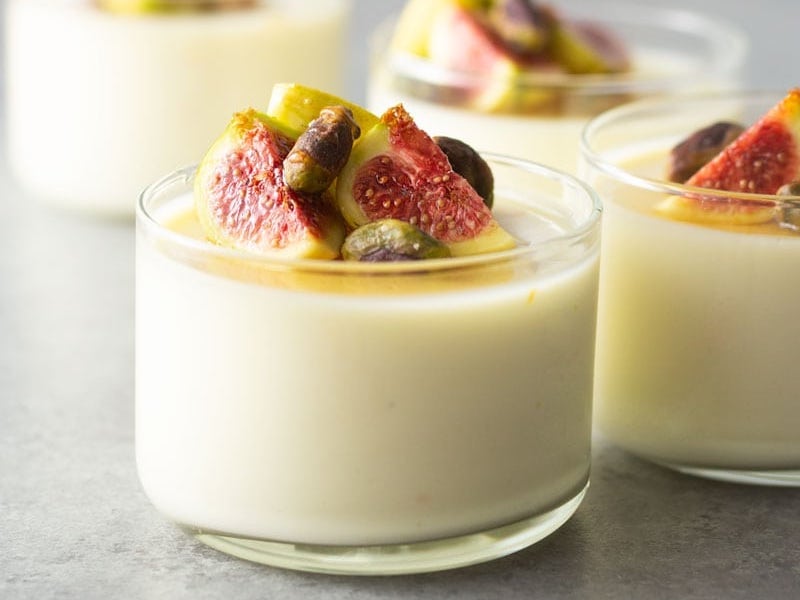 This rich and tangy goat cheese panna cotta pairs perfectly with sweet, ripe figs, orange blossom honey and salty, toasted pistachios.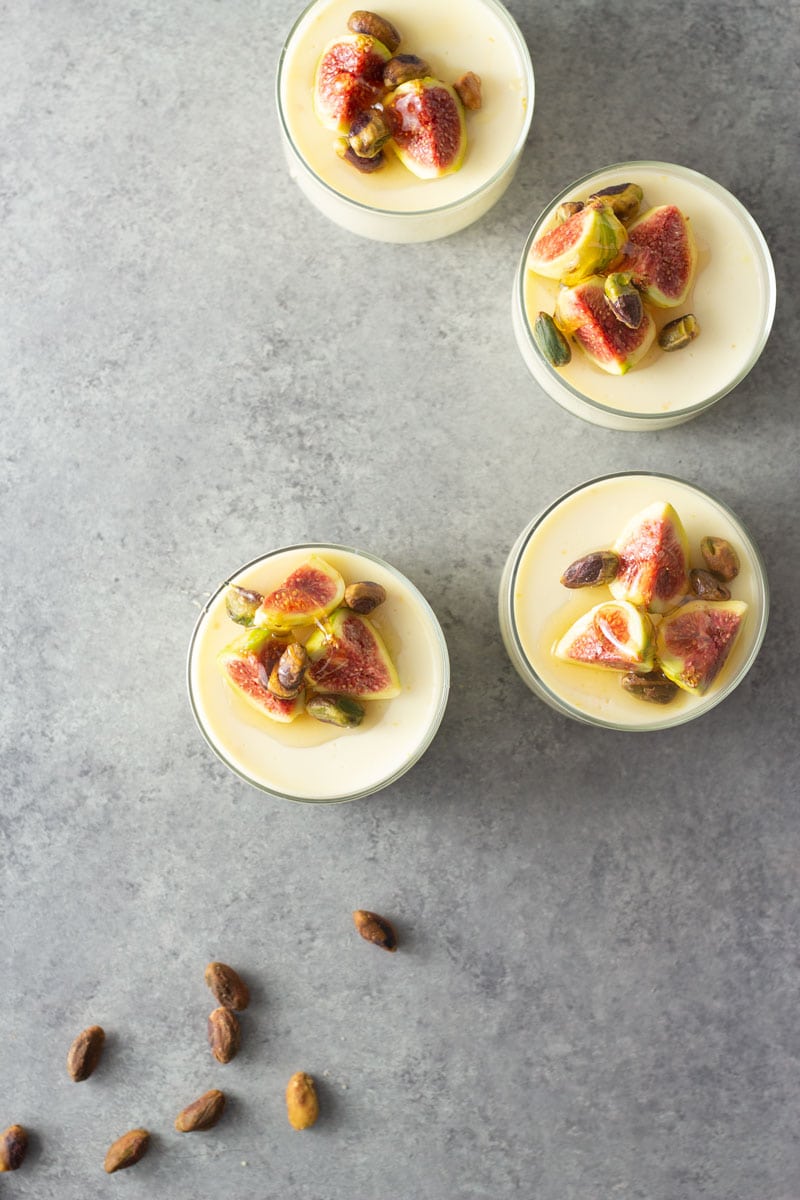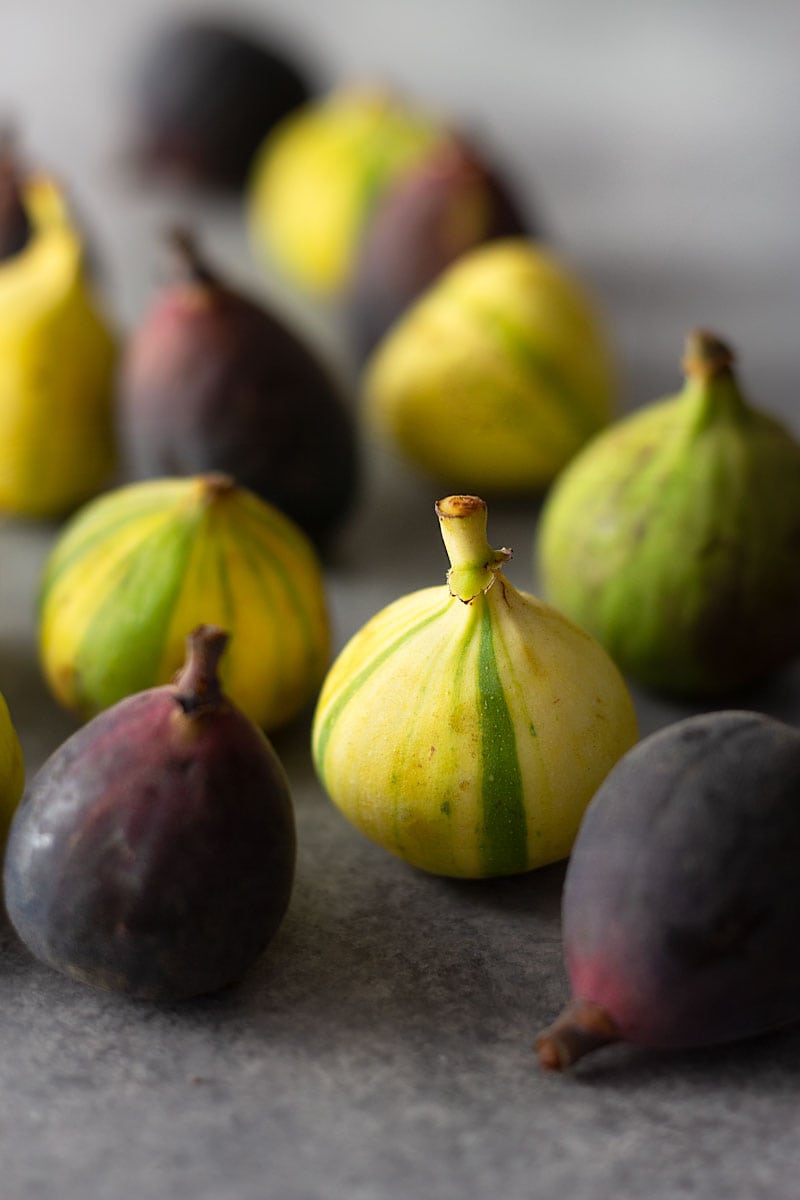 My inspiration for this recipes were the beautiful figs I found at Eataly. I was first thinking ricotta cheesecake, but I think I want to save that recipe for the holiday season. Then, my mind went to other creamy cheeses that pair well with figs. Eventually, that turned into goat cheese panna cotta.
Believe it or not, one of the first recipes on my blog (one which I deleted and never re-posted) was a goat cheese ice cream and cherry sauce. Goat cheese might sound like a strange component to a dessert, but a creamy, mild, fresh goat cheese works exactly the same way a cream cheese would. It provides body, creamy texture and a little tang to contrast the sweetness in a dessert.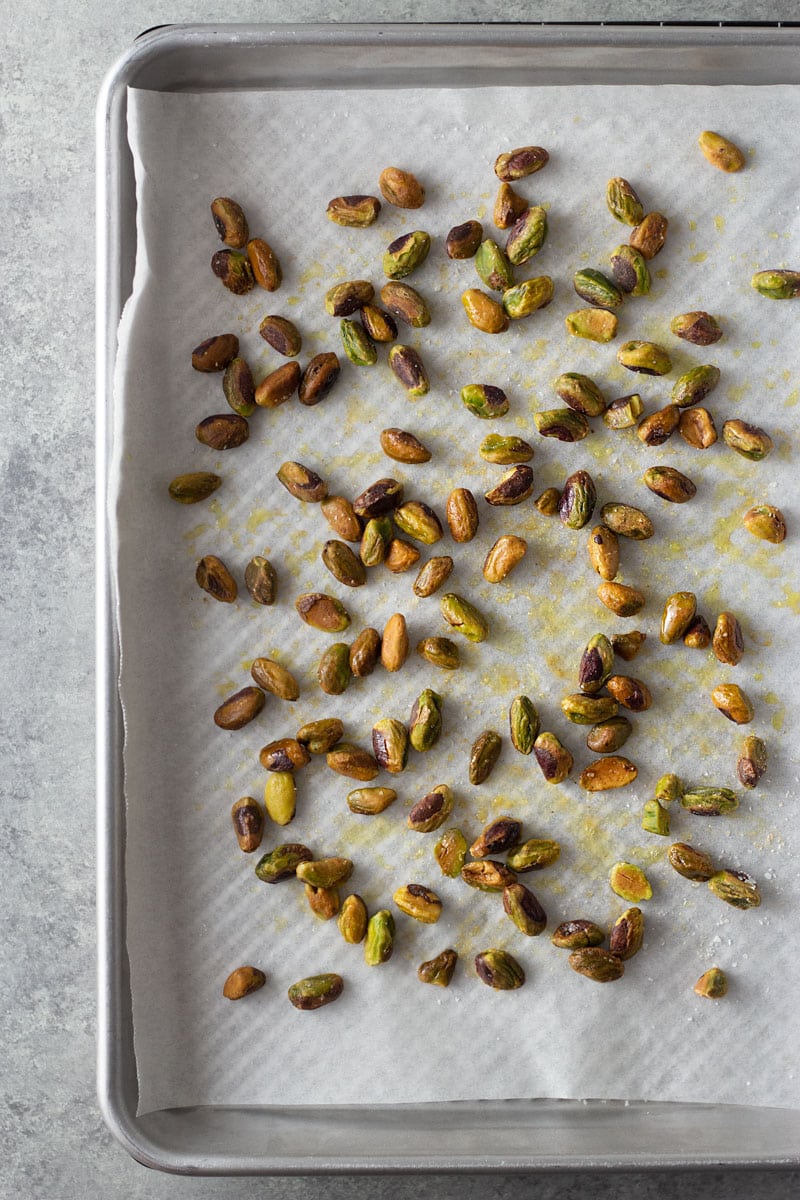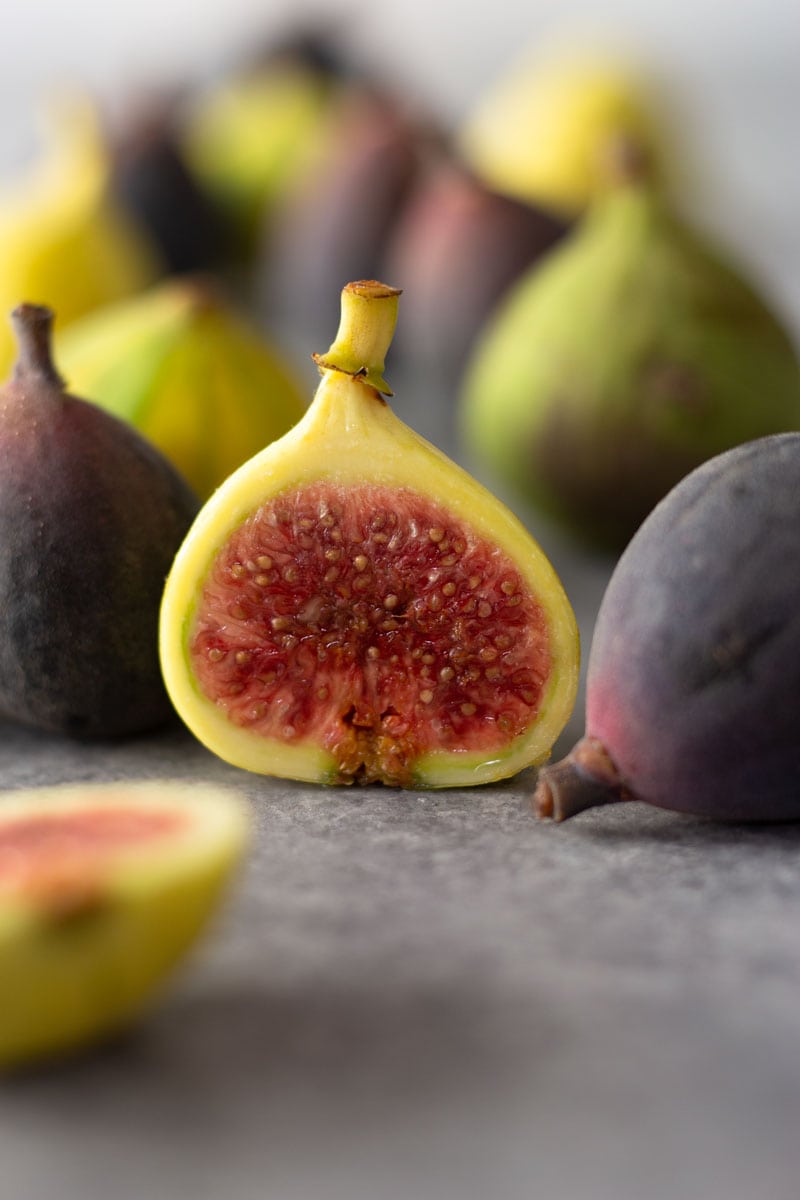 When I first tested this recipe, I simply added goat cheese to my basic panna cotta base. The first trial was good, but I did not quite achieve the level of tartness I was hoping for. I wanted the goat cheese flavor to be more apparent, but I knew more goat cheese would make the panna cotta thicker, which I didn't want. So instead of experimenting with adding more goat cheese and cutting back on the gelatin, I opted for buttermilk. Buttermilk panna cotta is a pretty well-established flavor. It's delicious and refreshing. On the second run, I cut back the amount of cream and subbed in buttermilk for regular milk. The results were exactly what I was looking for. The panna cotta came out lighter and tangier, and had a great balance of richness and sweetness.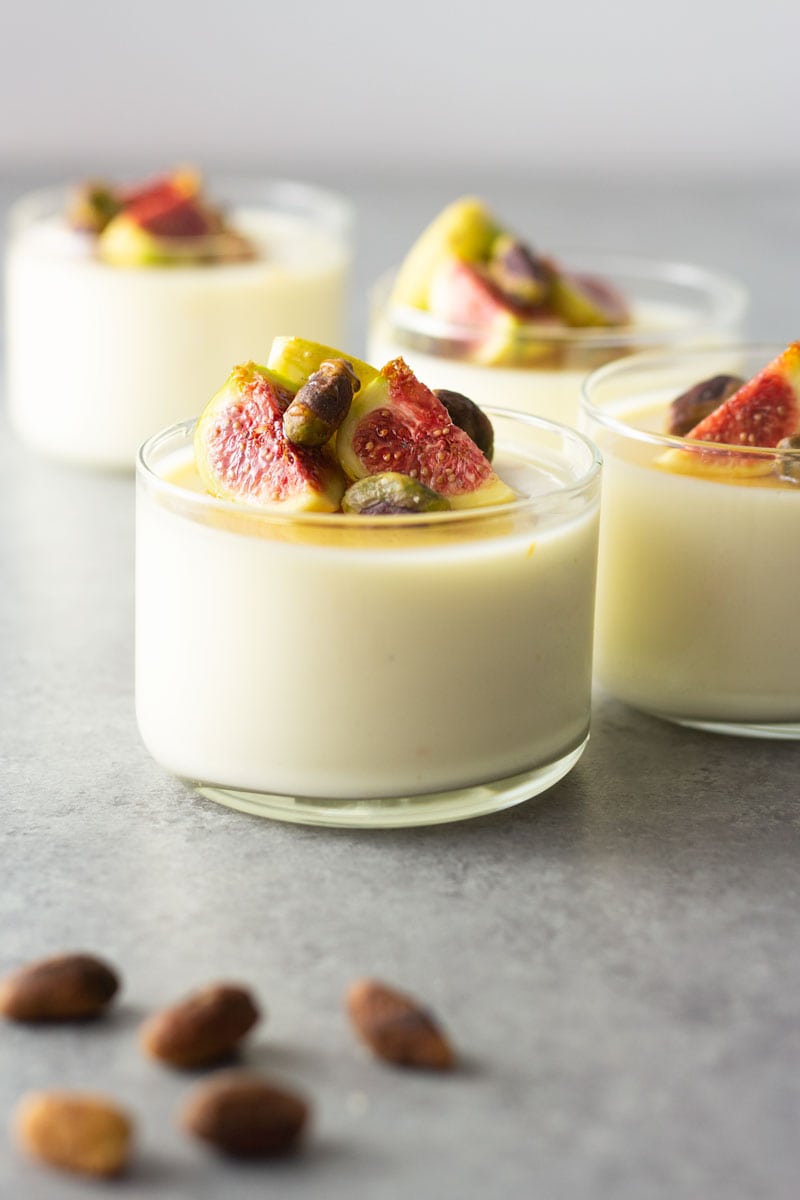 Now back to the figs. Figs make such a great pairing with this goat cheese panna cotta. For crunch, I threw on some buttery, salty pistachios. To round things out and dress up the figs a bit, I drizzled over orange blossom honey. I chose orange blossom here, because the goat cheese panna cotta includes orange zest, so it makes the perfect compliment. This dessert is incredibly easy to make, and full of flavor and texture. Goat cheese panna cotta. Do it.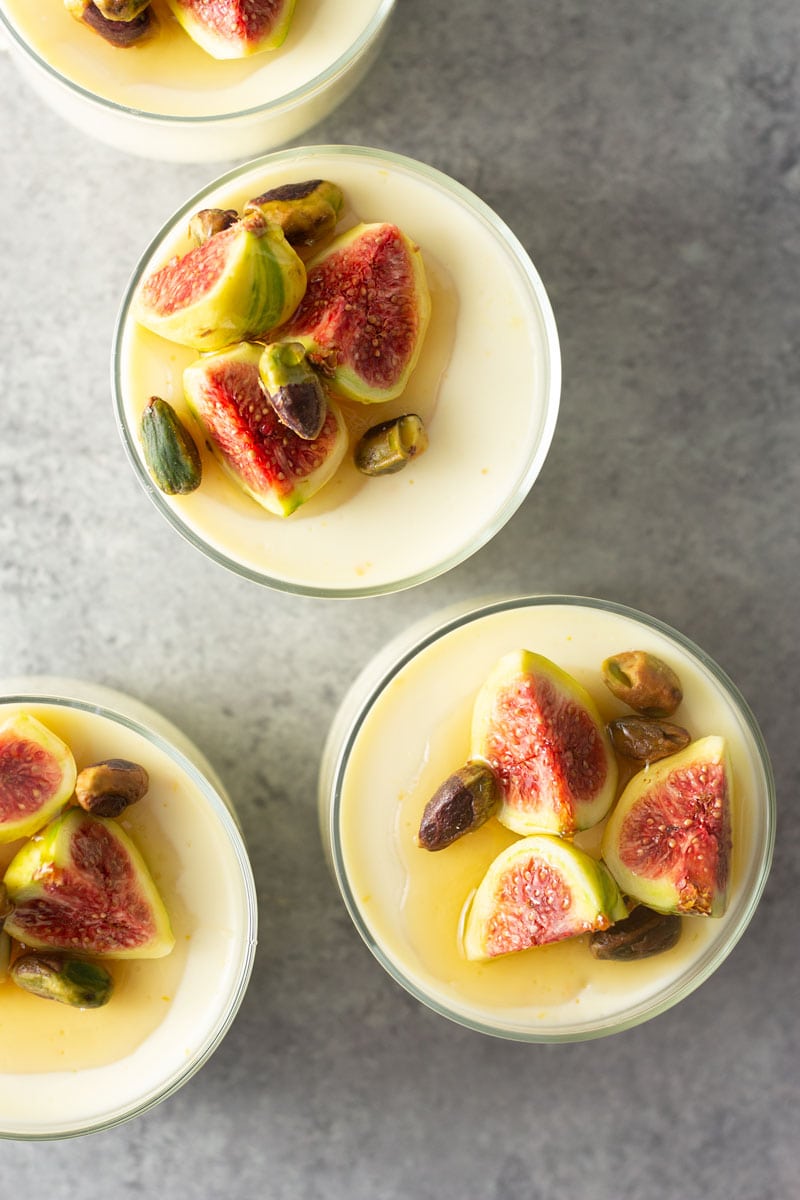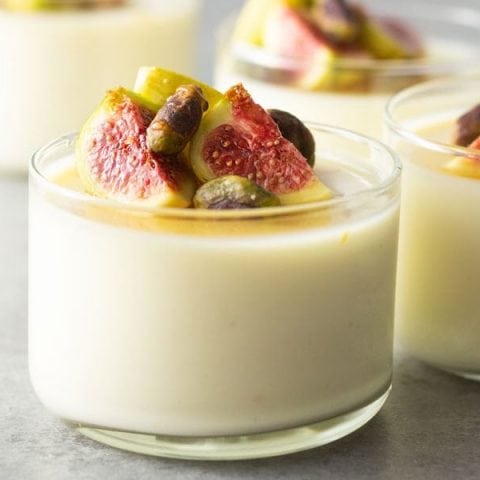 Goat Cheese Panna Cotta with Figs, Honey & Pistachios
Sabrina Russo
This rich and tangy goat cheese panna cotta pairs perfectly with sweet, ripe figs, orange blossom honey and salty, toasted pistachios.
Ingredients
2

cups

heavy cream

2/3

cup

sugar

¼

tsp

kosher salt

1

cup

buttermilk

1

packet plain powdered gelatin

~2 tsp

¼

tsp

finely grated orange zest*

4

oz

creamy

fresh goat cheese, softened at room temperature

½

cup

pistachios

2

tsp

unsalted butter

melted

Kosher salt

Orange blossom honey

Fresh figs

cut into wedges
Instructions
Heat cream base: Add cream, sugar and salt to a pot. Bring to a simmer over medium heat, stirring occasionally.

Bloom gelatin: Place buttermilk in a cup. Sprinkle gelatin over top. Allow to bloom for 5-10 minutes while cream comes to a simmer.

Mix panna cotta base: When cream comes to a simmer, lower heat and whisk in buttermilk/gelatin mixture. Stir in orange zest. Whisk until gelatin is dissolved. Place softened goat cheese in a bowl. Whisk cream mixture into goat cheese, one ladleful at a time, until completely combined.

Strain and pour: Strain panna cotta base through a sieve into a large liquid measuring cup. Pour mixture into desired glasses or ramekins. This is enough for 6-8 servings. Cool at room temperature. Place in fridge to cool and set up completely for several hours or ideally overnight.

Toast pistachios: While panna cotta sets up, toast the pistachios. Preheat oven to 350°F. Place nuts on a parchment lined baking sheet. Drizzle over melted butter and season liberally with salt. Toss. Bake about 8-10 minutes or until golden brown. Cool at room temperature and store in an airtight container.

Serve: To serve, top panna cottas with figs and nuts, and drizzle over honey. Enjoy.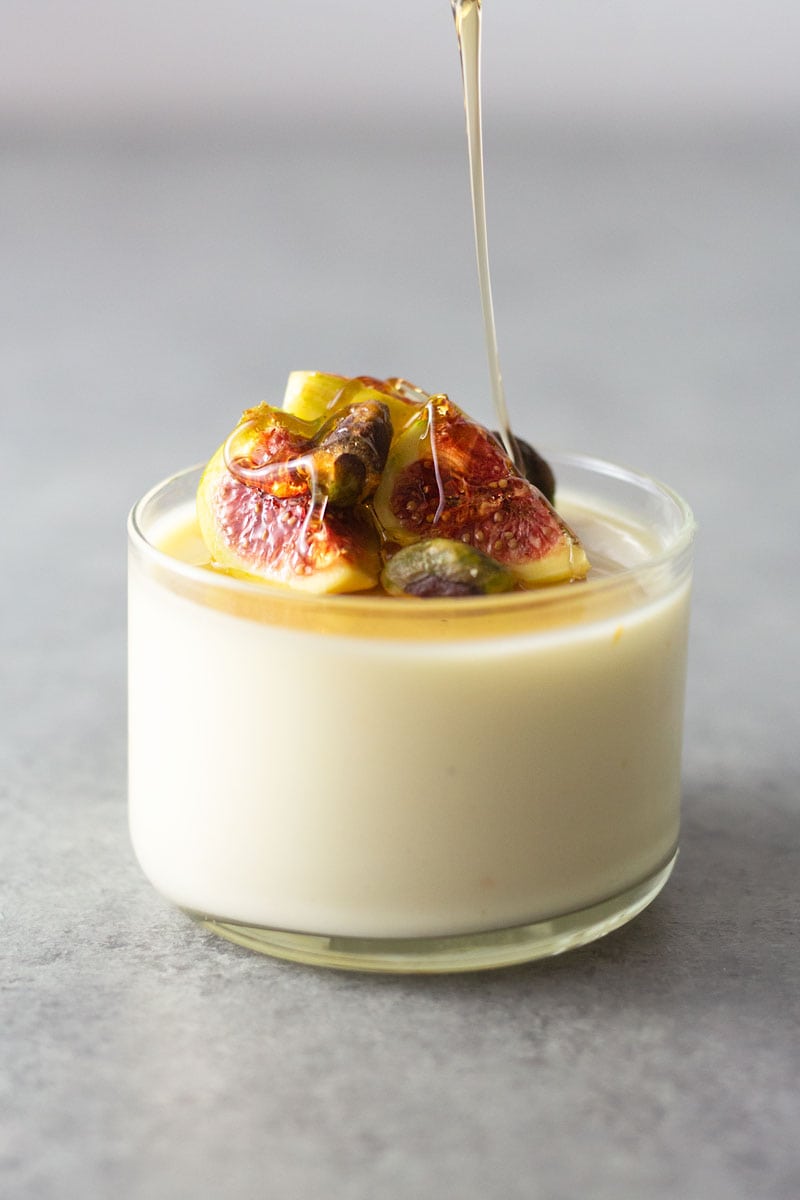 Sabrina Russo
My Three Seasons represents the 3 key factors that are most important to me in cooking. #1 Seasonal ingredients #2 Proper Seasoning (don't skimp on that salt!) #3 Cooking like a Seasoned chef (technique is everything). My name's Sabrina. I live in NYC. I'm a registered dietitian with professional cooking and food styling experience. Come cook with me.