This great spicy dish represents the Goan version of an Asian stir fry.
By Nik Sharma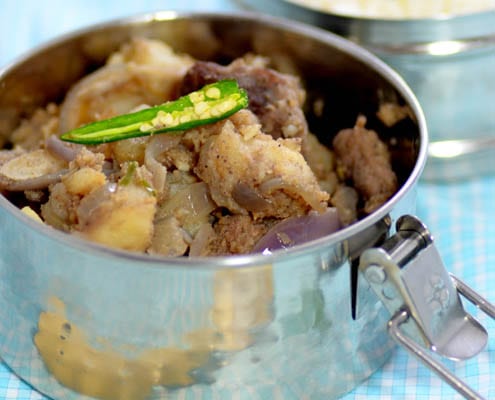 Goa, is a former Portuguese colony in India which manifested in a wonderful mix of Indian and Portuguese influences in both culture and cuisine. This dish represents the Goan version of an Asian stir fry, the beef and the potatoes are stir-fried separately and then mixed together with the garam masala and seasonings. The warm notes of the ground cloves and cinnamon from the garam masala along with the Indian green chilies give this dish its characteristic heat and spicy flavors. Try this recipe out and don't forget you can always kick the heat up by adding more chili to satisfy your taste buds.
See Also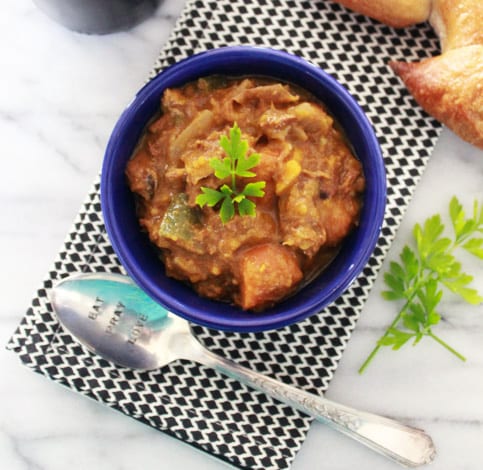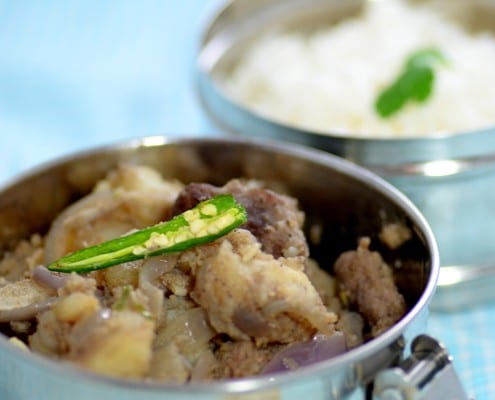 Goan Beef and Chili Stir Fry
A delicious hot and spicy beef and potato stir fry seasoned with chilis
Ingredients
2 lbs cubed beef (stew beef pieces preferably)
4 medium sized potatoes
2 large red onions
2 cloves of garlic
1 teaspoon grated ginger root
1 teaspoon garam masala
4 medium sized green chilies
salt and pepper to taste
4 tablespoons vegetable oil
Instructions
Peel the garlic, onions, and potatoes.
Halve the onions and slice them length wise and keep aside.
Chop the garlic and keep aside.
Dice the potatoes into ½ inch cubes.
Slice the chilies length wise (you can leave the seeds in if you want more heat).
Heat 2 tablespoons of the oil in a large skillet on a medium flame.
When the oil gets hot, add the potatoes and toss them around to coat them in the oil. Cover with a lid and cook till tender.
Add the onions and cook till translucent.
Add the garlic, ginger, and the chilies and cook for another 2 minutes.
Remove the vegetables from the skillet and keep aside.
Now, add the rest of the oil to the same skillet and continue heating on a medium flame.
Add the beef cubes to the pan and cook till browned on both sides and tender. This should take about 20 minutes.
Add the vegetables back into the pot along with the lemon juice, garam masala and season with salt and pepper.
Gently fold all the ingredients together.
Cover the skillet with a tight lid and reduce the heat to a gentle simmer. Cook for another 5 minutes so all the flavors are combined evenly.
Serve hot with rice.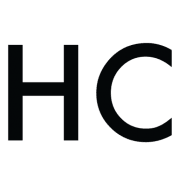 Nik Sharma
Nik Sharma is the cook, author and photographer behind "A Brown Table" and currently resides in Washington D.C. He is a self-taught cook that is constantly trying to infuse "exotic" spices and ingredients by learning different cooking techniques in day-to-day meals with the motto of keeping all cooking methods fun, simple and useful.