For Kee is tucked in on a back street in Sheung Wan, a quieter neighborhood to the west of Central on HK island.
By Elspeth Velten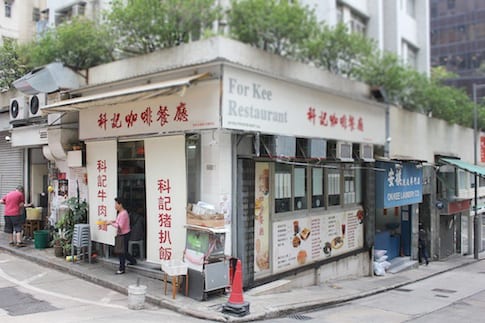 The menu shows shades of a typical Hong Kong cha chaan teng — an inexpensive type of comfort cuisine that developed in HK in the 1950s and 60s. Think of a fusion of western foods like buttered toast with scrambled eggs or peanut butter and like spaghetti and meatballs and coffee mixed with tea and condensed milk. Seems strange to us Westerners, but these cafes can be the cheapest places for grub in HK. Anyway, For Kee is particularly known for its pork chop, and that is exactly what we went for.
I had seen photos online of sliced pork chop served on top of rice and a bed of sauteed greens with a fried egg on top. When we got there, we tried to find that dish on the menu, and ended up with something a little different, but with the same effect. We also thought we ordered two orders, but apparently only ordered one. Which is good, because since we got fried rice instead of steamed white rice, this dish went from $4 to $8. But seriously, best pork chop ever. It was sliced and mixed in with the rice so you really cant get a good feel here, but imagine dark, fried meat pounded thin with a salty-sweet umami flavor. The greens here were the stalks of some chinese cabbage-y veg that we saw all over the wet markets around town; they were fresh and firm, just barely stir-fried with the eggy rice. Scrumptious.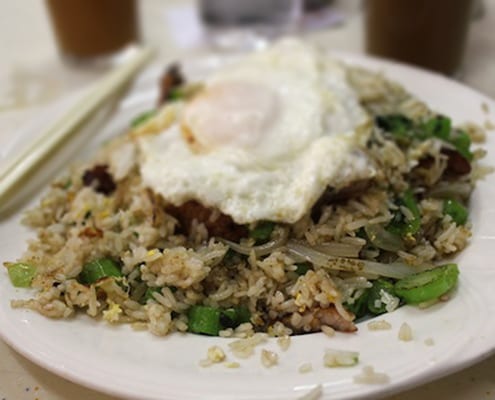 I guess this place does get some tourist traffic from the foodies out there, but you wouldn't know it when we were there. It was basically all older Asian men sitting on tiny plastic stools and staring at my camera like "What's going on, I'm trying to eat pork and toast here, k?" So, definitely not a touristy vibe. Be sure to rock up before lunchtime though unless you want to wait on line with the business people takin' a cig and pork chop break. We nearly wrecked the whole thing for ourselves when we ordered and then quickly realized we had no cash… this is not a credit-card acceptin' establishment. My friend had to run out and find the nearest ATM, which kind of gave me a panic attack seeing how he had nothing to do with navigating to find the place to begin with and I started having day-nightmares that he would get lost without a phone and I wouldn't be able to pay for the food and it would all go pear-shaped. DON'T YOU WORRY, our hero won this time.
For Kee: Shop J-K., 200 Hollywood Road, SOHO, Sheung Wan, Hong Kong
Elspeth Velten
Elspeth is a contributing writer at Honest Cooking. She is based in New York, but her love for food and travel continues to lead to adventures all around the globe. Elspeth regularly shares her experiences on her food blog, To Stay or to Go? Her happy place is among green curries and fruit smoothies in Thailand.