Your favorite Thanksgiving flavors are even better the day after when you can load them all onto a sandwich that works just as well with regular bread if you're not gluten-intolerent.
By Debra Smith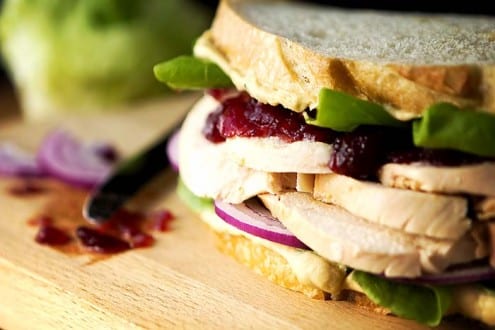 Gluten-Free Thanksgiving Leftover Sandwich
Your favorite Thanksgiving flavors are even better the day after when you can load them all onto a sandwich that works just as well with regular bread if you're not gluten-intolerent.
Ingredients
Any hearty gluten-free bread
Rosemary hummus
Bib or Boston lettuce
Thinly sliced onion
Leftover turkey sliced ¼ inch think
Cranberry sauce
Salt/pepper to taste
Instructions
Spread both sliced of bread with hummus.
Top one slice with remainder of ingredients and top with the other slice, hummus side down.
Enjoy.
Debra Smith
Debra and 'The Professor', Midwest-based husband and wife freelance videographers, photographers, writers, storytellers, and publishers of the Smith Bites. Using images, words, music and video, they connect the stories about food, friends and family to the world around them.