There's just something about pot roast and soup that says comfort food on a cool winter evening.
By Faith Gorsky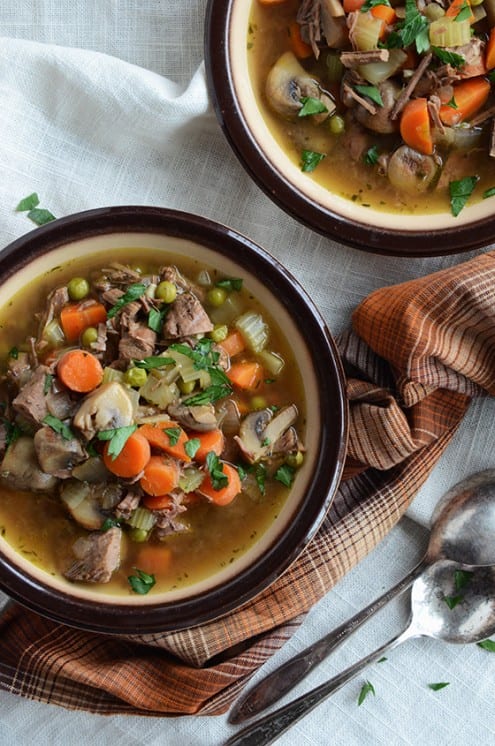 Gluten Free Pot Roast Soup
There's just something about pot roast and soup that says comfort food on a cool winter evening.
Ingredients
2 tablespoons olive oil
1 large onion, diced (divided)
8 oz (225 g) button mushrooms, quartered
4 cloves garlic, minced
1 teaspoon minced fresh rosemary
1 teaspoon minced fresh thyme
4 cups (.95 liter) low-sodium beef stock
1 teaspoon Worcestershire sauce
1 bay leaf
¼ teaspoon salt
⅛ teaspoon black pepper
2 large stalks celery, chopped
2 large carrots, chopped
¾ lb (350 g) cooked, cubed pot roast (about 3 cups)
½ cup (70 g) frozen green peas, thawed
1 teaspoon arrowroot starch, dissolved in 1 tablespoon cold water to make a slurry (see Note below)
2 tablespoons minced fresh parsley, for garnish
Instructions
Heat the oil in a medium saucepan over medium-high heat. Add half of the onion and cook until deep brown, about 5 minutes, stirring occasionally and adding a splash of water as necessary if the onion starts to get too dark in spots.
Turn heat down to medium and add the mushrooms; cook until browned, about 4 to 6 minutes, stirring occasionally. Add the garlic, rosemary, and thyme and cook 1 minute more, stirring constantly.
Add the stock, Worcestershire sauce, bay leaf, salt, black pepper, celery, carrot, and the remaining half of the onion. Bring to a boil over high heat, then turn heat down to simmer, cover the saucepan, and cook until the veggies are tender, about 20 minutes.
Add the pot roast, peas, and arrowroot slurry and cook 5 minutes more.
To serve, ladle into bowls and sprinkle the parsley on top.
Faith Gorsky
Faith Gorsky is the writer, recipe developer, photographer, and food stylist behind the blog An Edible Mosaic. Her recently-released first cookbook, An Edible Mosaic: Middle Eastern Fare with Extraordinary Flair (Tuttle Publishing), is a collection of authentic Middle Eastern recipes handed down to her from her husband's family during her extensive time spent in the Middle East. Faith loves to travel, especially to places steeped in rich culture and history.