Blending the cheese with the tomatoes gives this stunner a lovely orange-ish hue.
By Debra Smith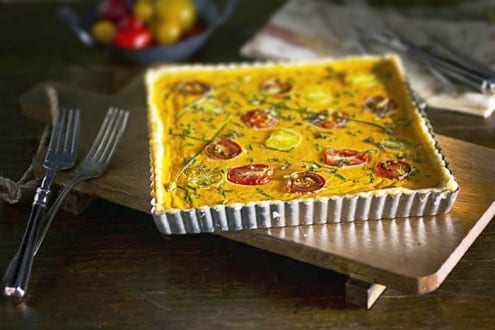 Gluten-Free Heirloom Tomato Tart
Blending the cheese with the tomatoes gives this stunner a lovely orange-ish hue.
Author:
Debra Smith, adapted from Savory Pies, Greg Henry
Ingredients
INGREDIENTS:
1 recipe for Gluten-Free Pie Crust (recipe follows)
1 cup crushed tomato puree
5 ounces grated cheese mixture: I used Pecorino-Romano, Parmigiano-Reggiano and Fontina
3 large eggs, slightly beaten
½ teaspoon kosher salt
¼ teaspoon black pepper
½ teaspoon Sriracha
Assorted small heirloom tomatoes
Fresh thyme for garnish
Fresh chives for garnish (chive blossoms are a pretty touch)
FOR THE CRUST:
12 Tbsp unsalted butter, frozen
268 grams Gluten-free AP flour mix, cold (freeze for at least 30 minutes)
1 teaspoon psyllium husk (OMIT if your flour mix has xanthan gum already added)
½ teaspoon salt
¼ teaspoon baking powder
½ cup mascarpone cheese, cold
5 Tablespoon ice water
Instructions
CRUST
Place chilled dry ingredients into the bowl of a food processor and pulse 3-4 times to blend flours together
Add both butter and mascarpone cheese; pulse until mixture looks like small peas – about 8-10 pulses, give or take
Add water and pulse again until the mixture is more sand-like and it just begins to cling to the side of the work bowl
Dump the mixture onto a lightly floured surface and divide into 2 pieces, pressing/squishing the dough together until it forms a ball
Wrap each piece of dough tightly in plastic wrap and refrigerate overnight; this allows the flours plenty of time to hydrate and makes it easier to handle (you're only going to use 1 crust for this particular recipe; the other will keep in the refrigerator for 2-3 days or in the freezer, wrapped tightly, for up to 3 months)
About 15 minutes before rolling, remove from refrigerator to let it soften a bit; preheat oven to 400 degrees
Place disk between 2 pieces of parchment and roll – size of dough should be approximately 2-inches larger than the dish/pan you are using
Remove top piece of parchment and carefully, turn the bottom parchment over so that the crust is now able to be placed into tart pan
Gently peel parchment from the crust and nestle the crust into your tart pan; no worries if it tears or is a bit thin near the edges – you'll use any trimmings to fill in where needed and once the tart is filled and baked, no one is the wiser!
Generously prick the bottom of the tart with a fork; place in the freezer for 20 minutes
Remove tart shell from the freezer and place on a baking sheet; line the tart with a sheet of foil or parchment, fill with pie weights, rice or beans and bake for 20-25 minutes or until just beginning to brown
Carefully, remove the liner and weights, leaving the tart on a rimmed baking sheet; cool
FOR THE TART
Reduce oven temperature to 300 degrees
Place crushed tomatoes, eggs, cheese, sriracha, salt and black pepper in a blender and blend until frothy
Pour tomato mixture into cooled crust; slice a few of the heirloom tomatoes in half and place cut-side facing up across the tart
Sprinkle with herbs and bake for 45 minutes, rotating halfway through the baking time
The tart is done when a knife inserted in the center comes out clean
Cool completely and serve with more fresh heirloom tomatoes
Debra Smith
Debra and 'The Professor', Midwest-based husband and wife freelance videographers, photographers, writers, storytellers, and publishers of the Smith Bites. Using images, words, music and video, they connect the stories about food, friends and family to the world around them.