A few ingredients and a couple of minutes are all it takes to make simple Cinnamon Raisin Flatbread. It is paleo, high in protein, and perfect with a spread of butter.
By Arman Liew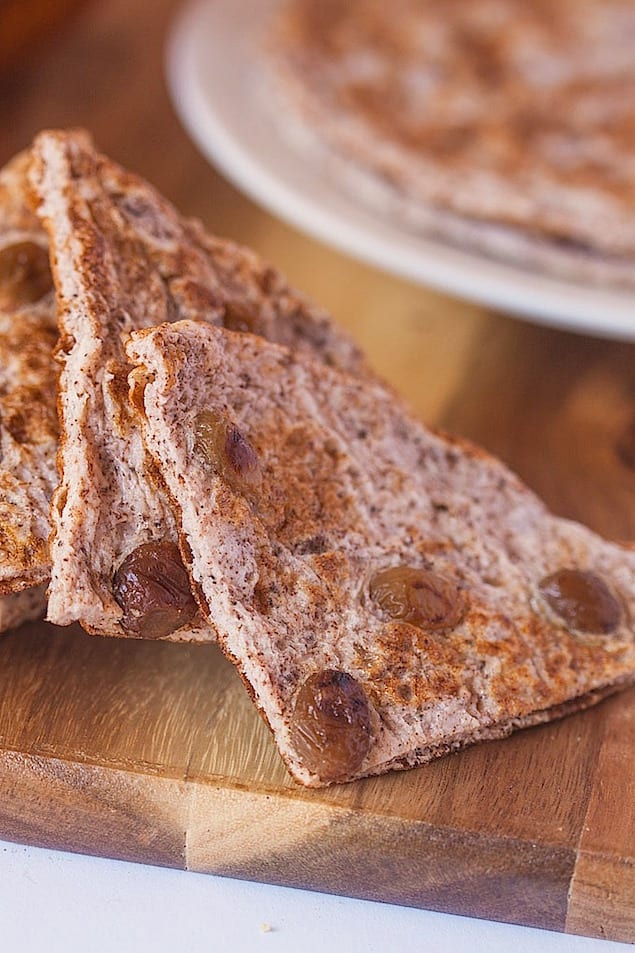 I made this paleo cinnamon raisin flatbread after having success with the original version. Get that recipe here. As mentioned in that post, this 'flatbread' is NOT like a slice of cafe-style raisin bread you may or may not be accustomed to. It is more of a 'wrap' texture and depending on whether you choose to use whole eggs or just the whites, can be quite airy. Saying that, it is delicious lightly toasted with butter or as I did during my Paleo challenge, use it as the most delicious wrap I think I have ever made!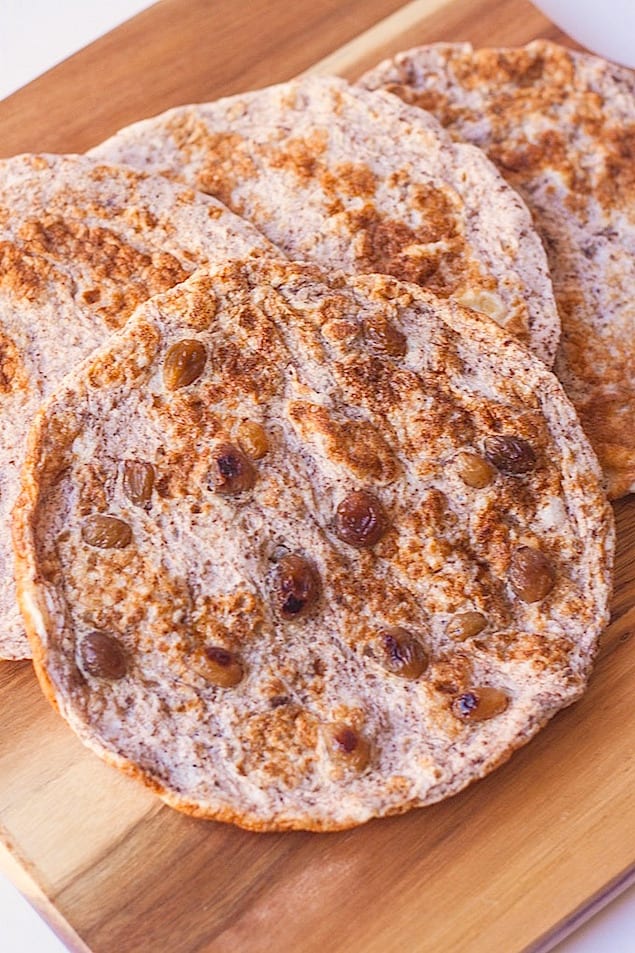 In just five minutes, you've got a bread like base ready for the butter, fillings or even as it is.
Breakfast, lunch, snack or dinner- You be the judge. This Paleo Cinnamon Raisin flatbread doesn't discriminate.

Gluten-Free Cinnamon Raisin Flatbread
A few ingredients is all it takes to make simple Cinnamon Raisin Flatbread. They are paleo, high in protein, and perfect with a spread of butter.
Recipe Type:
Side, Baking, Snack
Cuisine:
Gluten Free, Paleo
Ingredients
¼ cup coconut flour, sifted
2 tsp homemade paleo Baking Powder (use standard if not strictly paleo)*
12 whole eggs/12 egg whites (not from a carton)
1 tsp sea salt
2 T - ¼ cup coconut sugar (Can sub for any granulated sweetener)
1 T cinnamon
¼ cup+ raisins
Coconut oil cooking spray, or other cooking oil you prefer will work
Instructions
In a large mixing bowl, combine the eggs and whisk lightly. Add the coconut flour, baking powder, salt, coconut sugar, cinnamon and whisk immediately to avoid clumping. Fold in the raisins and set aside.
Coat a large frying pan with oil and on low heat, allow to heat up completely. Once hot, pour ¼ of the mixture into the pan and cover immediately. Once bubbles start to appear on the edges, remove cover and flip and cook for 1-2 minutes. Repeat the process until you have four, large flatbreads.
Allow to cool completely before using as a wrap, or top immediately with butter and extra cinnamon.
Notes
Baking soda and lemon juice- for this recipe use ½ tsp baking soda with 1 T lemon juice.
Flatbreads can be refrigerated for up to a week. Freezing them is not recommended, unless you heat them up again in the pan.
Arman Liew
The Big Man's World is all about great recipes, epic travels and random rants from all things fitness, diet trends and why my body will never look like Channing Tatum's. There is an unfair stigma that healthy food can be boring and tasteless- It is my personal mission so prove that wrong.