Chocolate chips and oats add a lovely texture to this fluffy gluten free cake with a ganache frosting.
By Sherron Watson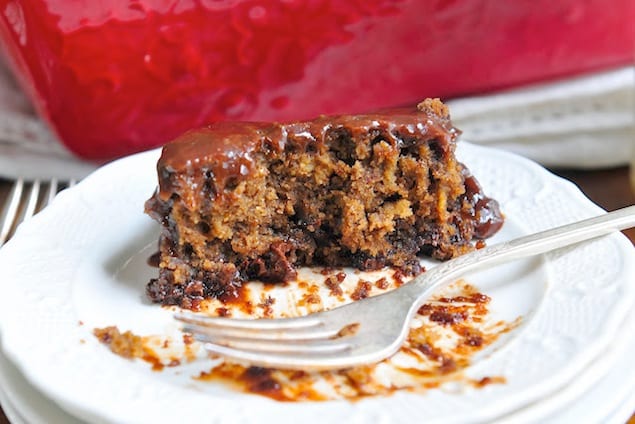 This cake is moist, rich and gluten free.

Gluten-Free Chocolate Oatmeal Cake
Ingredients
Cake
½ cup of brown sugar
½ cup of white sugar
½ cup of melted butter
2 eggs, lightly beaten
½ cup almond meal (50g)
½ cup white rice flour (85g)
¼ cup oat flour (31g)
½ cup tapioca starch (60g)
1 teaspoon baking soda
½ teaspoon of sea salt
2 tablespoons unsweetened cocoa powder
1 cup rolled oats (Like Bob's Red Mill, Gluten Free)
1¼ cups boiling water
12 oz bag of chocolate chips
Frosting
6 tablespoons of butter, soft
6 tablespoons of milk
1½ cups of sugar
½ cup chocolate chips
Instructions
Cake
Preheat oven to 350 degrees and spray a baking dish. The red dish in the pictures is an odd size (7½X11½) The result is a thicker cake. When baked in a 9x13 it will be thinner--still good either way!
Boil 1¼ cup of water and add the 1 cup of uncooked oats. Let sit until oats are soft.
In a mixing bowl, combine butter and both sugars. Blend until smooth.
Add one egg at a time.
Add all of the dry ingredients. Blend together. Batter will be thick.
Add the water/oat combination. Blend well.
Fold in the chocolate chips. Bake for 30-35 minutes. Do not over bake. The top should be soft and spring like to the touch. See my picture below. Cool cake completely before adding the frosting.
Frosting
Melt butter in small pan over medium high heat and add milk.
Add sugar and stir well. Bring to a boil and cook for 30 seconds.
Turn off heat and add chocolate chips. Stir until melted.
Pour over the top of the cake and spread as needed. A smooth crust like surface will appear as it starts to cool.
Sherron Watson
Sherron Watson is a writer and photographer. Her passion for food started at a young age while working with her family in their restaurant business. A career in photography gave her the experience she needed to start capturing images of her favorite dishes. This led to the creation of her blog: simply-gourmet.com. She is currently a food writer for Capital Style Magazine in Annapolis, MD.