These chocolate cookies are cake-like and make for the perfect dunking cookie.
By Sherron Watson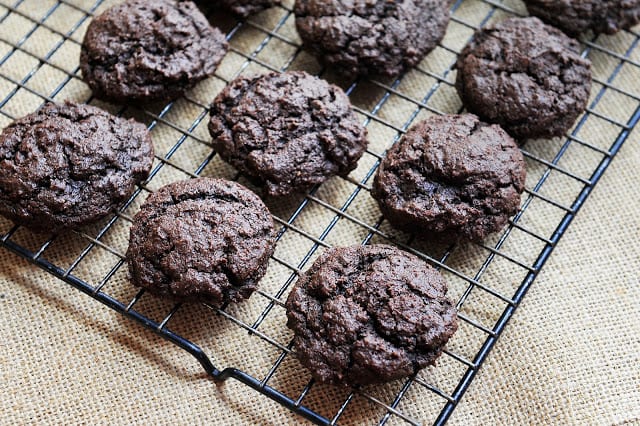 Oh yeah–it helps that you check if you have milk before you make them. My kids were so mad the last time because our milk bottles were empty. How can you eat cookies without an ice cold glass of milk?

Gluten Free Chocolate Cookies
These chocolate cookies are cake-like and make for the perfect dunking cookie.
Ingredients
½ cup almond meal (purchased at Traders Joe or make yourself)
¼ cup tapioca starch (can also be called flour)
¼ cup super fine white rice flour (purchased at Asian market)
¾ cup cocoa powder
1 teaspoon baking soda
½ teaspoon baking powder
¼ teaspoon salt
½ cup white sugar
7 tablespoons butter, soft
1 large egg
2 teaspoons coffee grounds ( I use the grounds from one of my Keurig cups)
¼ cup milk
Instructions
Preheat oven to 375 degrees. Line a cookie sheet with parchment paper.
In a small bowl combine all of the dry ingredients and whisk to blend.
In a medium bowl add butter and sugar, beat until butter is light yellow in color. Add coffee grounds, egg and milk. Combine well.
Add dry ingredients to wet ingredients and mix well.
Using a cookie scoop, space cookies 2 inches apart on prepared cookie sheet. Bake 7-9 minutes.
Transfer to a cooking wire rack. Serve while still warm or store in a sealed container for later.
Sherron Watson
Sherron Watson is a writer and photographer. Her passion for food started at a young age while working with her family in their restaurant business. A career in photography gave her the experience she needed to start capturing images of her favorite dishes. This led to the creation of her blog: simply-gourmet.com. She is currently a food writer for Capital Style Magazine in Annapolis, MD.