Almonds and pureed quinoa replace the flour in this decadent cake. We promise you won't miss the flour one bit.
By Kimberly Killebrew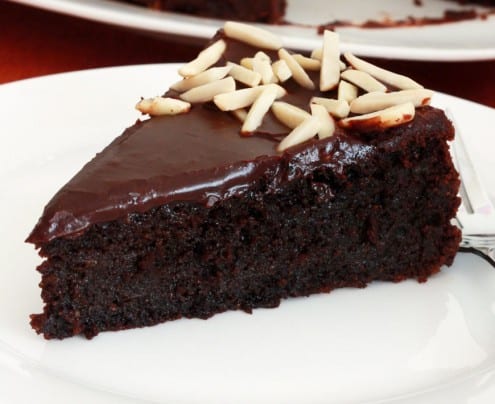 Gluten-Free Chocolate Almond Cake
Almonds and pureed quinoa replace the flour in this decadent cake. We promise you won't miss the flour one bit.
Author:
Kimberly Killebrew
Ingredients
2 cups cooked quinoa, loosely packed
4 egg yolks
? cup milk
1 teaspoon vanilla extract
½ teaspoon almond extract
½ cup butter, melted
¼ cup coconut oil
1½ cups granulated white sugar
¾ cup unsweetened cocoa powder
1½ teaspoons baking powder
½ teaspoon baking soda
½ teaspoon salt
4 egg whites
½ teaspoon cream of tartar
1 cup ground almonds
For Chocolate Almond Glaze:
4 tablespoons unsweetened cocoa powder
2 tablespoons butter, melted
1 cup powdered sugar
¼ teaspoon vanilla extract
¼ teaspoon almond extract
3 tablespoons hot water
Slivered almonds for decoration
Instructions
Preheat the oven to 350 degrees F. Butter a 9×2 inch round cake pan.
Place the cooked quinoa in a blender along with the milk, egg yolks, vanilla extract, almond extract, butter and coconut oil. Blend until smooth.
In a large mixing bowl, combine the sugar, cocoa powder, baking powder, baking soda, and salt. Using a rubber spatula, stir the quinoa mixture into the sugar mixture until combined. Stir in the ground almonds.
In a small mixing bowl, beat the egg whites on high speed until foamy. Add the cream of tartar and continue to beat until stiff peaks form.
Using the rubber spatula, gently fold the egg whites into the cake batter.
Pour the batter into the cake pan and bake on the middle rack of the oven for 45-50 minutes or until a toothpick inserted into the middle of the cake comes out clean but moist.
Let the cake sit in the pan for 10 minutes before carefully inverting it onto a plate and then carefully inverting it again (top side up) onto a cake platter to cool completely.
To make the Chocolate Almond Glaze: Combine all ingredients in a small bowl. Pour over the completely cooled cake, spread evenly over top and sides of cake. Immediately sprinkle with the slivered almonds. Allow the glaze to dry before serving.
Kimberly Killebrew
Raised in Western Europe, widely traveled, and currently residing near Seattle with her husband and children, Kimberly loves preparing and experimenting with a large range of flavors and cuisines. This is reflected in her food blog, The Daring Gourmet, where she invites all to "tour the world through your taste buds." Passionate cook, recipe developer and photo enthusiast, her culinary repertoire includes everything from gourmet to simple comfort food, and, as she puts it, "simply downright good eats."