Sponsored Post: We've partnered with North Coast Organics, makers of delicious apple products, to bring you fun recipes ideas for the coming season. Their apple sauces, vinegars, juices and ciders are made with only U.S. grown apples. You're sure to taste the difference! Be sure to enter their giveaway below.
With the holidays just around the corner, a loaf of this Glazed Cranberry Apple Bread is perfect for your Christmas brunch menu or after caroling, paired with a cup of mulled cider. Full of grated apples and apple cider soaked dried cranberries, each slice of this dense, delicious apple bread will satisfy your sweet tooth.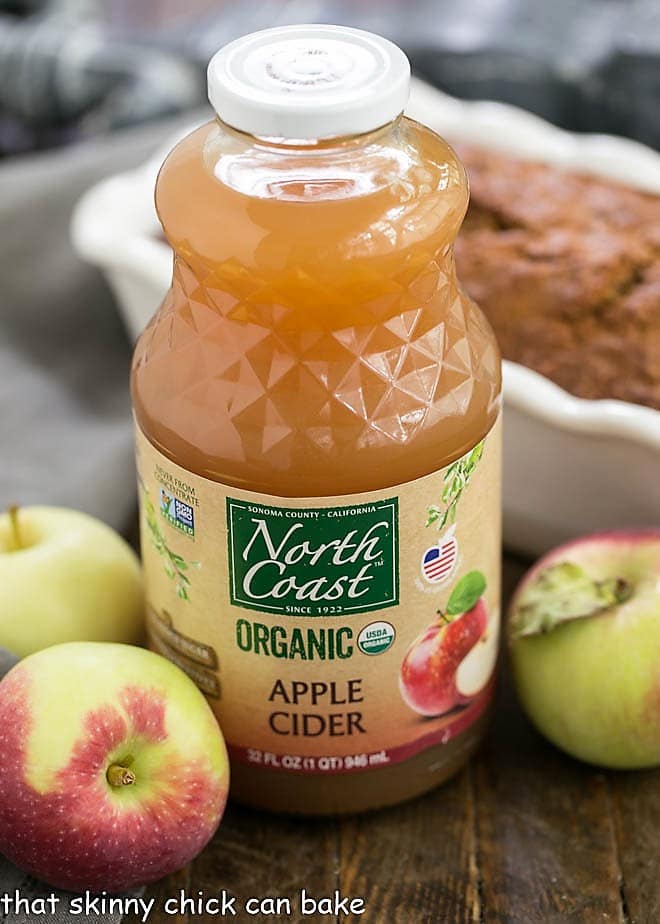 Once November rolls around, thoughts of trick or treating, raking leaves, and evening bonfires are replaced with anticipation of the upcoming holidays. I start dreaming about my holiday menus and the transitional flavors of pumpkin, apples and cranberries. This sweet, flavorful glazed cranberry apple bread was an ideal breakfast treat, but also a marvelous mid-afternoon snack with a hot cup of tea or even as a light dessert.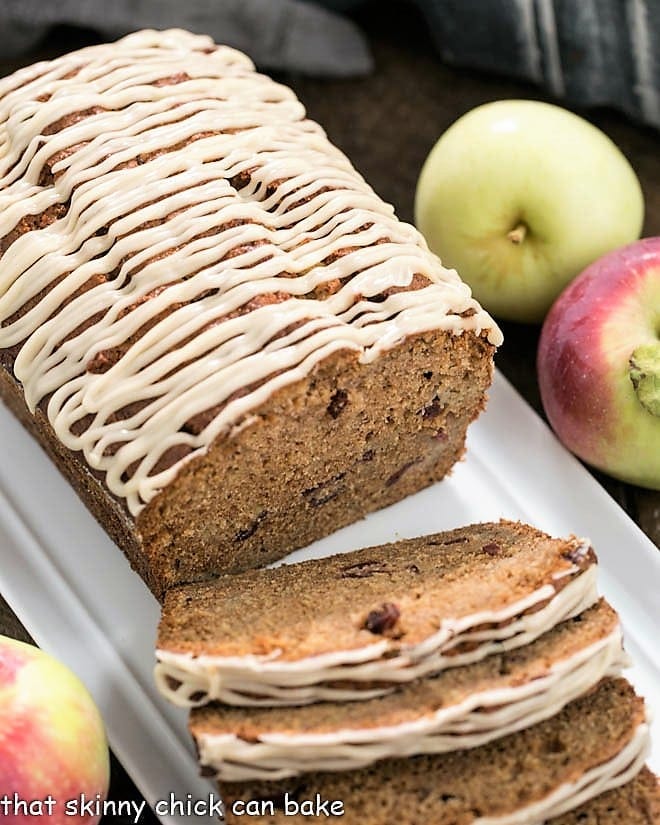 Tips for Making the Best Apple Quick Bread
Apple bread, whether made with diced or grated apples, is one of the joys of autumn. With all the varieties of apples available, it's hard not to grab a few extra and bake up a pie, tart, galette or a cinnamon spiced apple loaf. If you're new to making quick breads or muffins, here are a few pointers for obtaining the best results.
Preparing Your Pan:
Grease your loaf pan. I like flouring or sugaring as well, to help decrease sticking even more. The sugar adds a nice sweet crunch.
A rectangle of greased parchment paper added to the bottom of the pan is key to prevent the bottom from sticking.
Baking and Checking on Whether Your Loaf is Done:
Ovens and the kind of baking pan (metal versus glass or ceramic) can alter the baking times. The times listed in recipes are just suggestions, and you must test your loaf before pulling it out of the oven.
I use a toothpick and insert it into numerous spots across the middle of the bread to check for doneness. The toothpick should come out clean or with moist crumbs, not batter.
Once you pull an underdone loaf out of the oven and the middle sinks, it's too late to fix it. The end pieces will still be delicious, but the center will be raw or under-cooked. Been there, done that. I also note the cooking time after making a recipe for the first time. It will remind me what timing worked with my oven.
PRO-Tip: Start checking when you begin smelling the delicious aroma of your bread. Maybe 5 minutes before you think it will be cooked. If it's not done, check again in 5-10 minutes depending on how much underdone the loaf appears with your toothpick checks.
Mixing Your Quick Bread Batter
Quick breads should not be over-mixed. In muffins, you'll see a pointed top versus a rounded dome. Tunnels will also be visible throughout both the muffins and breads. Do not use an electric mixer to blend in the flour, but instead use a wooden spoon or rubber spatula and mix just until the dry ingredients are combined.
Most quick breads call to sift or whisk together the dry ingredients in a bowl and whisk together the wet ingredients in another bowl. Then the wet ingredients are gently mixed into the dry.
Scrape the batter into the prepared pan and level it out a bit with an offset spatula.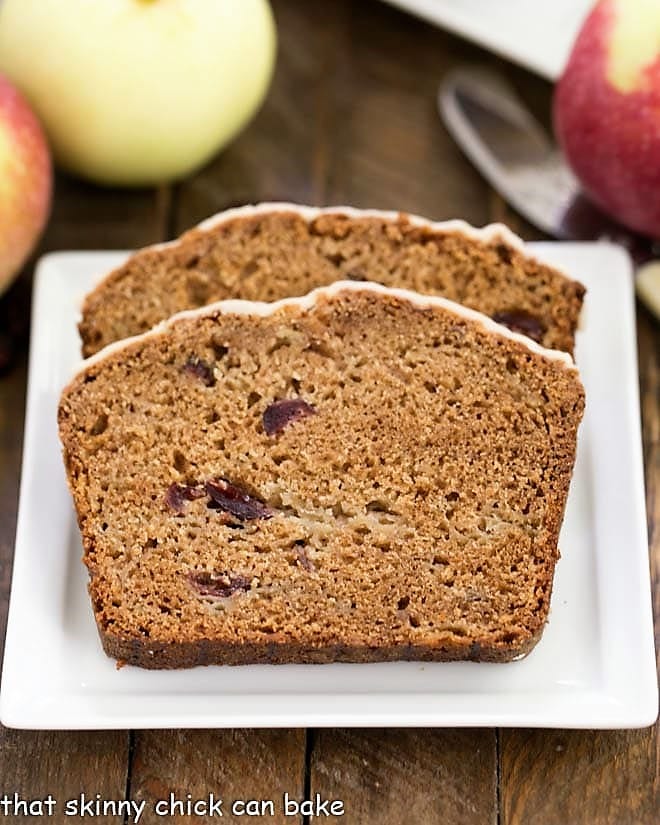 Can I Freeze Quick Bread?
Yes, quick breads freeze wonderfully which make them perfect to make ahead for the holidays. Wrap well in plastic wrap, then place in a zip-topped freezer bag. To serve, defrost in the refrigerator overnight and bring to room temperature to serve. Defrost and enjoy within 3 months for the best results after freezing.
Can I Use Any Kind of Apple?
Certain apples are best for baking. I recommend Granny Smith for this cranberry apple bread, as they consistently gives delicious results. But a variety of apples is nice to give a more complex apple flavor. Using one Granny Smith and one other baking apple would work well. Select a local variety, if available, that is recommended for pies.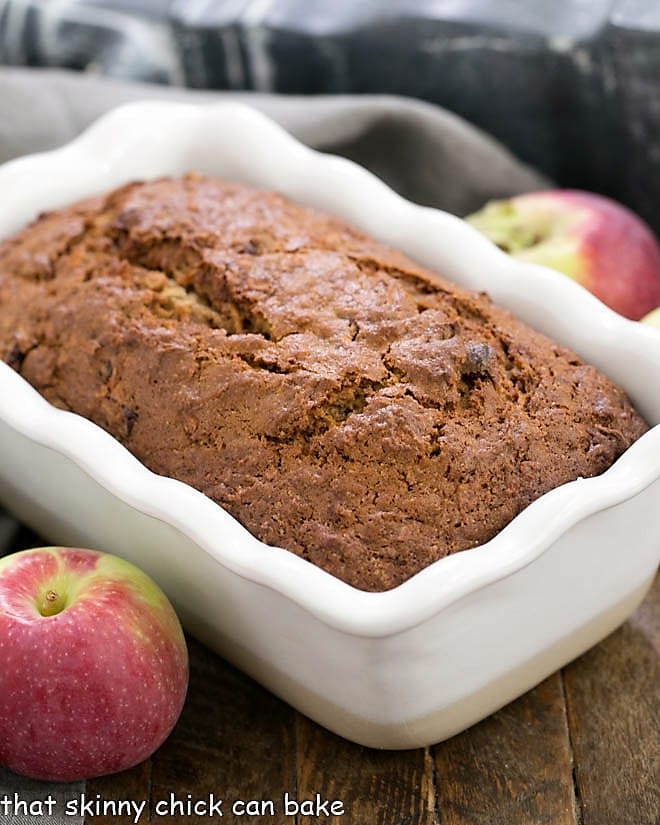 North Coast
North Coast has been in business over 95 years. They source fruit of exceptional flavor and quality, which is grown by skilled, responsible organic farmers with simple ingredients: water, earth and air.
North Coast assures their products are:
100% Organic certified
Non-GMO Project Verified
Made with USA-grown apples
Cleanly produced, with about 50% by solar energy
BPA-Free certified
Fresh pressed, never from concentrate
Without added sugar and without preservatives
KSA Kosher certified
North Coast's healthy products are perfect to incorporate into your family's menu.
Apple Juice: Jump-start your morning with North Coast's apple juice line, which includes single varietal juices from Honeycrisp, Gala and Gravenstein apples, in bottles that range from 10, 32, 64 and 128 fluid ounces.
Applesauce: North Coast's applesauce flavors range from traditional cinnamon to tangy apple apricot, apple with berries, strawberries, or even pumpkin spice apple. Their applesauce comes in cups, jars and even convenient pouches, which are perfect for school lunch boxes or for a healthy snack on the go.
Apple Cider: North Coast's apple cider, spiced apple cider, and pumpkin-spiced apple cider all make the perfect treat, whether enjoyed chilled or warmed up for a cozy moment.
Apple Cider Vinegar: Well-known for its wonderful flavor and health benefits, it can easily be incorporated into your diet.
Follow North Coast on Their Social Media Sites: Twitter, Instagram, Pinterest and Facebook. North Coast products are primarily available on the west coast and in the Midwest. They will be available throughout the east coast very soon and are available on E-commerce through Jet, Walmart, Amazon, Boxed, Vitacost, and Kroger.
North Coast is offering a GIVEAWAY on Facebook! Enter here for a chance to win a year's supply of North Coast products!! So versatile and of the highest quality, you'll definitely want to enter!
Print

Glazed Apple-Cranberry Bread
---
Cranberries:
1/2 cup

dried cranberries (I used Craisins)

1/2 cup

North Coast Apple Cider
Reduced Apple Cider:
1 cup

North Coast Apple Cider*
Apple Bread:
1 tablespoon

softened butter (to grease the loaf pan)

1 tablespoon

sugar (to dust the loaf pan)

1/4 cup

butter (melted)

2 tablespoons

vegetable oil

2 tablespoons

of the reduced apple cider

1/2 cup

sugar

1/2 cup

brown sugar

2

eggs

2 cups

flour

1 teaspoon

baking soda

1/2 teaspoon

salt

1 teaspoon

cinnamon

2

apples (peeled, cored and grated (I used Granny Smith. If your apples are huge, use only

1 1/2

apples))
Icing:
1 tablespoon

butter (melted)

2

–

3

teaspoons of the reduced apple cider

1/2 cup

powdered sugar (sifted)

1/4 teaspoon

vanilla
---
Instructions
In a small bowl, soak the dried cranberries (I used Craisins) in apple cider. Set aside until plump. (I refrigerated overnight).
Preheat oven to 350º. Grease an 8 x 4-inch loaf pan with butter and line bottom with a rectangle of parchment, if desired. Grease parchment. Dust pan with sugar. Shake out excess. Set aside.
Mix together butter, oil, 2 tablespoons of the reduced apple cider, and sugars until creamy. Beat in the eggs.
In another bowl whisk together, flour, baking soda, salt and cinnamon. Stir into egg mixture until just combined (do not beat). Fold in apples and drained cranberries.
Scrape batter into the prepared pan. Bake 1 hour or until a toothpick inserted into the middle of the loaf comes out clean.
Cool in pan 10-15 minutes before removing to a cooling rack.
Make icing by whisking together butter, reduced apple cider, powdered sugar and a splash of vanilla extract. Add enough cider to reach a good drizzling consistency.
Drizzle icing over cooled bread.
Notes
*You may not use all of the reduced apple cider.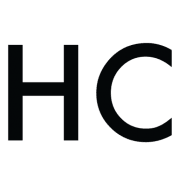 Liz Berg
My mom was an amazing cook, but she wasn't much of a baker. When my sisters and I yearned for a sweet treat, I turned to our trusty BH&G cookbook and zeroed in on the dessert tabs. My love of baking began in my childhood kitchen. I married a chocoholic and together we had 3 children with plenty of sweet teeth. I started my blog in 2010 to chronicle my baking journey.