PARTNER POST: Discover new ways to incorporate seasonal teas into your holiday cooking and desserts with Celestial Seasonings.
The easiest winter dessert recipe? Gingerbread poached pears. Infused with a gingerbread spice tea, these pears will feed all of your guests and can even be made ahead of time. Or, enjoy for breakfast with yogurt.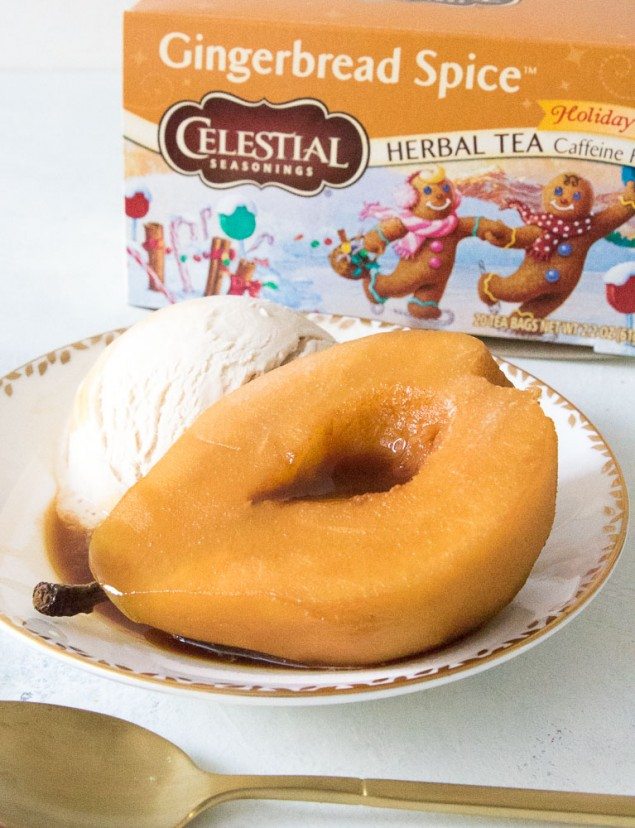 Poached pears make an elegant and effortless dessert that will always impress guests. You only need three ingredients. The best part? This recipe can be made a couple days in advance. Dessert really doesn't get any more simple than this.
I gently poached the pears in water infused with gingerbread spice tea to give the pears a yummy ginger and cinnamon holiday flavor. I then topped with the poaching liquid and non-dairy ice cream.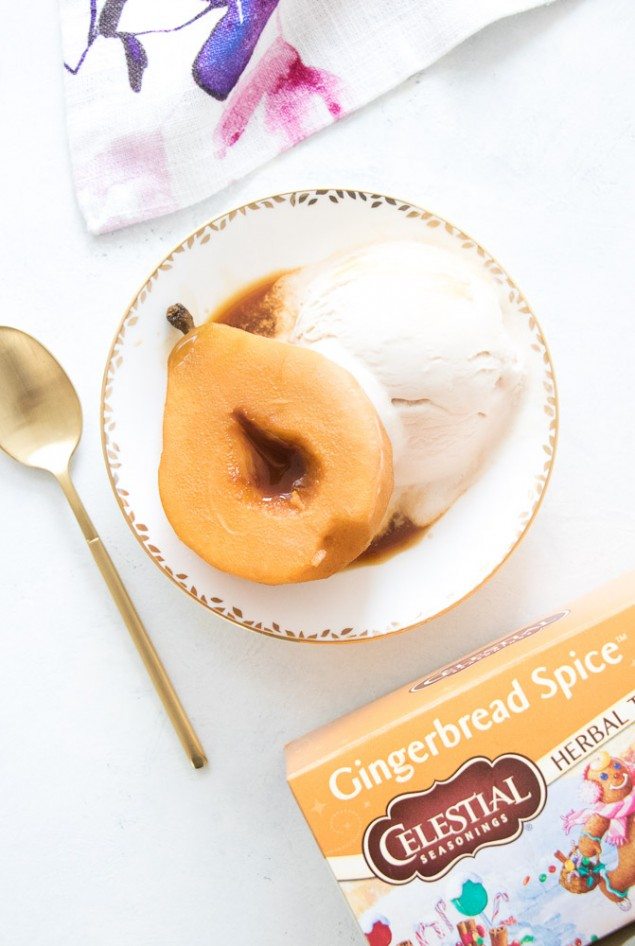 This holiday season, dessert doesn't have to mean loads of refined sugar, butter and refined flour. This dessert features pears, which are naturally sweet. Infusing them with warm gingerbread spice tea takes them over the top – no additional sugar needed. Plus, pears are packed with fiber, vitamins, minerals and phytochemicals that promote good health.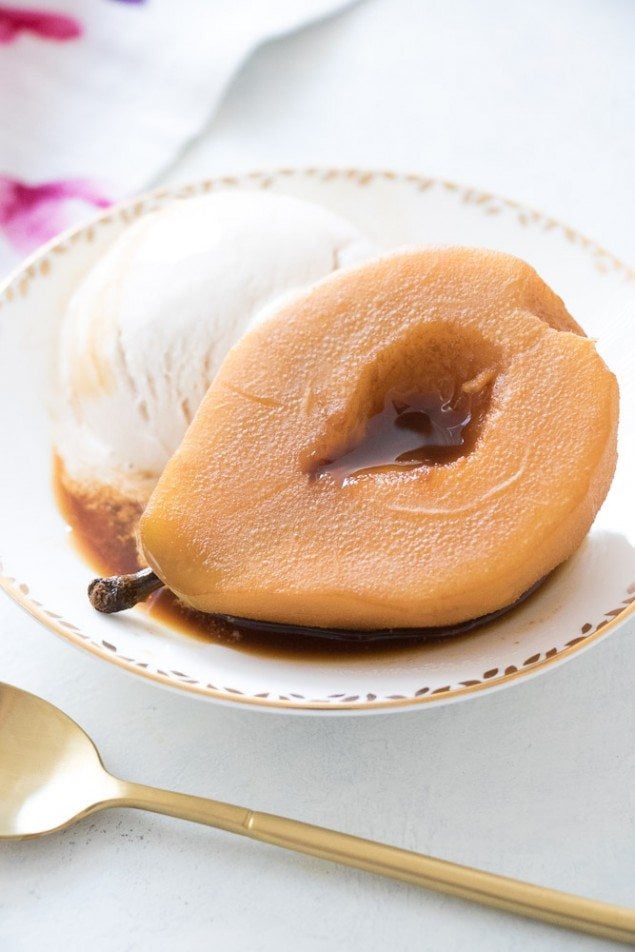 These poached pears are simply irresistible and perfect for holiday dinner parties. Swap the vegan ice cream for some vegan yogurt and you've got yourself an easy, healthy and warm winter breakfast.
This recipe is also naturally gluten-free, vegan and nut-free so it works for all dietary restrictions making it a great option for serving to your guests.
Selecting the best pear for poaching is important for this recipe. Look for firm, slightly underripe, unblemished pears. To check for firmness, use your fingers and push near the stem (as opposed to the widest section in the middle) to see if the pear yields to the pressure you are applying.
Store the pears at room temperature in a paper bag with an apple or a banana to speed up the ripening process. Alternatively, store pears in the coldest part of your refrigerator to slow down the ripening process. Keep them away from aromatic foods like onions.
See Also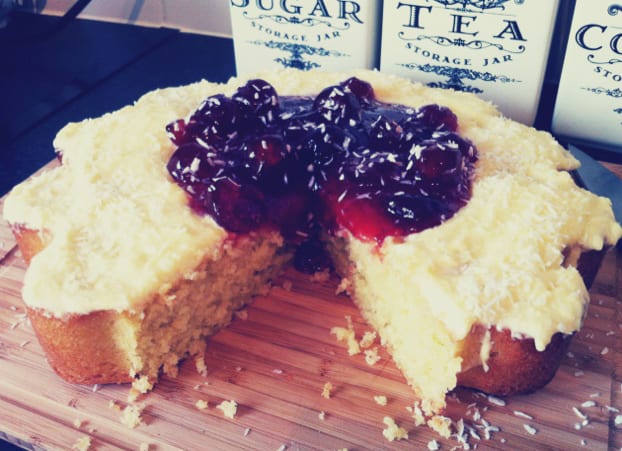 Ripe pears are available almost year round. Bartlett pears are usually the first you will see at the grocery store (around August). They are then followed by Anjou, Bosc, Comice, Seckel and Forelle pears. I have made this recipe three times with three different types of pears and honestly all were delicious. If I were forced to choose my favorite for this particular recipe I would say it is the Anjou variety. Anjou pears hold up great and are an 'all-purpose' pear that has a sweet, juicy and slightly citrusy flavor.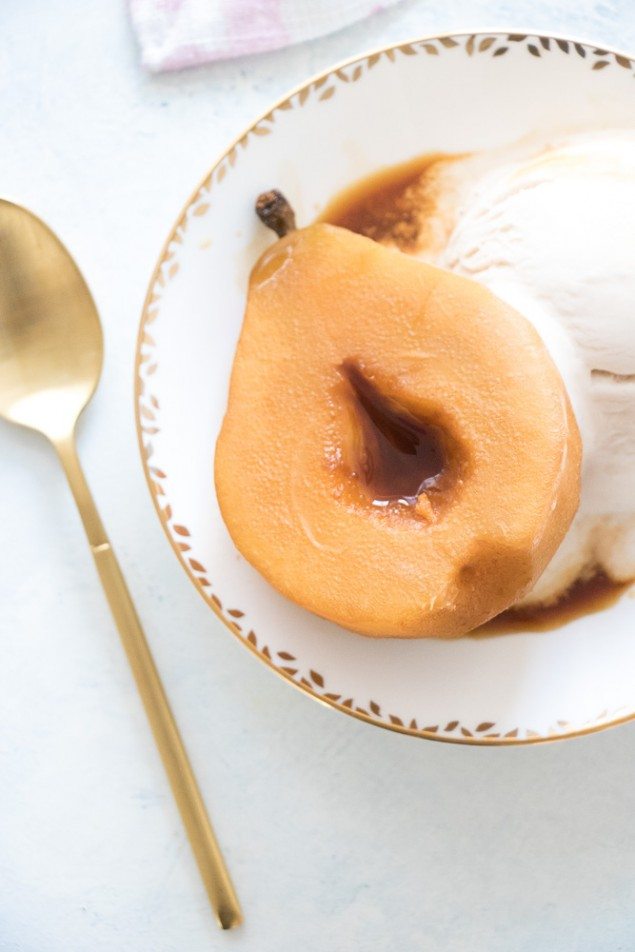 I hope you enjoy this seasonal recipe as much as my family does. It really has become our go-to for a healthy, no-stress dessert. Celestial Seasonings has always made such fun and flavorful teas and really any type would work in this recipe but I'm loving the depth of flavor in their herbal Gingerbread Spice variety. When I make this recipe my whole house literally starts to smell like the holidays. Oh, the magic of tea!
Want to try another fun recipe for the season? Check out this Candy Cane Tea Chocolate Bark! Recipe here.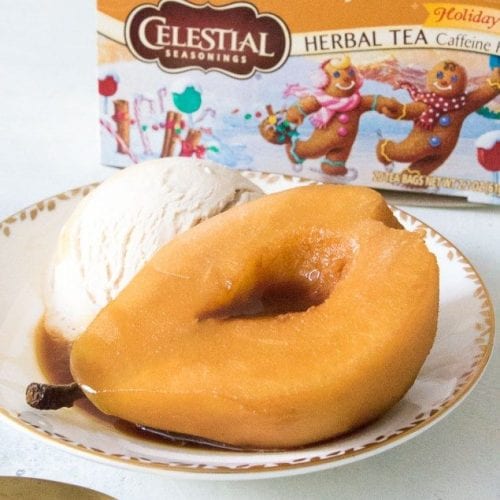 Elaine Gordon
Ingredients
2

pears

peeled, cored, halved lengthwise (firm, slightly underripe pears work best)

3

cups

water

6

Celestial Seasonings Gingerbread Spice herbal tea bags

Serving options: vegan ice cream or yogurt

drizzle of maple syrup (1/2 teaspoon per serving) and/or a sprinkle of ground cinnamon (all optional)
Instructions
In a medium pan over medium-high heat, bring water to a boil. Add tea bags and stir.

Carefully lower the pears into the liquid and reduce heat to low. The pears should be fully covered by the liquid. Add 1 cup of water and one additional tea bag if pears are not fully submerged. Simmer the pears uncovered until tender, about 15 to 20 minutes depending on the size of your pears. Spoon the sauce over the pears as they cook. To check for doneness gently insert a knife into the pears - the knife should not meet any resistance. Once the pears are tender, remove pot from heat and let the pears cool in the pot.

When ready to serve, use a slotted spoon to transfer ½ pear on each serving dish. Spoon 1 tablespoon of the poaching liquid over the pears. Top each pear with a scoop of non-dairy ice cream or a dollop of non-dairy yogurt over each. Sprinkle with ground cinnamon and a light drizzle of maple syrup if desired.
Notes
You can also infuse the poaching pot with 3-4 cinnamon sticks, 1 teaspoon of whole coves, one vanilla bean (split lengthwise) and/or ¼ cup maple syrup. This would certainly boost the flavor and sweetness of the poached pears. However, I found it perfectly flavorful without these additional ingredients.
Make ahead: You can refrigerate the pears until ready to serve (up to five days in advance). Place pears into airtight container and cover with poaching liquid. Reheat before serving and follow serving instructions in recipe.
Elaine Gordon
Elaine Gordon is the creator of EatingbyElaine.com, a nutritious recipe blog with plant-based, gluten-free and allergy-friendly recipes. "I am a certified health education specialist and care deeply about nutrition. My recipes are low in sodium, refined sugar, cholesterol and saturated fat. I use fresh, whole ingredients and stay away from all things artificial. I love to experiment with fresh ingredients and fragrant herbs to make the most of each meal. I take comfort in knowing that what I am eating is improving my health." ~ Elaine