Gingerbread Pancakes with Duck and Fresh Cherries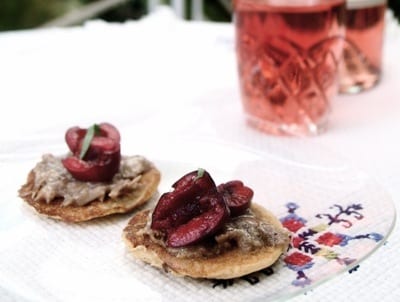 These elegant little spiced pancakes are decidedly festive, but could be a cocktail party hit all year round. If cherries are not in season, a cherry preserve would also be delicious. And if duck rillette is unavailable, thinly sliced duck breast would work in a pinch.
By Alexia Kannas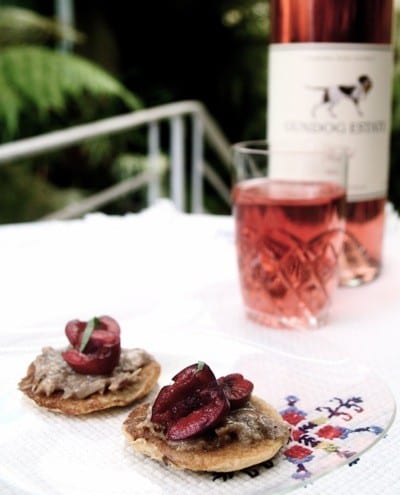 Recently a friend invited me to a launch put on by a boutique wine producer called GunDog Estate. Operated by the Burton family in the Hunter Valley and Canberra regions of NSW, Australia, the GunDog folk were in Melbourne to launch four of their marvelous wines: a 2009 Shiraz, 2011 Semillon, the 2010 Markman's Shiraz and their prize-winning 2011 Rosé. Well-matched snacks (read: freshly shucked oysters and semillon) and wonderful company made for a truly lovely afternoon, but that evening at home, one moment kept playing over and over in my mind; it was the moment just after the first sip of rosé, when the wine's bright, red fruitiness was suddenly – so elegantly – kicked over by a perfectly crisp, dry finish. It was some kind of magic.
This magic moment was offered to guests by the Burton family alongside a canapé of duck confit on gingerbread with fresh sliced grapes. This, upon reflection, seemed pretty genius to me; not only for its pairing with the rosé, but for the little savoury bite's use of gingerbread as a base. Foolishly distracted by the wine and aforementioned lovely company, I didn't get around to trying one. Needless to say, this only heightened my obsession. To exorcise this wild rumination over that single moment and the canapé that could have been, I sat down one warm afternoon last week with a bottle and this little creation. Let's just say it was another very lovely afternoon.
See Also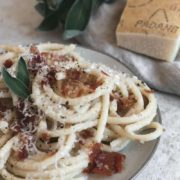 GunDog Estate wines are available at selected purveyors of fine wines and online at www.gundogestate.com.au. 

Gingerbread Pancakes with Duck and Fresh Cherries
These elegant little spiced pancakes are decidedly festive, but could be a cocktail party hit all year round. If cherries are not in season, a cherry preserve would also be delicious. And if duck rillette is unavailable, thinly sliced duck breast would work in a pinch.
Serves:
makes around 30 small pancakes
Ingredients
2 cups buttermilk
2 cups plain flour
2 teaspoons baking powder
teaspoon baking soda
1 teaspoon ground ginger
1 teaspoon ground cinnamon
teaspoon ground cloves
¼ teaspoon nutmeg, freshly grated
1 tablespoon sugar
teaspoon salt
1 egg
3 tablespoons butter, melted
butter, to grease pan
150 gm duck rillettes
30 fresh cherries, pitted and sliced in half
fresh tarragon, to garnish
Instructions
Combine flour, baking powder, baking soda, spices, sugar and salt in a large bowl and whisk to combine.
In a smaller bowl, whisk egg with melted butter, then add buttermilk and whish gently until just combined.
Make a well in centre of dry ingredients and pour in buttermilk. Whisk very gently until just combined; mixture will be lumpy and uneven.
Heat a cast iron pan to medium hot and add a small knob of butter. Pour 1 tablespoon of batter for cocktail-sized pancakes. When bubbles appear on the surface of the batter, flip pancakes to cook other side. Repeat with remaining batter, greasing pan when necessary.
When pancakes have cooled, top each with a scant teaspoon of room-temperature rilettes and fresh sliced cherry halves. Garnish with tarragon leaves.
Alexia Kannas
Alexia Kannas is a writer and academic based in Melbourne, Australia, who spends her days thinking and writing about cinema - and food. Fascinated by the relationship between food and memory, she writes about how cooking, meals and taste recall moments from film, literature, history and imagination. Her dream dinner-party guests are Jarvis Cocker and all her non-single friends. The two things she fears most are i) guests leaving hungry and, ii) a world without gin.