A little spicy, a little sweet, totally filling, unintentionally vegan, and super easy ginger and sweet potato soup is just six ingredients, but comes out tasting cozy and complex.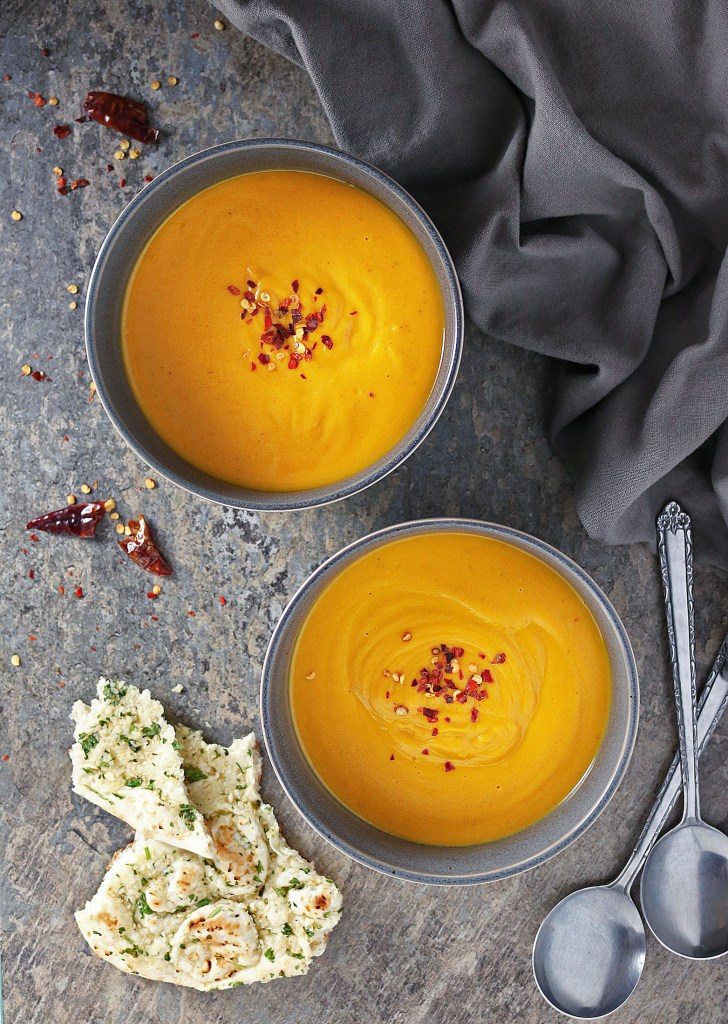 Today was my first time reading about the "live, raw water" craze that seems to be sweeping some areas of the country. Have you heard of this movement where "unfiltered, untreated, un-sterilized spring water" is being sold for (IMO) astronomical sums of mullah? Apparently, proponents of "live, raw water" belive that it is brimming with beneficial bacteria and naturally occurring minerals and happens to be free of chlorine and fluoride, the way water was destined to be consumed. These proponents are shelling out around $38+ for 2.5 gallons of this stuff! I am not sure I could shell out that much money for water.
What I AM sure of is the consumption of bowlfuls of this Easy Roasted Sweet Potato Ginger Soup! Now, no raw water was used in the making of this soup. Just coconut milk, vegetable stock, cayenne pepper, turmeric, grated fresh ginger and roasted sweet potatoes. The cayenne pepper is completely optional, but, I like a little kick to balance off the sweet of the sweet potatoes, and my daughter said that slight spicy kick was addicting!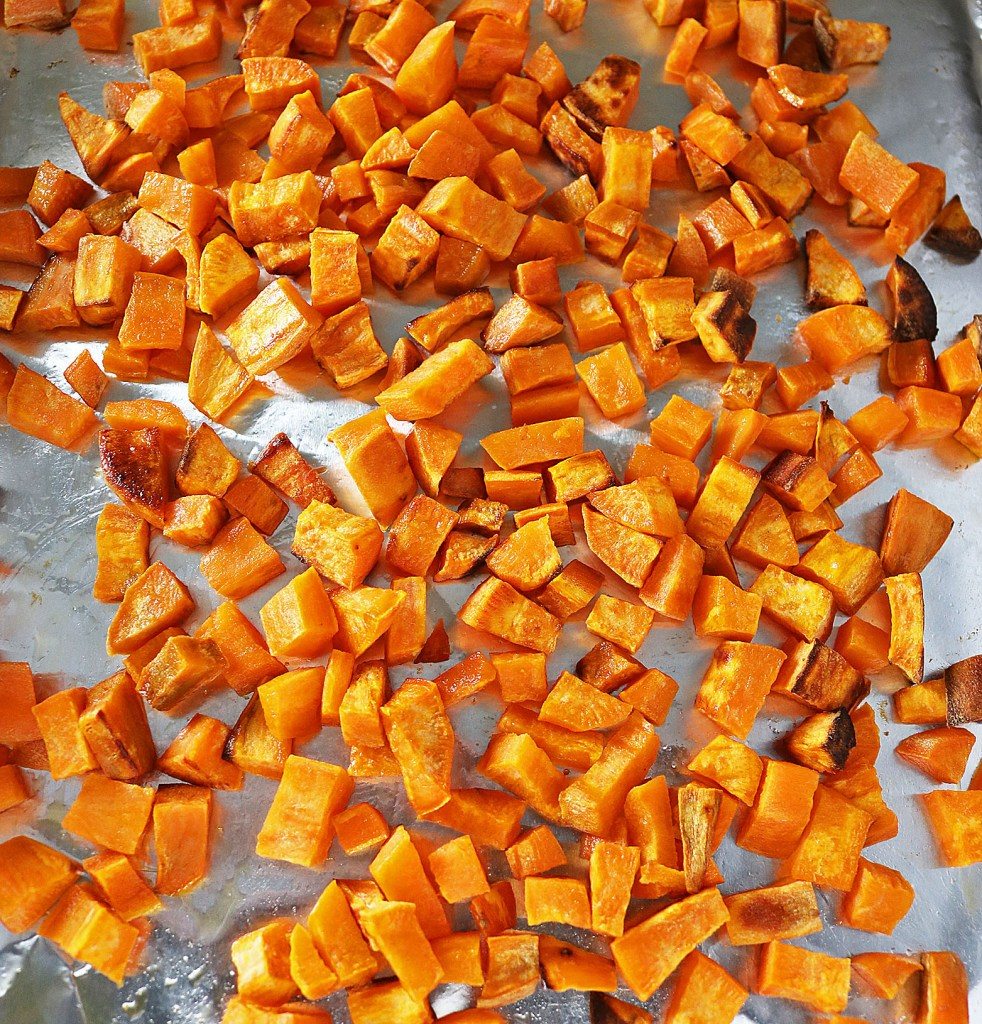 I made this soup super thick – almost sauce like! But, please feel free to add in more stock to thin it out according to your preferences. We enjoyed this soup with naan one night, Sri Lankan Coconut Roti another night (recipe coming on Thursday) and poured over roasted broccoli on yet another night. We have been having highs in the 30s F (-1 C) around these parts of North East-ish GA this past week or so (the winter temps that kept eluding us in December have decided to make a bold appearance this January)! So warming up with a bowl of soup has become a favorite evening tradition in our home – especially filling and healthy ones like this Easy Roasted Sweet Potato Ginger Soup – which I am hoping will become a favorite in your home as well ~ when you give it a try…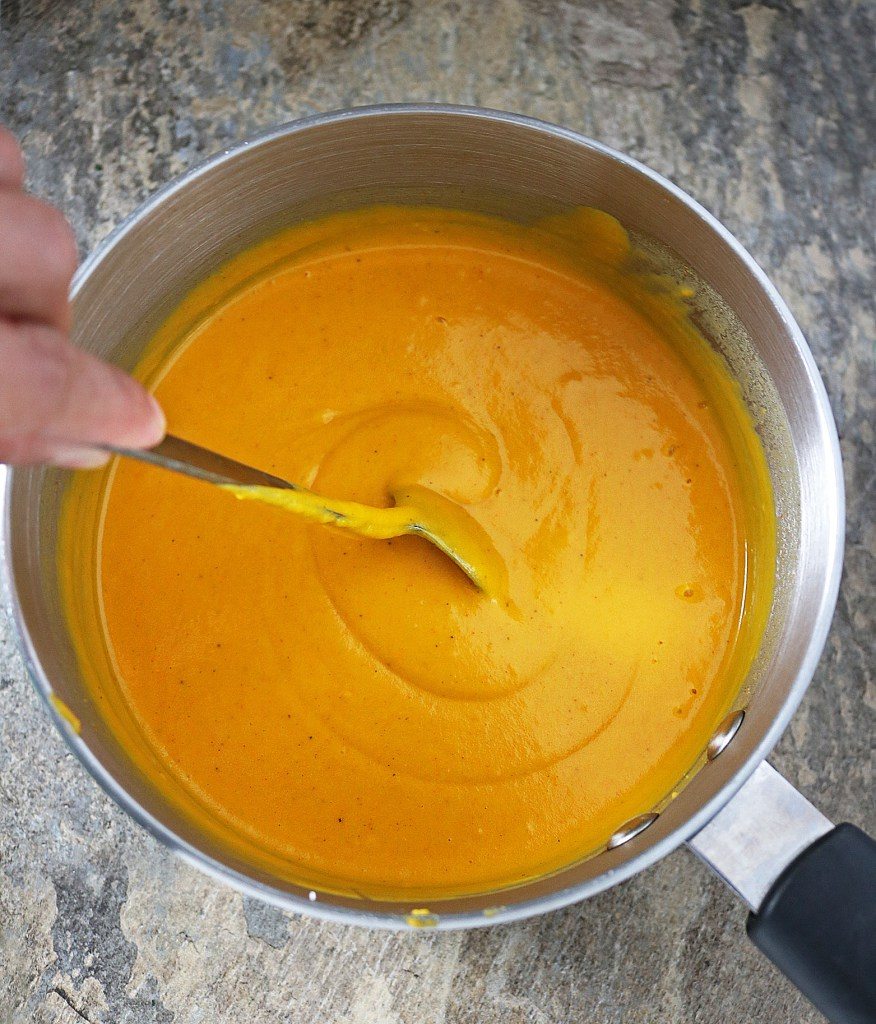 Print

Ginger and Sweet Potato Soup
---
Author:

Shashi Charles

Total Time:

45 minutes

Yield:

4

servings

1

x
2

large sweet potatoes

1 cup

coconut oil

2.5 cups

vegetable stock can add more for a thinner soup

1 tsp

cayenne pepper (optional)

1/2 tsp

turmeric

1 tsp

fresh grated ginger
salt and pepper to taste
olive oil
pepper flakes (to garnish – again optional)
---
Instructions
Preheat oven to 400 degrees
While oven is preheating, peel and dice sweet potatoes (they cook quicker and blend easier this way). Then pour a tablespoon or so of olive oil onto diced sweet potatoes and rub them to make sure they are coated evenly with olive oil. Then set them to bake for 30 minutes at 400 degrees.
When sweet potatoes are baked, add them to a blender, along with coconut milk, vegetable stock, turmeric, cayenne pepper and ginger and blend well till creamy.
Serve with chili flakes and bread of your choice.
Prep Time:

10 minutes

Cook Time:

35 minutes

Category:

Soup
Shashi Charles
I am a healthy food lover - and tricking my loved ones into eating their veggies disguised as treats is my specialty! I am also a graphic designer by day and blogger by night and a mom 24/7!