Create a fun ginger beer chicken on the grill with a simple can of soda and a ginger ale glaze.
By Christiane Potts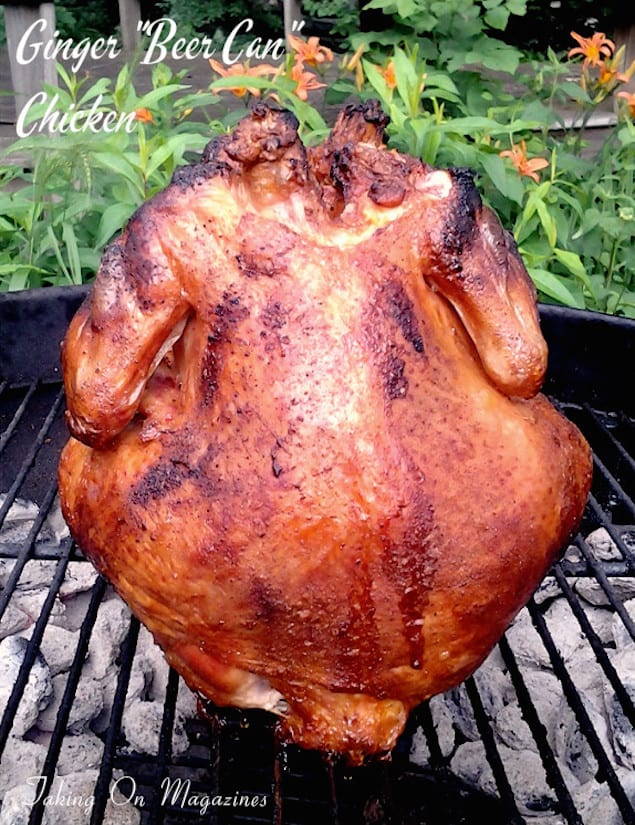 Our family didn't do a whole lot of grilling when we were kids. There were a few kebab dishes that required flame, but other than those, I don't remember ever seeing plain ole burgers and dogs being cooked up out there.
We tested out Souther Living's Ginger Beer Chicken on the grill. Find out below how we liked it!
The Process
Mixing the spices together and sprinkling them on the inside and out of the chickens is easy. Shoving the birds down on half-full ginger ale cans is simple too. Letting the ingredients for the ginger glaze simmer on the stove is also a piece of cake.
Setting up the coals on one side of the grill and placing the chickens on the other side so they cook via indirect heat takes no effort at all. In fact, this meal is pretty darn easy.
The Verdict
Wow. Wow. And wow. Score a big one for Southern Living. The chicken was delicious. We all loved the spice rub and the way that the ginger beer infused the meat as it steamed up from the inside. It was heavenly.
And honestly, we didn't need the glaze at all. In fact, everyone thought it was a bit too sweet. The rub was more than fine on its own.
I did think that the hour and a half cooking time was a bit much for our birds. They were just starting to dry out when I pulled them off the grill. An hour and fifteen minutes would have been perfect.
What I'd Do Different Next Time
I wouldn't bother with the Ginger Ale Glaze.
Print
Ginger Beer Can Grilled Chicken
---
Author:

Souther Living Magazine, Tested by Christiane Potts

Yield:

8

-

10

servings

1

x
Description
Create a fun ginger beer chicken on the grill with a simple can of soda and a ginger ale glaze.
---
1

(13- x 9-inch) disposable aluminum baking pan

2 tablespoons

kosher salt

2 teaspoons

paprika

2 teaspoons

sugar

1 teaspoon

black pepper

¾ teaspoon

ground ginger

½ teaspoon

ground red pepper

2

(3½- to 4-lb.) whole chickens

2

(12-oz.) cans ginger ale
Ginger Ale Glaze
Ginger Ale Glaze
2 cups

ginger ale or ginger beer

2 tablespoons

light brown sugar

2 teaspoons

grated fresh ginger

1/8 teaspoon

ground red pepper
---
Instructions
Light 1 side of grill, heating to 400° to 475° (medium-high to high) heat; leave other side unlit, placing disposable baking pan under grill grate. Stir together salt and next 5 ingredients; sprinkle mixture inside cavity and on outside of each chicken.
Reserve just ¾ cup ginger ale from each can to put toward the 2 cups needed in glaze. Place chickens upright onto each can, fitting can into cavity. Pull legs forward to form a tripod.
Pour water to a depth of 1 inch into disposable pan. Place chickens upright on unlit side of grill above pan. Grill, covered with grill lid and rotating chickens occasionally, 1 hour and 20 minutes to 1 hour and 30 minutes or until golden and a meat thermometer inserted in thickest portion registers 165°. Let stand 10 minutes. Remove chickens from cans, and carve. Serve with Ginger Ale Glaze.
Ginger Ale Glaze
Stir ginger, brown sugar, grated ginger, and ground red pepper together in a small saucepan. Bring to a boil over high heat; reduce heat to medium, and cook, stirring occasionally, 15 to 20 minutes or until reduced to about ¼ cup.
Christiane Potts
I'm a mom who loves to cook and I'm taking on the challenge of making magazine recipes at home; without a sous chef, without a test kitchen, without an endless food budget. The result is the truth about how well a recipe comes together, how good it tastes, and how accurate the ingredients and instructions are. For those who want to know before they try, this is for you.