It is practically human nature to crave and delight in show-stopping desserts during the holiday season. Enter the ever-versatile jelly roll.
By Emily Arno
This article has been posted with permission and originally appeared as Jelly Roll Cakes for the Holidays on Relish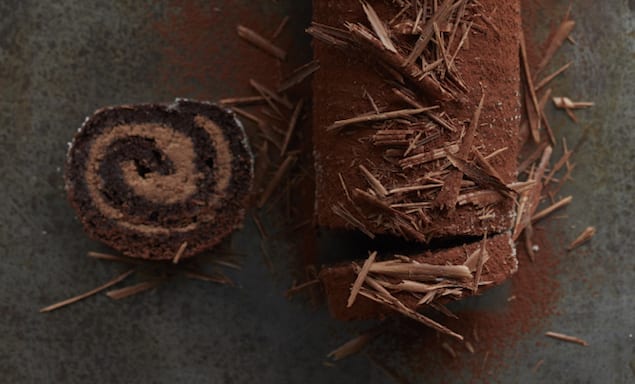 It is practically human nature to crave and delight in show-stopping desserts during the holiday season. And the best holiday cakes to bake? Those that appear magnificently difficult while being anything but. Enter the ever-versatile, consistently-stunning and holiday-rush-proof jelly roll.
For tips on mastering the baking and decorating of jelly rolls, we spoke with Englishwoman Annie Bell, an authority on all things sweet and the author behind the exceptionally accessible Annie Bell's Baking Bible. Her aim as an author is to reach people who lack baking confidence and have them gleefully say "oh I made this and it worked!" after trying a recipe.
In our following Q&A, Annie shares what she loves about rolled cakes (known as Swiss rolls in England), her favorite techniques for assembling and decorating them, and three of her fantastically festive jelly roll recipes.
Relish: Can you explain how you've made jelly rolls in the past? Can you walk us through the process for a basic cake?
Annie Bell: I tend to make one of two basic kinds—either a standard jelly roll or a chocolate jelly roll.
They're really very easy, and they're [the cake component] essentially fat free, which means you can fill them with something quite rich and sort of get away with it. In England we make them in what we call a Swiss roll tin [equivalent to an American jelly roll pan], which is a very shallow and flat baking tin. The tin is lined with baking paper; the batter is poured over and then [once baked] it's turned out onto a clean tea towel dusted quite heavily with icing sugar. Then it is rolled up while the cake is warm with the tea towel—if you waited to do this until it cooled, the cake would crack and break.
To fill it, you need to let the roll cool maybe 30 minutes and then unroll it. Spread it with a filling using a palette knife and roll it back up again.
Relish: Do you have a favorite filling for rolled cakes?
AB: If it is just a standard one…I like an almost deconstructed arctic roll [a British dessert made of vanilla ice cream wrapped in a thin later of sponge cake]. So you just spread the roll with jam and serve it with vanilla ice cream…that's at its simplest.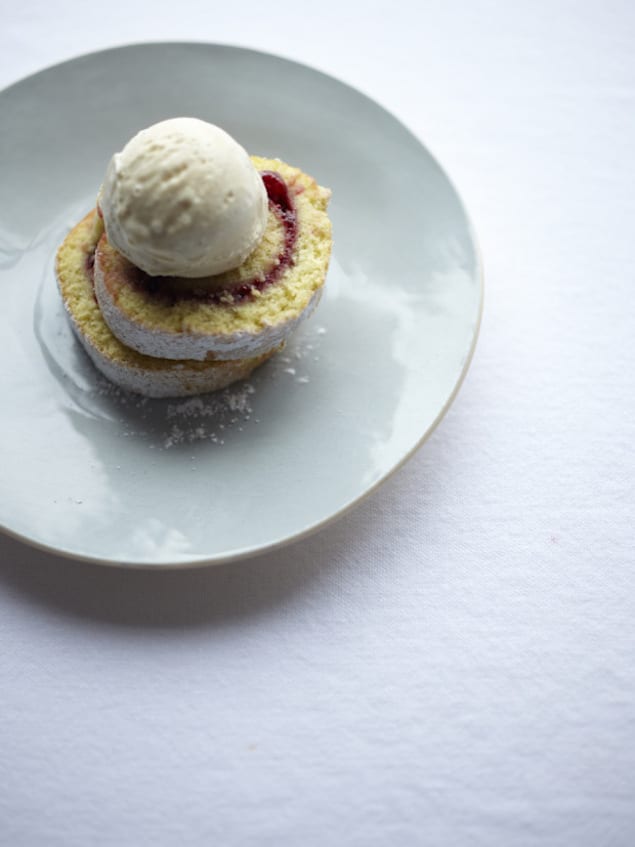 But otherwise, some kind of whipped cream filling or maybe whipped cream and fruit, or mascarpone…Mascarpone with icing sugar and then passion fruit seeds on top is very nice.
For the chocolate rolled cakes, a really rich chocolate truffle filling…You can add a little bit of rum or brandy or another sort of liquor—an orange liqueur perhaps.
Relish: How about decoration for all seasons and then your tradition during the holidays?
AB: When you decorate Swiss rolls it's quite nice to dust with icing sugar if it's a white cake, or cocoa if it's a chocolate one…If it has a fruit filling, you can do some more berries over the top.
See Also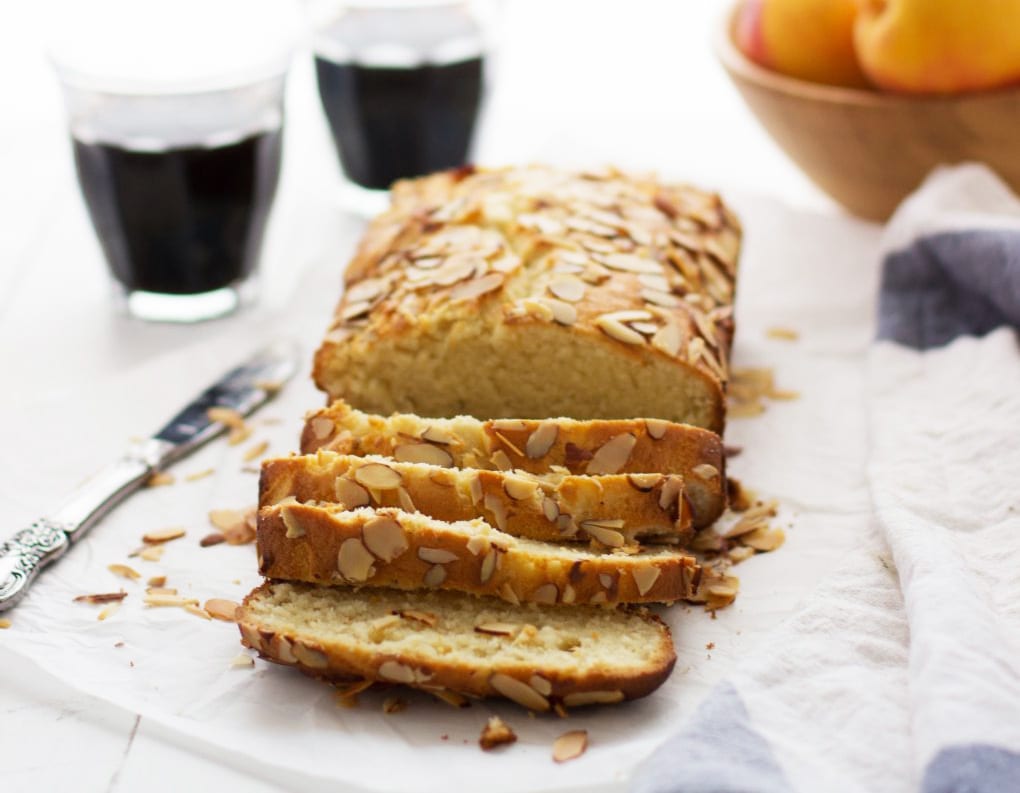 For the holidays, I quite like doing a rich chocolate butter cream frosting, covering it and making lines across it, like a log. From there I turn it into a Buche de Noel, which is the traditional French Christmas cake, and put all my little figurines and things on it.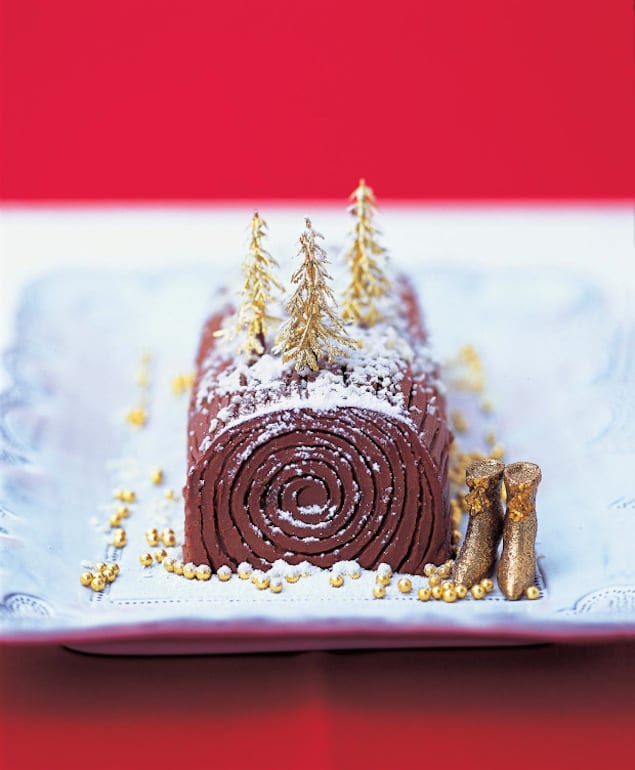 I still have all the figurines that we had when we were growing up. I think it's quite nice to collect things as you go through the years and bring the same ones out … I've got rather old snowmen and Christmas trees going back to when I was about 3 years old.
There are some lovely edible decorations too. Gold leaf is beautiful, and you can buy that mail-order from most good cake suppliers and apply it with tweezers…For a gold themed Buche de Noel, get edible glitter too.
Relish: Speaking of traditions and keeping those figurines, you've stated your mother was highly influential in the writing of your Baking Bible. How do you keep her spirit alive during the holidays [she passed away three years ago in January]? Is it through little traditions like keeping the trinkets around?
AB: My mum used to love laying a Christmas table with white lace linen and cut glass crystal and silver cutlery. I have all of that from her, and it's really nice to get it all out at Christmas…We have a white marble table and my kitchen is quite minimal, but it's actually quite nice to lay the table as she would have done, and it reminds me of her.
Hungry and eager to be in the kitchen? Make your own Jelly Roll with Annie's recipes below.
Bûche de Noël
Raspberry Jam Jelly Roll Cake
Dark Chocolate Cake Roll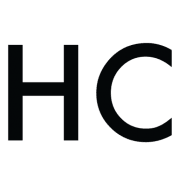 Relish
Offering more than 14,000 recipes plus features and DIYs on cooking, dining and entertaining, Relish celebrates America's love of food. Relish is about honoring cooking traditions while exploring new trends and ideas, which is why millions of people turn to both Relish.com and Relish Magazine for special occasion recipes, quick and easy weeknight suppers and culinary adventures.