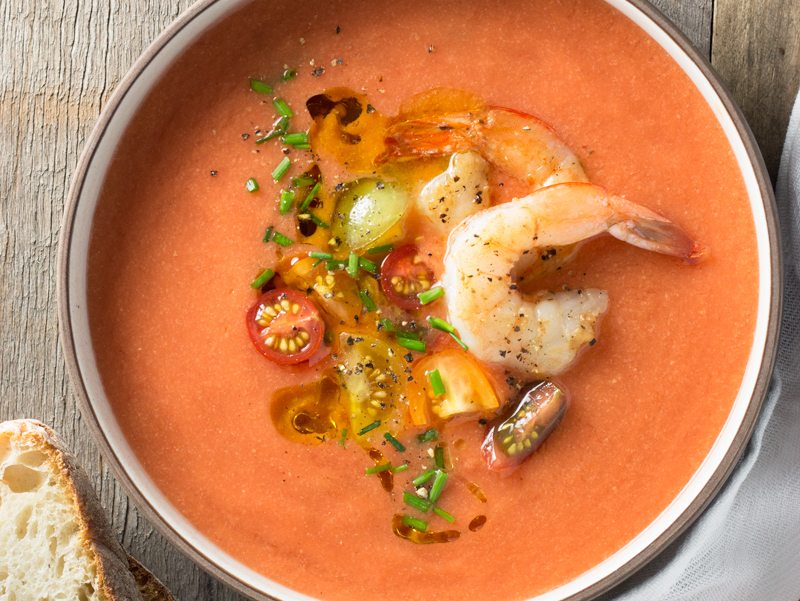 If you're still seeing beautiful heirloom tomatoes in your markets like I am, I have just the recipe for you. Gazpacho with shrimp.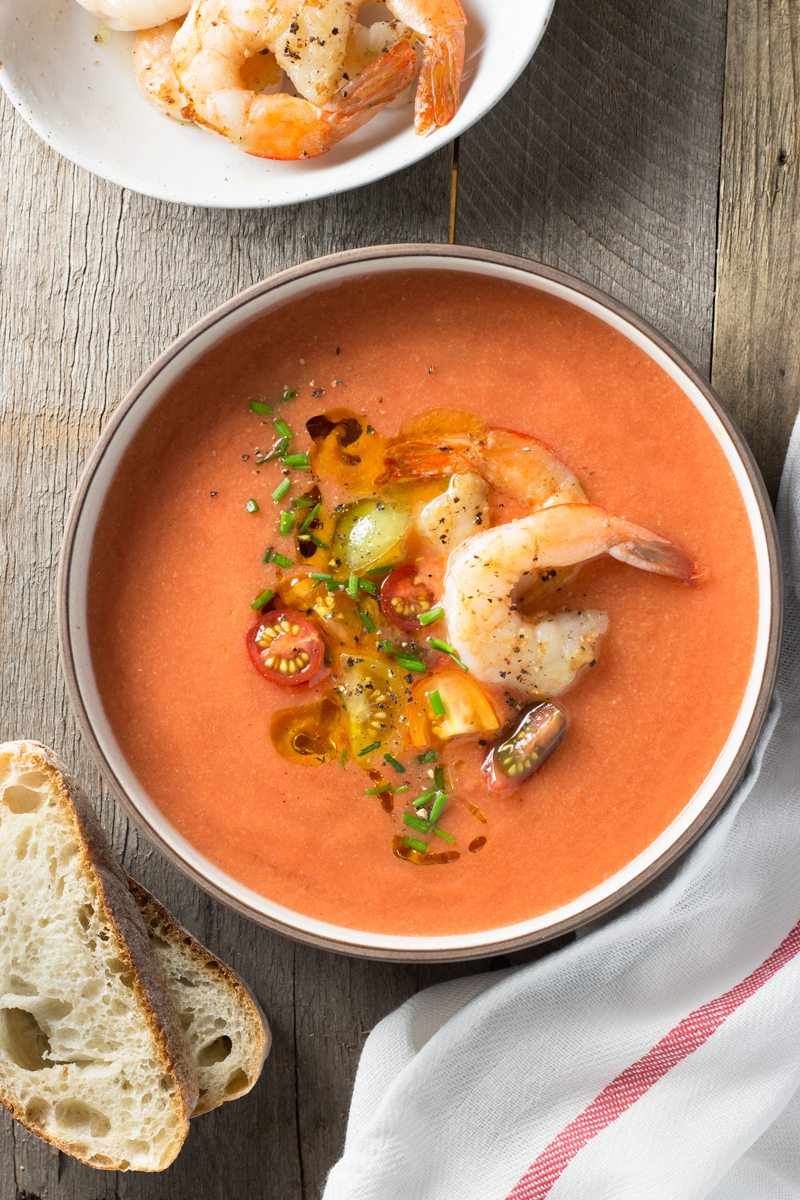 I think classic gazpacho is one of those things that will never go out of style. In my opinion, the most important thing about this soup is finding great produce. Gazpacho is really only as good as your tomatoes. These large, red heirloom tomatoes are perfect for gazpacho. The ratio of flesh to seeds is ideal, meaning there are very few of those bitter seeds inside.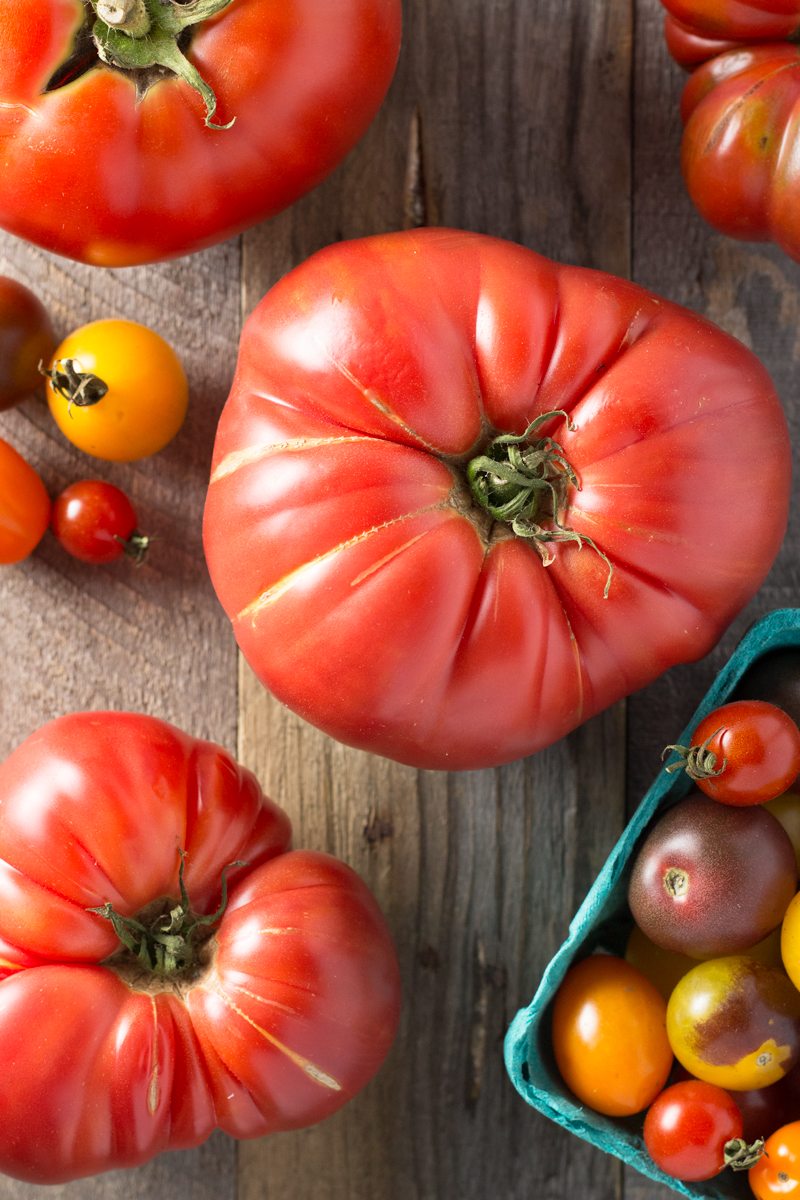 My gazpacho contains the typical players: tomatoes (obviously), cucumbers and red bell peppers. Onions and garlic are common, as well. What is less common, but not considered nontraditional by any means, is the bread. I really prefer to use bread to thicken this soup. I like my gazpacho smooth, not chunky. In my opinion, the chunky stuff is great for topping, but that's about it. After pureeing and straining this soup without bread, I noticed it really lacked body. Adding bread doesn't have any negative affect on the flavor and really gives you that ideal mouth feel you want in a smooth soup.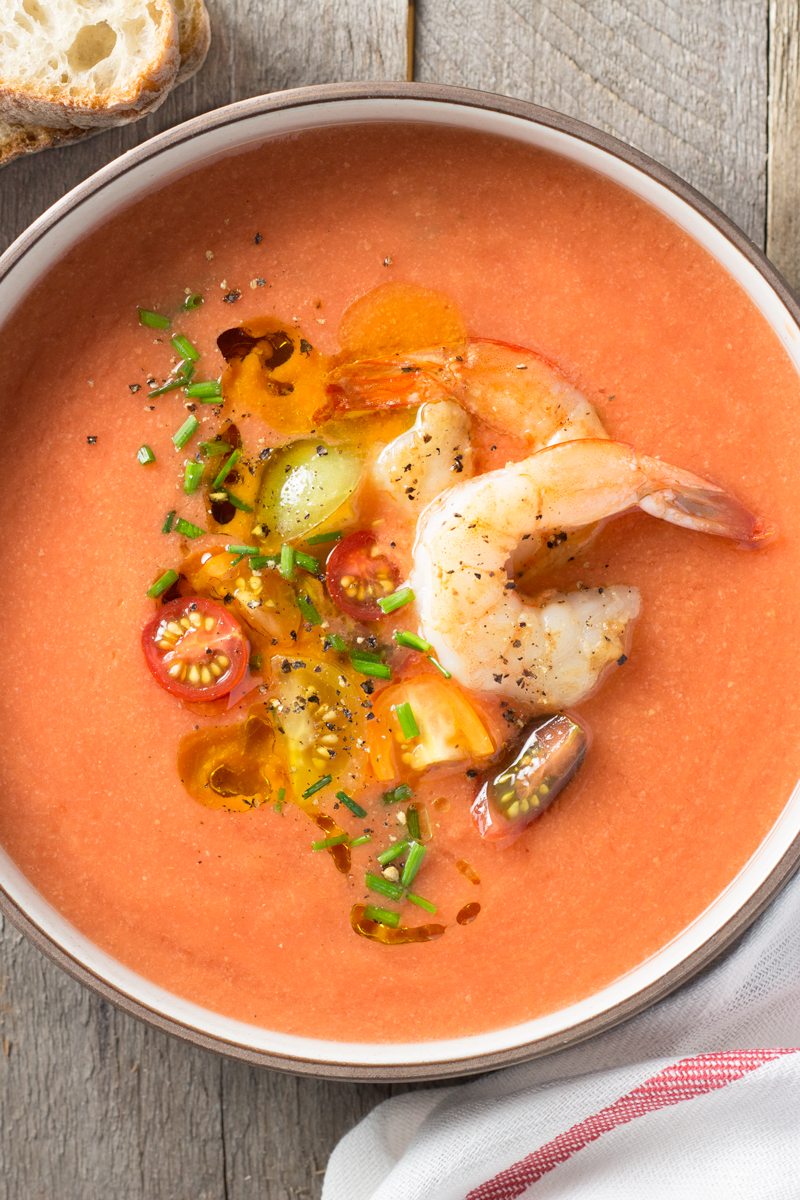 Oh and about the shrimp. Totally not necessary. You can leave the shrimp off and this works as an appetizer. I just feel the shrimp are a great addition (think shrimp cocktail), and turn this into a meal along with the bread. They're kind of pretty too, don't you think?
Gazpacho with Shrimp
Ingredients
2

lb

ripe tomatoes

preferably large red heirlooms with few seeds

½

medium shallot

diced

1

garlic clove

crushed

5

oz

English cucumber

peeled and deseeded, chopped into chunks

1

medium red bell pepper

deseeded, chopped into chunks

1

oz

stale bread*

2

T

extra virgin olive oil

2

T

sherry or red wine vinegar

divided

Kosher salt

1

lb

shrimp

peeled and deveined, tail attached if desired

1

T

extra virgin olive oil

plus more for drizzling

6

oz

cherry or grape heirloom tomatoes

chopped

Chives

chopped, as needed

Kosher salt and fresh cracked pepper

Crusty bread

for serving
Instructions
Bring a large pot of water to a boil. Set up an ice water bath.

Score the bottom of the tomatoes with an "x". Lower into boiling water for 10-15 seconds.** Transfer to ice water bath.

When cool, dry tomatoes. Peel and discard skins. Slice in half and remove seeds. Save for another use, if desired. Cut tomatoes into large chunks.

Add shallot and garlic to a small bowl with 1 tablespoon of vinegar. Allow to sit for about 15 minutes to mellow out the flavor.

Add tomatoes, shallot, garlic, cucumber and red bell pepper to a blender. Pulse until roughly chopped and somewhat liquid. Add bread and allow to sit for 15 minutes to soften and absorb juices.

Add oil, remaining tablespoon of vinegar and salt and blend until smooth. Taste and adjust seasoning, if needed.

Strain through a sieve and refrigerate. If using a Vitamix, you will not need to strain the soup.***

For the shrimp, heat a skillet over medium heat. Add oil, followed by shrimp. Season with salt and pepper and sauté until just cooked through, about 3 minutes.

For serving, ladle soup into bowls. Top with a couple shrimp, chopped tomatoes, chives, a drizzle of oil and sprinkling of pepper. Serve with remaining shrimp and crusty bread for dunking. Enjoy.

Notes:

*If you don't have stale bread, you can place fresh bread uncovered into a 300°F oven until somewhat dried out but not colored, about 10 minutes or so. Any crustless white bread works well.

**Test one tomato to see if the skin peels easily after blanching for 10 seconds. If not, blanch all tomatoes for an additional 10 seconds, as needed.

***If using a Vitamix, I also suggest only adding half the bread to start. It will be thicker without straining it, so you might not need all the bread to achieve a nice consistency.
Sabrina Russo
My Three Seasons represents the 3 key factors that are most important to me in cooking. #1 Seasonal ingredients #2 Proper Seasoning (don't skimp on that salt!) #3 Cooking like a Seasoned chef (technique is everything). My name's Sabrina. I live in NYC. I'm a registered dietitian with professional cooking and food styling experience. Come cook with me.