This is the easiest meal you can ever prepare, and probably the tastiest.
By Priya Mahadevan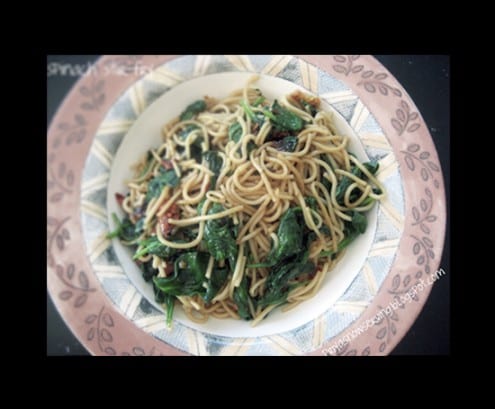 Garlic Spinach Stir-fry Noodles
This is the easiest meal you can ever prepare, and probably the tastiest.
Ingredients
Angel hair or thin vermicelli (even if you have no leftovers, this takes 5-10 minutes to cook at the most)
Fresh Spinach leaves
Garlic 1-2 cloves depending on how much you love it
1 Red chili crumbled
1 tbsp sesame oil
1-2 tbsp Schezuan stir-fry sauce (this is vital folks)
Instructions
In a shallow wok/pan heat the sesame oil
Crumble the chili in it
Next, crush the garlic or add crushed garlic
Now throw in the spinach and spin a couple of times. The spinach will almost immediately get soggy
Add the noodles and the sauce over it
Toss a few times until all the noodles are drenched in the sauce
Put on your plate and dig in hot.