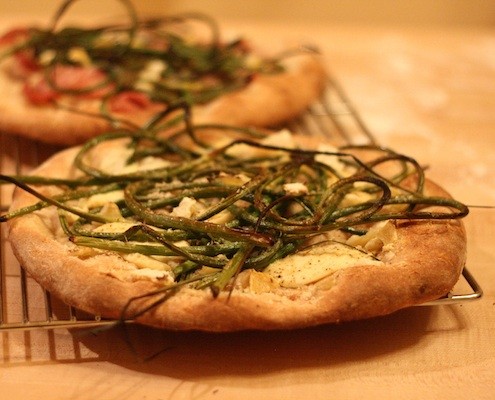 Around this time of year, food blogs, food pages, and foodies are all urgently reminding us that the brief garlic scape season is upon us.
By Sara Clevering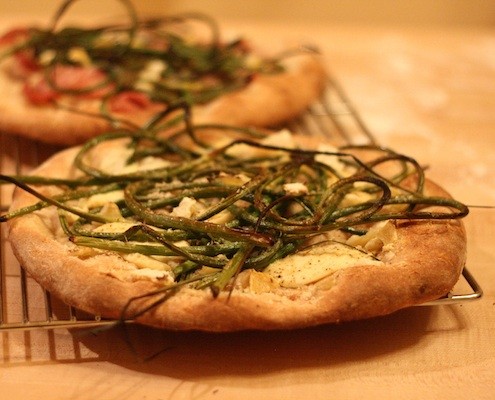 Each year, a few weeks before the bulbs are ready to be harvested, the garlic plant sends up a single tall shoot with a tapered flower bud at the end, which curls over on itself as it continues to grow.  Left to its own devices, it will eventually straighten and flower.  But to force the plant to focus its energy on big plump cloves rather than showy flowers, the scapes (stem and all) are snipped off.  Luckily for us, they are also deliciously garlicky in their own right.
As we are growing garlic in our backyard for the second time this year, I had a half pound of these bright green shoots to play with.  I wanted to do something else besides the default pesto preparation, especially as I wanted a full meal for my efforts.  And I also needed something I could pull together easily and quickly.
Pizza, of course, fit the bill perfectly. When does it not?  Pizza gave me a chance to play around a bit, and also showcase the unusual curling stalks and tapering bud-like tip of this unusual vegetable (or whatever it is, exactly).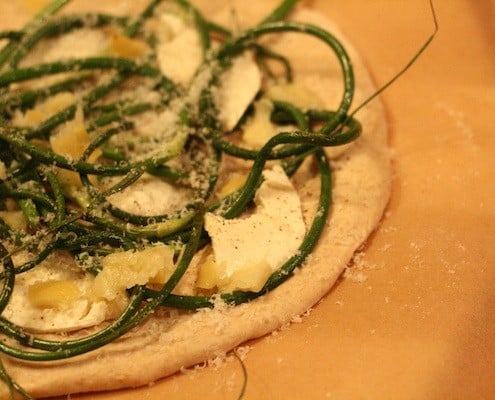 Before baking, I gently sauteed the scapes in olive oil until the bright green hue deepened and intensified.  I then made sure to complement them with another intense flavor–although scapes smell just as garlicky as you'd expect, they mellow substantially when cooked so I didn't want to leave them to stand on their own.  I used preserved lemon (for a bright kick of aromatic citrus) and prosciutto (for a savory, meaty twist), but plenty of other options abound.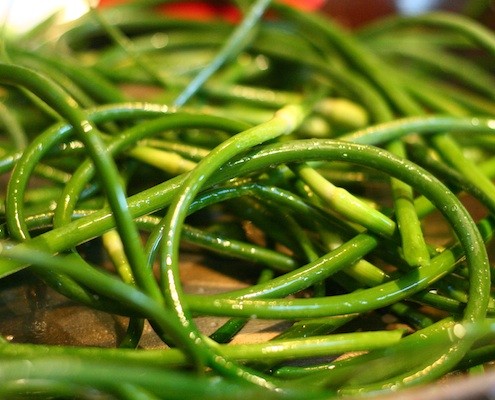 The result is a unique, but easy to love, pizza. The scapes coil dramatically, the tips crisp up, the whole package satisfies. Try your own hand at it.  But don't wait too long!  Summer is always too short, and scape season even shorter.
Garlic Scape Pizza (Two Variations)
A great summer pizza recipe
Recipe Type:
Appetizer, Main Course
Ingredients
Pizza Dough (your favorite recipe)
Preserved Lemon and Mozzarella Variation
olive oil
4 ounces (115g) garlic scapes
4 ounces (115g) mozzarella
2 chopped quarters of a preserved lemon, (rind only, rinsed)
grated parmesan
pepper
Prosciutto variation
olive oil
4 ounces (115g) garlic scapes
4 ounces (115g) prosciutto
1 chopped quarter of a preserved lemon (rind only, rinsed)--optional
grated parmesan
pepper
Instructions
Prepare pizza dough according to your favorite pizza recipe. About a half hour before baking, preheat the oven to its hottest setting (500F or higher).
Rinse the garlic scapes and pat dry. Coat the bottom of a large skillet with olive oil. When hot, add the scapes and sprinkle with salt. Turn heat to medium and sautee for 5-10 minutes, until the garlic scapes turn deep green. Remove from heat.
Assembly
Arrange either mozzarella or prosciutto over the dough.
Place the scapes, all in a clump, on top and flatten the mound to evenly cover the surface.
Scatter the preserved lemon over the pizza, if using. Sprinkle with grated parmesan and freshly ground black pepper.
Bake for 8-10 minutes, or until the pizza dough is crusty and cooked through.
Notes
Prep time does not include dough. Use your favorite recipe. I used my taken on Mark Bittman's basic pizza dough, with a 1:3 mix of whole wheat and bread flour. Instead of preserved lemons, try olives or anchovies or another intense, briny flavor. Or play up the garlic theme with roasted garlic. If you have a pizza stone, assemble the pizza on parchment paper so you can easily slide it onto your pizza peel and then into the oven. (If you don't have a pizza peel, use the back of a baking sheet or a rimless baking sheet).
Sara Clevering
Sara sees cooking and baking as a delicious way to connect with the past and travel the world from her kitchen. She is commited to preparing homemade, unprocessed meals for her family and is always looking for tricks to fit this into a busy schedule. Sara is currently in the Boston area after several years living in London, Spain, and the Czech Republic, and travelling extensively in Eastern and Western Europe, always making sure to experience local culture through food. She also blogs with her sisters at www.threecleversisters.com