These buttery garlic knots are fun to work with, delicious and melt in your mouth.
By Suchitra Vaidyaram
Of late, I haven't been cooking much. My mom who is visiting me, has taken complete control of the kitchen. My taste buds are in a south Indian cuisine heaven. So, this weekend, I decided to make something we all would enjoy – As a big fan of garlic, I had been eyeing on making these knots for quite sometime. The highlight of the dish is Garlic butter with a coriander/cilantro twist. My original plan was to use parsley, but as luck would have it, I ran out of parsley and what can you expect from a South Indian cuisine expert's fridge?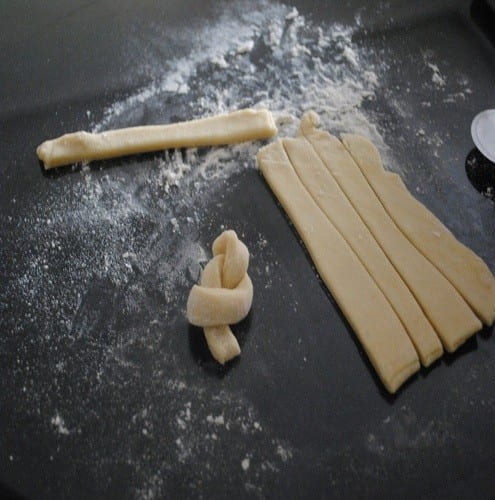 You need patience – needless to mention, I guess, when working with yeast. Making the knots isn't tough – Initially, the knots can be a bit wobbly and out of shape…(can be a bit sticky, at times). Slowly, you work your way and get them right. It's fun to work with, it's delicious and just melts into your mouth – Buttery, Garlicky Knots.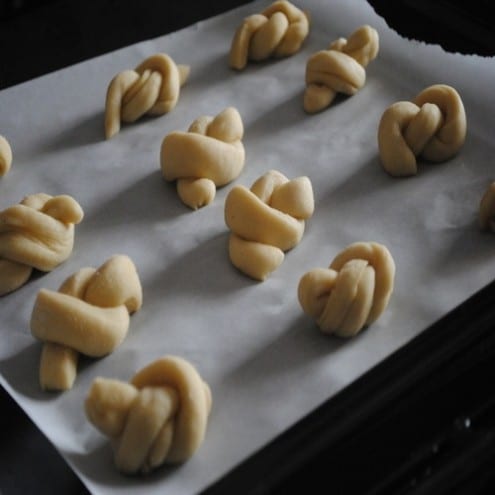 Buttery snack that simply melts in mouth
Author:
Suchitra Vaidyaram
Recipe Type:
Appetiser, entree
Ingredients
½ cup warm water
2 tsp dry active yeast
½ tsp sugar
2 tbsp melted salted butter
1 tbsp Olive oil
1¾ cup all purpose flour (keep more handy for dusting)
For Garlic butter coating-
5 tbsp salted butter
4-5 garlic cloves (chopped)
1 tbsp Chopped coriander/parsley
Instructions
Dissolve the yeast in warm water with sugar and let it sit for 5 minutes. Allow it to froth.
In a large bowl, whisk together the flour and butter. Make a well in the center of the flour and pour in the olive oil, then the yeast-water mixture. Mix this together to form a soft dough and knead for 5-10 minutes. Shape the dough into a ball and lightly coat with olive oil.
Put it in a large bowl, top the bowl with plastic wrap and set it at room temperature to rise.
When the dough has doubled in size (after an hour or so), punch the air out of it and knead it on a lightly floured surface.
With the help of a rolling pin roll out the dough to a rectangle.
Using a pizza cutter or a sharp knife, cut the dough into strips.
Take one strip and tie it into a knot.
The dough will be sticky along the cut edges, so dust these with flour before you tie the knot.
Set each knot down on a baking tray covered with parchment paper and finish tying knots with the rest of the dough.
Leave some space between each knot.
When all the knots are tied, coat them with a little olive oil.
Loosely cover them with plastic wrap and let them rise again until doubled in size.
Bake the knots in a preheated oven @ 200 degree Celsius for 10 to 15 minutes till they become golden brown.
Meanwhile, melt the butter in a small pot and cook the garlic gently in it just long enough to take off that raw garlic taste, about 1-2 minutes over medium-low heat.
Add chopped coriander/parsley and stir to combine. Turn off the heat.
When the knots are baked, take out of the oven and let cool for 5 minutes. Paint with the garlic-butter-coriander mixture and serve.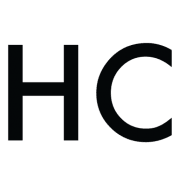 Suchitra Vaidyaram
Suchitra is passionate about cooking flavorful food and loves fusion cooking. She records her recipes on the blog Flavors, which focuses on simple and easy to cook recipes.