Tart dough slathered with a garlic and eggplant sauce is the perfect vessel to enjoy zucchini, asparagus, and a runny egg yolk.
By Martyna Candrick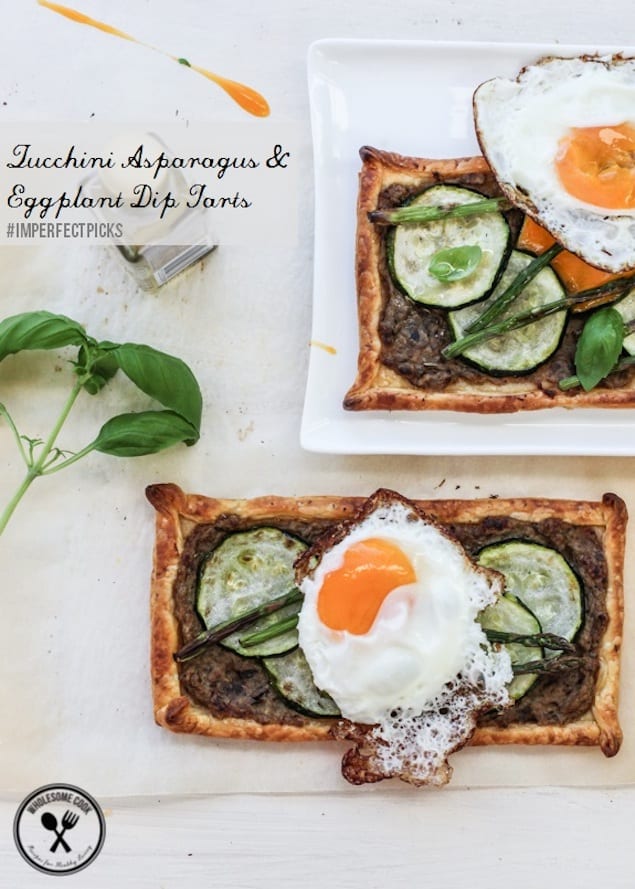 Quite to the contrary, the spring flavours of this zucchini and asparagus tart are rather perfect. Not to mention the fact that the eggplant and garlic base doubles as a fantastic dip.

Garlic-Eggplant Tarts with Zucchini
Tart dough slathered with a garlic and eggplant sauce is the perfect vessel to enjoy zucchini, asparagus, and a runny egg yolk. While I served mine with eggs, other options include caramelised onion, prosciutto, yoghurt with harissa paste.
Ingredients
For the Eggplant Dip spread:
1 medium eggplant
6 cloves garlic
3 tablespoons macadamia or olive oil
a grind sea salt
1 teaspoon black pepper
1 cup water
For the Tart:
1 sheet puff pastry
⅔ cup eggplant dip (see above)
2 teaspoons dried mixed herbs
1 zucchini
1 small bunch baby asparagus
1 sprig fresh basil
To top:
2 tablespoons macadamia or olive oil
2 eggs
2 teaspoons truffle oil, optional
other options: caramelised onion, prosciutto, yoghurt with Harissa paste
Instructions
To make the Eggplant Dip base:
Trim stalk end off the eggplant, discard, chop eggplant into 1 inch dice. Peel garlic cloves.
Heat oil in a large saucepan over medium heat. Add eggplant and cook, stirring for 5 or so minutes, or until the eggplant is lightly caramelised. Season with salt and pepper. Add water and cook for 15 minutes, stirring occasionally, or until the water has mostly evaporated and the eggplant is soft, Turn off the heat and add garlic, mix and allow to cool before processing till smooth.
Preheat oven to 230C (210C fan-forced, 425F, gas mark 7).
To make the Tarts:
Place pastry on a cookie sheet lined with baking paper. Allow to thaw out before cutting in half. Trim about 1cm off each edge and fold onto the pastry to form a border around the tart. Poke the base around with a fork.
Spread about ? cup of the eggplant dip onto each tart, staying within the borders. Sprinkle with
dried herbs. Finely slice zucchini and arrange rounds on top of the tarts. Trim woody ends off the asparagus, and arrange spears on top of the zucchini.
Bake in a preheated oven for 20 minutes or until the pastry edges are risen and golden.
In the meantime, prepare the toppings:
To crispy fry the eggs, heat oil in a large pan over medium heat for a minute. Crack in the eggs and cook for 5-6 minutes sunny side up until the whites are crisp on the bottom and set on top.
To serve:
Serve warm tarts with egg on top and drizzle with truffle oil, if using.
Martyna Angell
Martyna is a Polish-born Australian recipe developer and food blogger. Her creativity and passion for good food shines through in many of the delicious and easy to prepare meals which she cooks, styles and photographs for her blog, Wholesome Cook. Fresh cream-filled eclairs are her only weakness.