Galeries Lafayette – Photo Postcard from Paris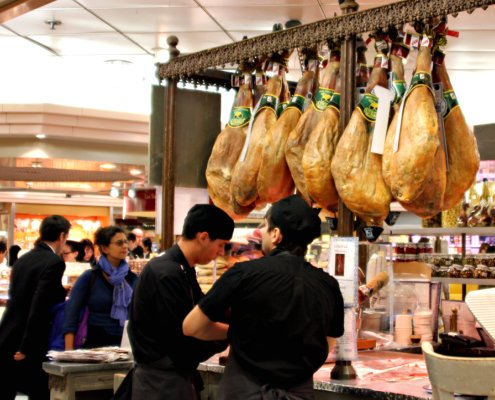 Galeries Lafayette in Paris isn't all about fashion and perfumes – the traveling foodie can find hundreds of gourmet gifts in the legendary department store.
By Priscilla Willis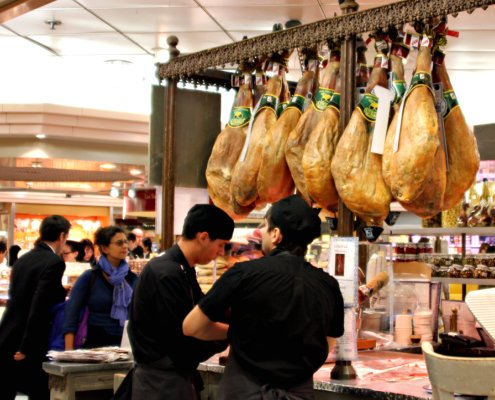 Bonjour Friends! I just "discovered" the Galeries Lafayette Gourmet Food store – and, it's not just a tourist trap! While Lafayette Gourmet caters to Parisians, for us tourists (or gift-giving Parisians) looking for delectable edible souvenirs for foodie friends, it's a one-stop shopping destination with thousands of food products – a majority by famed French producers: fine chocolates by Jean-Paul Hevin, macarons and pastries by celebrated chocolatier and pastry-maker Sadaharu Aoki , posh preserves and confitures, Iberian cured meats…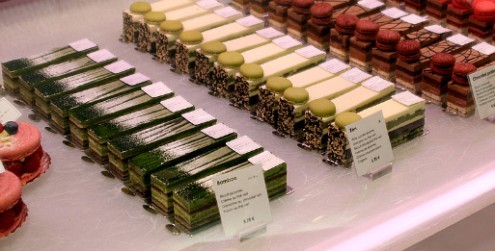 Bamboo Napolean anyone?
Plus, for less than 10 euros, you can queue up with local Parisians at one of the many counters to order a quick lunch or déjeune. The hard part is choosing which counter; I couldn't resist a Bocadillo of Bellota-Bellota cured ham with manchego cheese on an Eric Kayser roll (7 euro) AND a fresh papaya slaw from the popular Asian counter.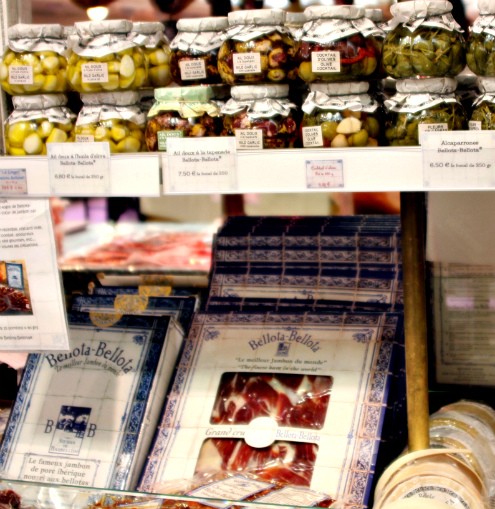 I watched as Parisians by the dozens selected from the many varieties of dim sum (steamed dumplings were labeled raviolis); take-away for dinner after work maybe.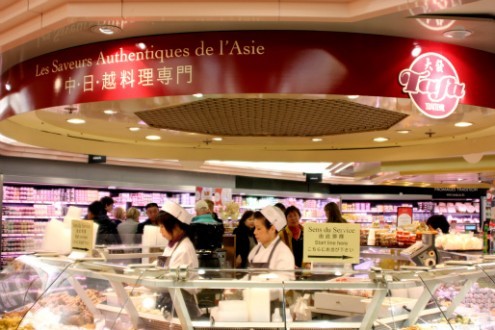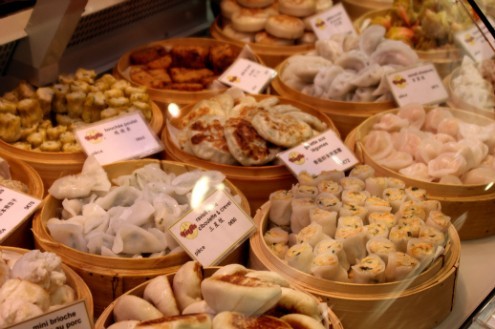 Once I satisfied my appetite for food and people watching, I could concentrate on my search for non-perishable gifts for my food-lover friends. I decided on salt verte (mademoiselle sold me on its subtle citrus flavor) packed in mini reusable glass jars.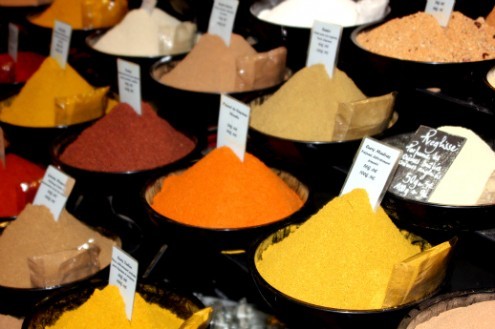 I even contemplated bringing along a wedge of cheese and an Eric Kayser baguette for a snack on the plane, but thought better of it ;)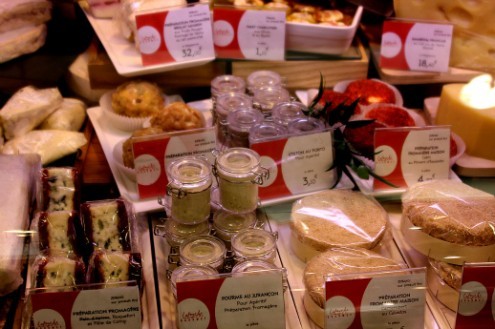 Blue cheese wrapped in foie gras! (bottom far left)
One could spend all day here – once you're over the food floor – there are five or six other floors under a dramatic glass and steel art noveau dome jammed with every designer and haute couture brand imaginable!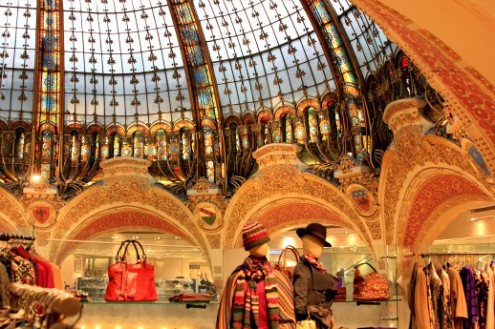 Don't miss the panoramic view of the city from the rooftop of the Galeries Lafayette – take the escalators in the Lafayette pour hommes (men's) building. Hot tip from Sarge who works with my husband in the Paris office!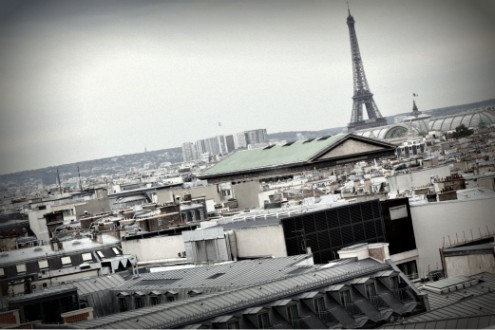 Au revoir!
40 boulevard Haussmann
75009 Paris
Neighborhood: 9ème arr.
Priscilla Willis
Intrepid food writer, drinker, and culinary traveler, Priscilla is the publisher of the popular Orange County, CA food and cooking blog She's Cookin' which features deliciously healthy, low sodium recipes, Southern California restaurants and foodie events, cocktails, spirits, and culinary travel.