Priya put freshly picked zucchinis from her garden to work to make these delicious bajjis or fritters.
By Priya Mahadevan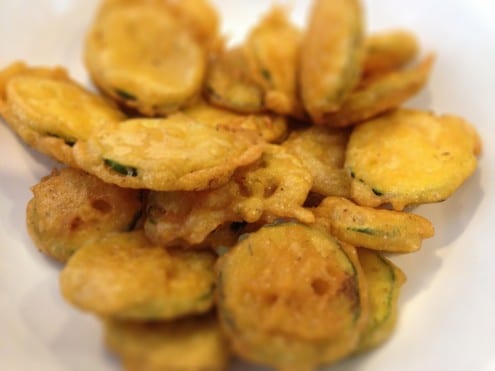 Fufu Flour Bajjis (Fritters)
When I first saw this at the Indian grocery store, i was intrigued by it - Flour made with Plantain? apparently used a lot in African countries like Ethiopia. The recommended use for it is to make pancakes, but it was afternoon when I pulled it out of my pantry to read those instructions- and was not waiting until the morning to try it. I put freshly picked zucchinis from my garden to work to make these delicious bajjis or fritters.
Recipe Type:
Appetizer, Snack
Ingredients
1 cup Fufu Flour
¼ rice flour
¼ cup besan
2 tsp chili powder (I used sambar powder)
a pinch of asafetida
Salt to taste
about ¾ cup of water to mix into a fluid batter
oil to fry
2 medium sized zucchinis
Instructions
Cut the zucchinis into ¼ inch rounds
put fresh oil in a deep pan and heat
mix the ingredients to make the batter
Ensure the oil is hot enough by dripping a little batter into it - If the batter pops up to the surface quickly, it is ready
Dip the zucchinis in the batter making sure it is fully coated on all sides.
Repeat the process until the pan is full but not over-crowded
cook until the batter is golden brown
Remove from oil, draining them completely with a ladle that has holes in it.
Place on a dish lined with paper towel.
Serve hot with ketchup or by itself
Notes
Fufu flour tends to soak up the oil, so draining them when you remove them from the oil is important to have a crisp and non-soggy snack
Priya Mahadevan
Priya Mahadevan is a writer and food blogger with a background in journalism & communication. Priya's mission with her food blog is to blow the myth that healthy cannot be tasty. She was a political and feature correspondent for a prominent Indian newspaper in the 90s before moving to the US. She lives in Virginia with her husband and 3 beautiful children. You can find her world of vegetarian recipes at http://priyasnowserving.blogspot.com.