Fruit Chaat – A Popular North Indian Street Food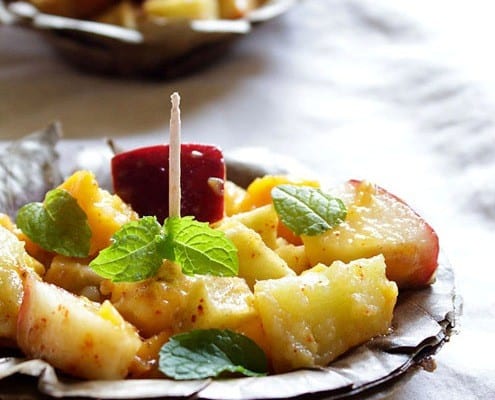 Fruit Chaat is a popular street food of North India and Pakistan, featuring awesome textures, lightly spiced flavors and juicy fruits.
By Dassana Amit
Fruit Chaat is a popular street food of North India and Pakistan. Here the fruits are tossed with some spice powders and the result is a bowl of fresh fruits with a hint of spice and tang. They are quite different from your regular fruit salad. Also, along with fruits, tubers like sweet potatoes and regular potatoes are also added to the fruit chaat.
The spice powders that are mainly used are:
See Also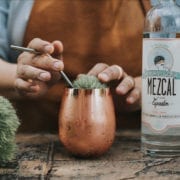 chaat masala powder
roasted cumin powder
red chili powder
So what you get finally are awesome textures, lightly spiced flavors and juicy fruits. Not to forget the health benefits.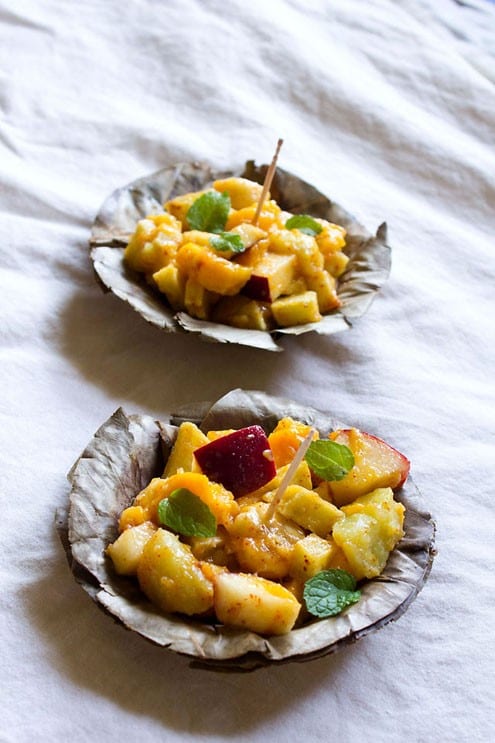 So spice up your fruits and prepare this delicious, sweet, spicy and tangy fruit chaat.

Fruit Chaat - A Popular Indian Street Food
Fruit Chaat - Mildly spiced, savory assortment of fruits with fried potatoes & boiled sweet potatoes.
Ingredients
2 bananas, peeled & chopped
1 large alphonso mango, peeled & cubed
1 large apple, cubed
2-3 sweet potatoes, boiled, peeled & cubed
1 large potato, boiled, peeled, cubed or cubed & fried
1 tsp lemon juice
1 tsp chaat masala
1 tsp roasted cumin powder
1 tsp chili powder
½ tsp black salt or more as required
2 tbsp chopped mint leaves for garnishing
Instructions
Rub the lemon juice on the banana and apple cubes.
This is so that they don't get discolored and also gives a sour hint to the fruits.
Mix the mangoes and sweet potatoes with the banana & apples.
Chill in the refrigerator if you want or proceed further.
Shallow fry the potatoes.
Before serving mix the fried potatoes with the rest of the fruits.
Add all the spice powders and black salt.
Mix well.
Serve garnished with some mint leaves.
Notes
You can use seasonal fruits or fruits that are available locally.
Dassana Amit
Dassana never intended to start a food blog. She never ever thought about blogging in her wildest of dreams. Her only passion in her life was meditation. As she went deeper in meditation, she realized that her inborn gift of cooking delicious & healthy food needs some creative expression. So she started her blog " Veg Recipes of India " as an outcome of creative flowing energy. Now she has also combined her another gift i.e photography with cooking. When not blogging & food photographing - she works as a web developer and seo expert.