A little twist on lemon meringue for a summer treat. Make most of it ahead and assemble when needed.
By Tania Cusack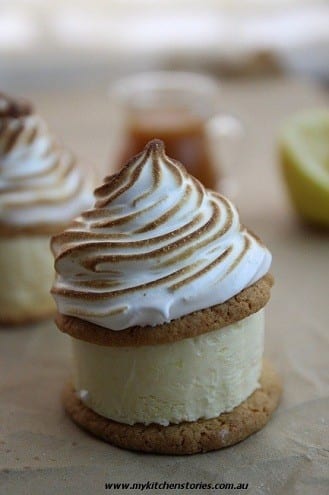 Being a close (or crazy) family when I was growing up, we all lived within a small radius of a few houses. My Aunties, Grandmother and Great Grandmother were all within earshot of each other. This came about due to the fact that the area was predominately market gardens when they all settled  here from England in the early 1900's. Nana Dearest…. as she liked to be called was beside us, with her chickens and fruit trees. There was a lemon tree in the yard between our place and my hers, it was a sort of fence in a way. It was in a thoroughfare, a place you had to walk . If you weren't walking past then a ball was probably stuck under its fruit filled branches or the cat was up it and needed rescuing. This tree scared the hell out of us, as  it was full of stink bugs that flew at us and spayed a toxic smelling spray. My Grandfather prefered not to treat them with chemicals, but was seen on the odd occasion with a pair of tongs, his beekeepers hat and a plastic bag to pick the smelly things off. We knew to stay well clear, as this caused the remaining bugs to try to hurtle towards the swearing man in the hat. my Grandfather got into trouble for swearing around us, but I thought the swearing was better than the chemicals.
The smell of a home grown lemon can take me back to this time  with just one sniff…..
This Lemon dessert, I have made not only smells of sweet lemon but tastes even better. It is my twist on Lemon Meringue Pie. Layers of lemon Crisps with a  Frozen Lemon Mascarpone and Meringue to finish. A dessert that can be made and assembled when you need it…..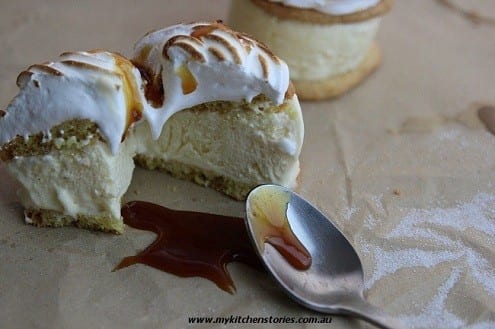 Frozen Lemon Mascarpone Meringue Sandwich
A little twist on Lemon meringue for a Summer Treat. Make most of it ahead and assemble when needed.
Ingredients
Lemon Thins
1.5 cups plain flour ( 225 gm )
½ teaspoon baking powder
¼ teaspoon bicarb
150 gm unsalted butter ( 1 stick and tablsp)
¾ cup 165 gm castor sugar
zest of 2 lemons
50 ml lemon juice (1½ Tabsp)
vanilla
Lemon Mascarpone Parfait
250 gm ( 8.8 oz or 1 container) Mascarpone
Zest of 2 lemons ( very finely grated)
1 cup caster sugar ( granulated)
Juice of 2 lemons
250gm (8 fl oz) thickened ( whipping) cream.
4 egg yolks
Meringue
2 egg whites
¾ cup of sugar
Instructions
Mix the flour. baking powder and soda together.
Put the softened butter, sugar and zest into the food processor and whizz until white and creamy. Add the eggs and then lemon juice. (the mixture will curdle).
Add the dry ingredients and pulse till combined. Pour onto a bench top and roll into a log, wrap and refrigerate till firm. (the mixture will be quite sticky).
Cut into thin disks and bake at 170C ( 325F) for about 10-15 minutes. They expand quite a lot. Cut into the shape of your icecream mould.
No Churn Icecream
Beat the yolks in an electric mixer until very light in colour, thick and fluffy.
Put the sugar and lemon juice into a sauce pan and melt on low without colouring until the sugar has dissolved. Pour the hot sugar syrup over the yolks a dribble at a time while beating until all incorporated. Beat this mixture till cool.
Put the mascarpone in a separate bowl and whisk in ¼ of the egg yolks to lighten . Lightly whisk the rest of the yolks into the mascarpone. Don't overmix
Clean the bowl and beat the cream to soft peak. Fold the cream into the mascarpone mixture . Pour into a loaf mould or individual moulds.
Freeze overnight.
Meringue
Beat the whites till lightly foamy and white. Gradually start adding the sugar and beat until the meringue is glossy and thick.
To Assemble
First, put 6 biscuits onto a baking tray and pipe or mound some meringue onto 6 biscuits. Using a blowtorch brown the meringue or pop under a hot grill till coloured.
Put another 6 discs of lemon thins onto a plate/tray. Top with the Lemon Mascarpone parfait, then top with the meringue biscuit layer.
Serve this with fruit ( quinces or raspberries or strawberries or with lemon caramel sauce if you can handle more sugar)
Make lemon caramel sauce
cup of sugar, ¼ cup of lemon juice, 50 gm of butter. Caramelise the sugar till dark brown, add the lemon juice and cool slightly. Whisk in the butter and cool.
Tania Cusack
After completing Culinary School in Sydney, Tania travelled the world working as a Chef in restaurants, doing catering and cooking on road for a travel company in Europe and the US. Once back at home, the birth of her son meant a change, and during his small years, she enjoyed jobs in wholesale food, buying Artisan food products, testing and recipe writing as sales and educational tools. Tania is now back to what she loves, working as an in house Chef for a large retailer, conducting Cooking Classes and writing recipes for her blog.