Nutmeg and lemon make this French Toast recipe just a little bit more interesting than normal.
By Khalilah Ramdene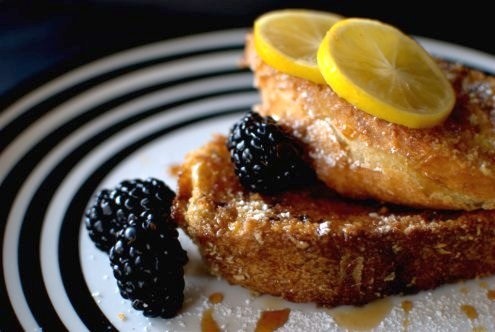 French toast is what you do with leftover bread. In fact, the French refer to this dish as pain perdu or lost bread as it was originally  invented as a means to revitalize old stale bread. A generous soak in a spiced eggy-milk bath easily coaxes the stalest of  breads into an appealing dense custard, turning the previously inedible to the delectable.
Although history may dictate the use of stale bread for French toast, my appetite argues otherwise, and I will happily purchase a loaf of bread with the sole intention of  making French toast. So please feel free to do similarly.
This recipe for French toast  is a balancing act on all accounts.  A crunchy exterior should give way to a creamy interior so a few steps are necessary to accomplish that. Allow your bread a languid soak in the egg-milk mixture. This is where it gets its flavor, plus there is something a little sad about dry french toast, so avoid that by soaking.  A shower of panko crumbs add textural contrast and an audible crunch with every bite. It's this careful ratio of crunch to custard  that pushes this recipe close to perfection.
As for taste, both nutmeg and Meyer lemon impart loud flavors to a dish; ensuring that the two are harmonious is key.  With that said, Meyer lemons, being sweeter than your average lemon, are a far more forgiving citrus, so if you like lemony things feel free to zest your heart out.
See Also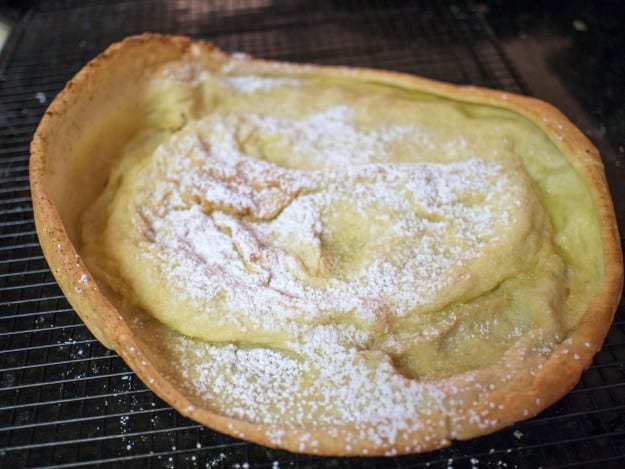 I like to finish French toast with a dusting of powdered sugar and fairly liberal amount of maple syrup, which in a perfect world, is how everything would end.
Print
Nutmeg French Toast w/ Candied Meyer Lemon
Nutmeg and Lemon scent this French toast
Author:

Khalilah Ramdene

Prep Time:

10 mins

Cook Time:

25 mins

Total Time:

35 minutes

Yield:

2

1

x
4

1″ slices of French bread
cup whole milk

2

eggs

1 tsp

freshly grated nutmeg
zest of half Meyer lemon
pinch of salt

1 tsp

vanilla

1

heaping cup of panko

1 cup

water

1 cup

sugar
Meyer lemon slices
butter for frying
Instructions
Preheat over to 350°
Mix milk, eggs, nutmeg, lemon zest, salt and vanilla in a bowl. Transfer mixture to a shallow dish add bread and soak for 5-8 minutes. Flip bread and soak for an additional 2-3 minutes
Pour panko into a large tray and dredge bread on both sides until an even coating is formed.
Heat butter in an ovenproof skillet over medium heat. Fry French toast until panko is golden brown, about 3-5 minutes per side. Transfer pan heated oven and cook for additional 8-10 minutes.
To candy lemons: Add water and sugar to a sauce pan over medium heat and stir until sugar has dissolved and the liquid turns syrupy. Turn heat to low, add lemon slices and cook for 5-7 minutes. Remove lemon slices from pan and allow to cool on parchment paper for 10-15 minutes
Notes
Serve French toast with candied lemons, powdered sugar and maple syrup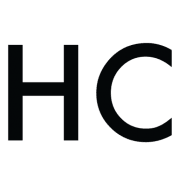 Hali Ramdene
Hali Ramdene is a food editor with Better Homes and Garden magazine. Her love of food stems from the subtle magic it brings to the everyday. She studied Gastronomy at Boston University and writes at HaliRamdene.com