Sponsored Post: #EnjoyItsFromEurope This post is brought to you by Jambon de Bayonne aka Bayonne Ham, the melt-in-your-mouth charcuterie from Europe. You've probably tried cured ham before, but have you had French Bayonne ham? Be sure to enter for a chance to win Bayonne ham here.
This fried rice will blow your mind! It gets a flavor boost from XO sauce, a super flavorful condiment made from dried seafood and cured ham.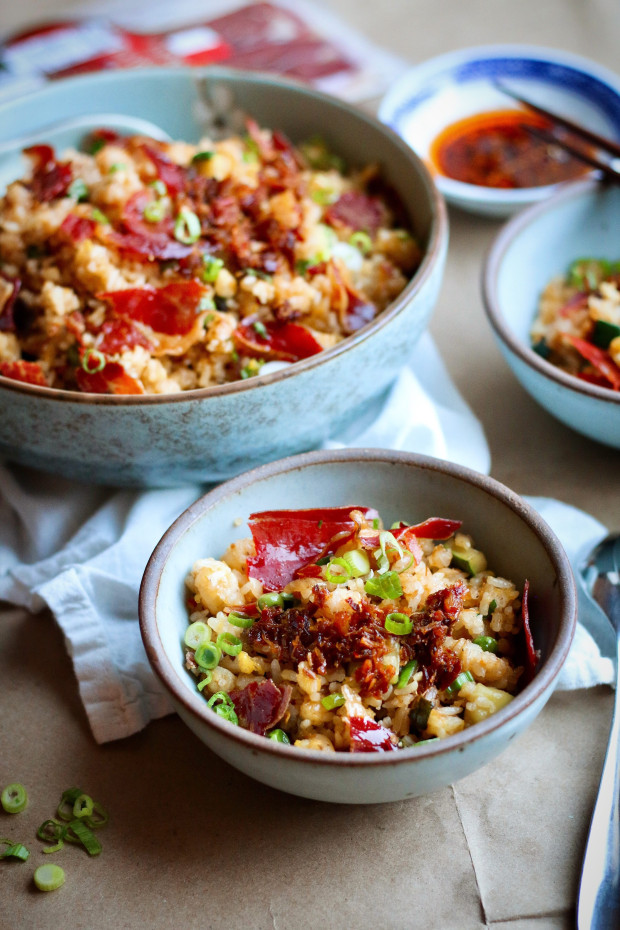 Fried rice is made with day old leftover rice. Sounds boring but not when you can transform your fried rice with XO sauce made with Bayonne Ham! This fried rice recipe is packed with flavor because it uses XO sauce, a condiment made from dried seafood and ham that originated in Hong Kong in the 1980s. It can be found in most Asian markets, but when you prepare XO sauce at home, you've got a knock out condiment that can elevate leftover pizza, jazz up a grilled burger or hot dog, or even save a mediocre takeout order.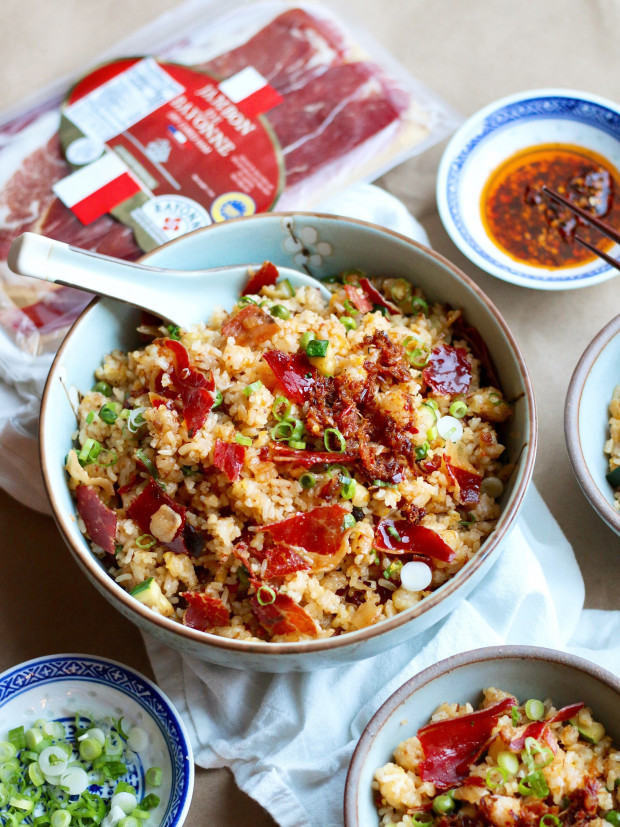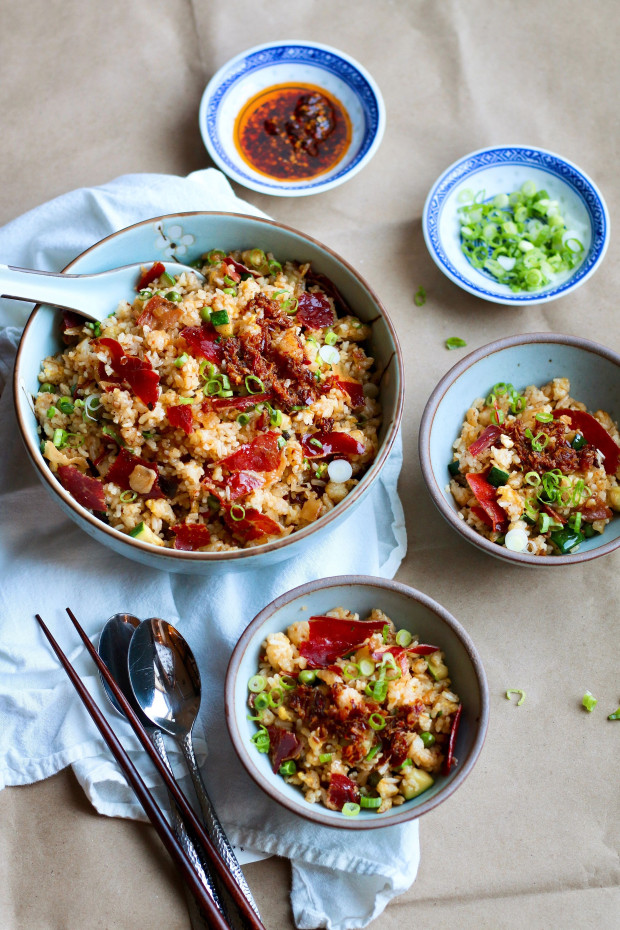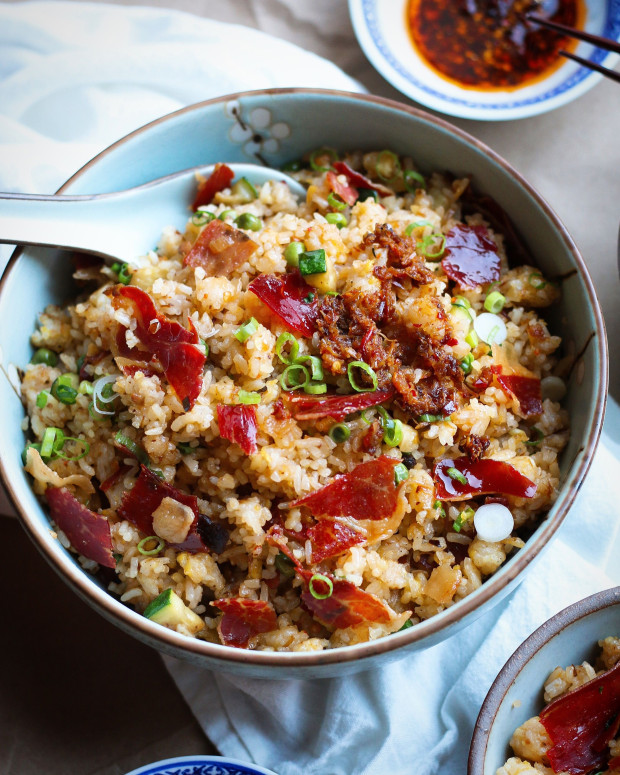 For more mouthwatering inspiration, check out Bayonne ham on Instagram.
If you'd like to try Bayonne Ham you can head over to this post on Instagram for a chance to win some for yourself! And remember, when it's #MadeInTheEU you know it's good!
Fried Rice and Crispy Bayonne Ham
Ingredients
XO Sauce
6 TBS dried medium shrimp4 TBS dried small size dried scallops (optional)
¼ cup (60 ml) grapeseed oil, divided
Bayonne Ham, 8 oz, minced
1 TBS dried Thai chili flakes
1 TBS minced ginger
2 garlic cloves, minced
½ fresno chile or fresh red chile, minced
1 small shallot, minced
1 TBS fish sauce
2 tsp distilled vinegar
For Fried Rice: Serves 4
3 oz Bayonne Ham
2 TBS oil
1 large zucchini, cut into halves lengthwise then cut into ¼ inch pieces
4 cups cold rice, preferably day-old
5 eggs, well-beaten with 1 tsp kosher salt
3 TBS homemade XO sauce
2 tsp fish sauce
2 TBS oyster sauce
1 tsp chili oil, optional
Sliced scallions
Instructions
XO Sauce
Place the shrimp in a small bowl and cover with hot water. Soak the shrimp until they're softened, about 10 mins. Drain the shrimp (discard soaking liquid) and transfer to food processor. Pulse until they're finely ground. Reserve the shrimp (no need to clean the food processor just yet).
Heat 2 TBS of oil in a medium skillet. Add the ham, cook over medium heat, stirring until the ham begins to brown and crisp, about 4 mins.
Add chile flakes and cook until fragrant and oil is vibrant red, about 30 seconds.
Reduce the heat to low and add the ginger, garlic, fresno chile, shallot and cook stirring until aromatics have softened, about 5 mins. Add reserved shrimp and the remaining 2 TBS oil and cook, stirring now and then, until the oil is frothy and the mixture is dark red and extremely fragrant, about 10 minutes.
Add ½ cup of water and cook, stirring until the liquid is reduced by half, about 5 minutes. Transfer the mixture to the food processor and pulse until relatively smooth and well combined. Transfer the mixture to a bowl and stir in the sugar, fish sauce , and vinegar. Serve immediately or store in an airtight container in the refrigerator for up to 3 weeks.
Fried Rice
Preheat oven to 350F. Place sliced Bayonne Ham on a parchment lined baking sheet. Place in oven and bake for 10 mins until crisp. Remove from oven and crumble into 1"-2" pieces. Reserve ½ cup.
Heat 1 TBS of oil in a wok over high heat until smoking, then add zucchini and stir-fry until tender, about 2 minutes. Remove from the wok, then add another tablespoon of oil. Add the eggs and stir-fry over high heat, until almost cooked through. Remove from the wok.
Add the XO sauce to the wok. Turn the heat to medium-low, then add the rice and stir-fry, breaking up clumps. Add the soy sauce, fish sauce and oyster sauce and chili oil. Taste and add more seasoning as needed. Add the eggs, zucchini and remaining crumbled crispy Bayonne ham back to the fried rice and stir to mix well. Serve immediately, garnishing with scallions and extra crispy Bayonne Ham.
3.5.3229