Give your BLT sandwich some extra pizzaz and swap out fresh tomato slices for fried green tomatoes.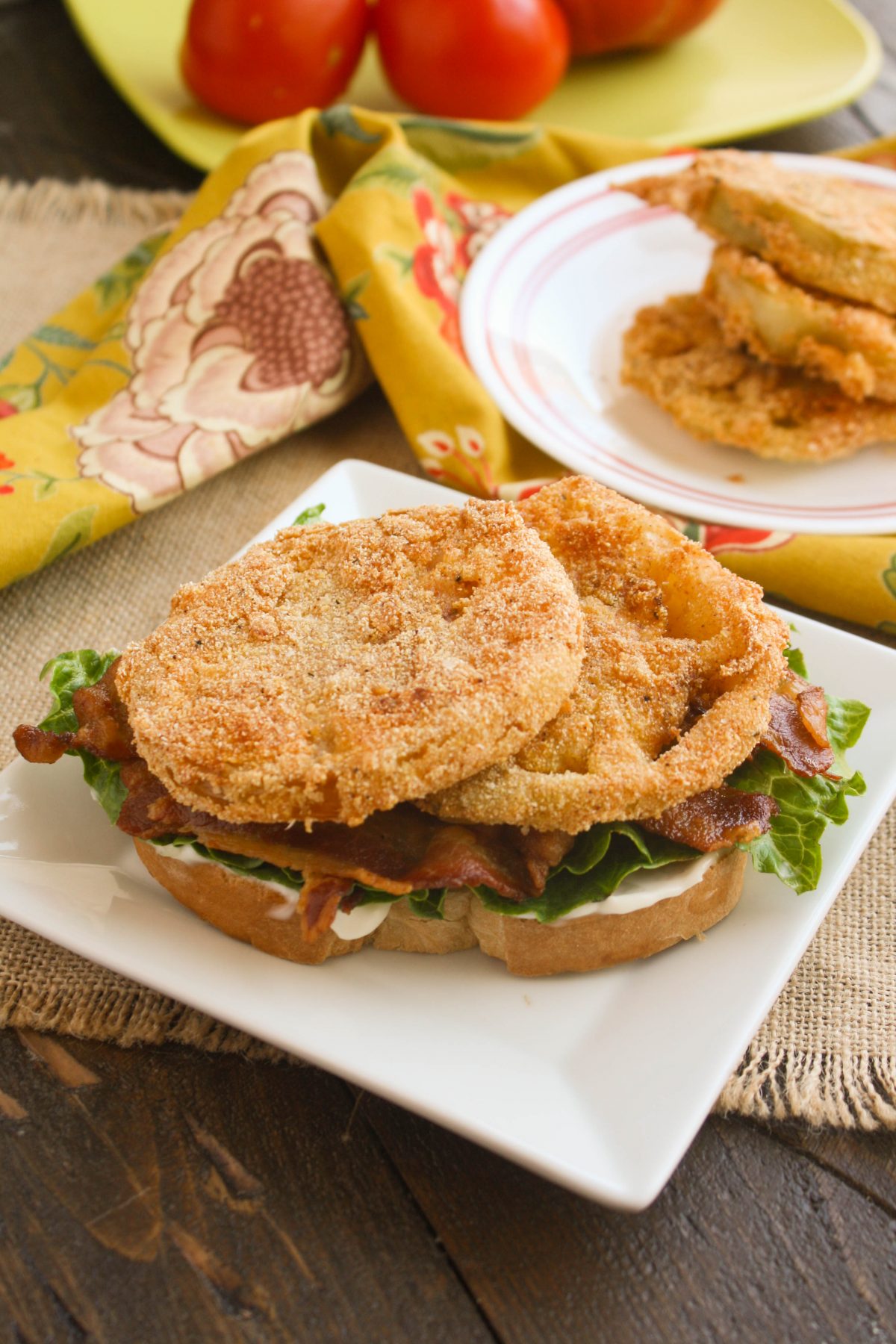 What a great meal these fried green tomato BLT sandwiches turned out to be. They were so good that I'm still thinking about them! As you can imagine, most things coated in batter, fried and served with bacon and mayo can't be all bad.
My husband and I were out on an errand the other day, trekking to the other side of town to pick up a much-needed gizmo. We ended up doing a little weekend wandering and came across a farm with big signs for corn (Check out my recipe for corn on the cob with pesto), tomatoes, and watermelon.
Once we got to to the farm stand I picked several ripe, red tomatoes, but there were also beautiful green tomatoes, too.
I instinctively grabbed those green globes but, in fact, I'd never used green tomatoes for anything. The only thing in my head was, "fried green tomatoes," because what else runs through your mind when you see them, amiright?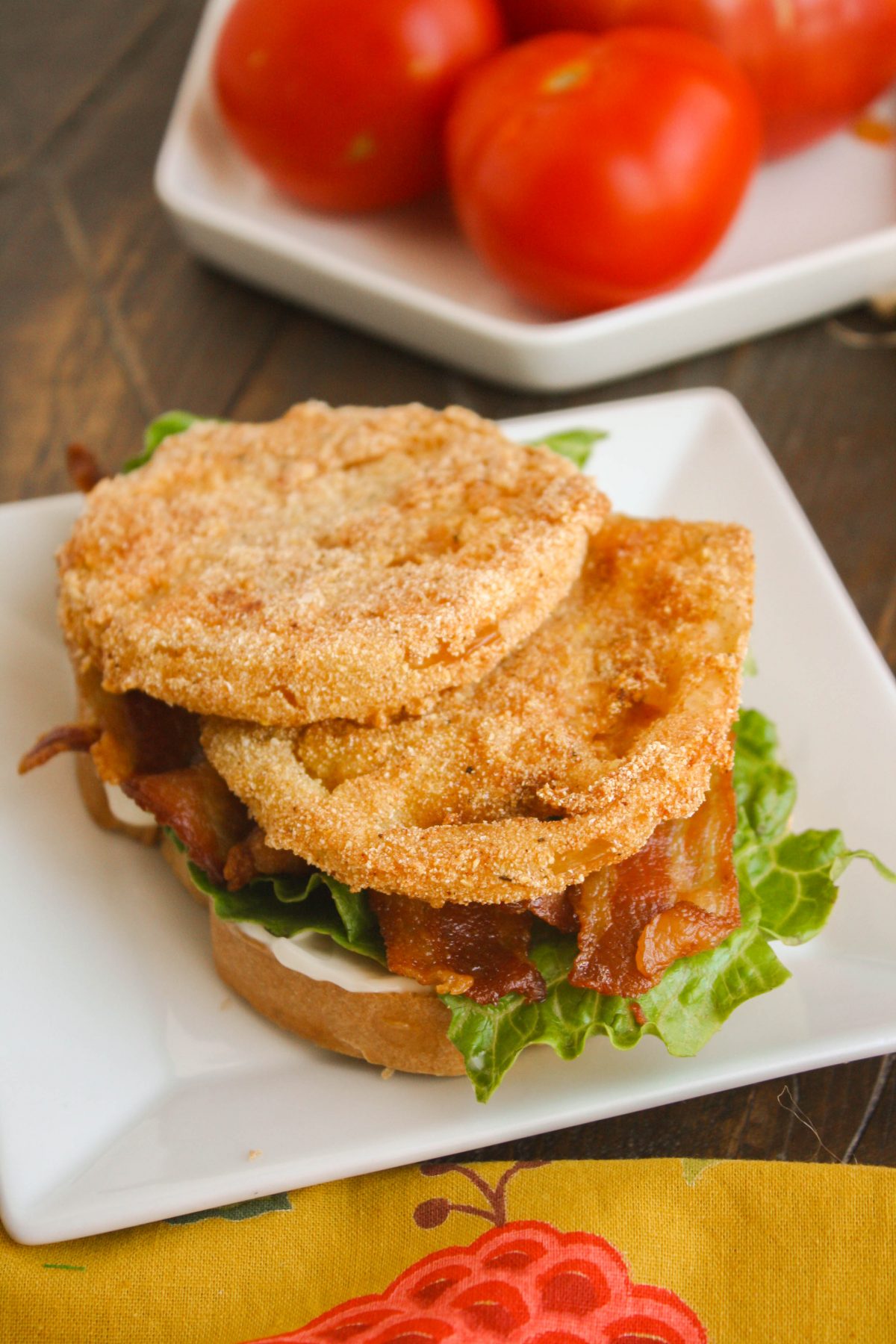 Green tomatoes have a citrusy flavor to them, and what a perfect partner with salty bacon and sweet mayo for these sandwiches!
Seems strange to eat something before it's ripe, but whoever came up with the idea to coat and fry green tomatoes is okay in my book.
See Also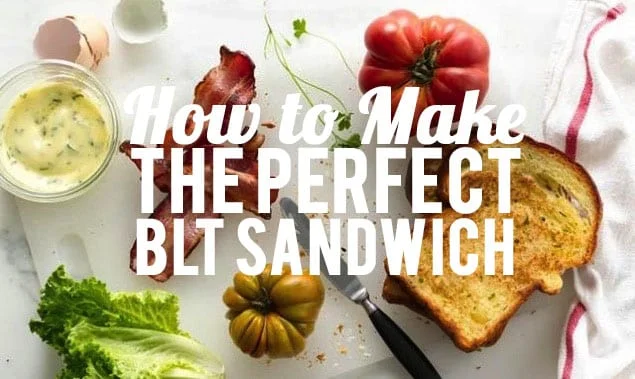 Speaking of origins, I read on Smithsonian.com that food historian Robert F. Moss believes fried green tomatoes may not have gotten their start in the Southern U.S., but rather in the Midwest and Northeast, with links to Jewish immigrants.
Goes to show what you think you know to be true. Apparently, back in the day (and maybe still today?) picking and frying green tomatoes was a way to use them before the frost hit and ended their chances of turning red and ripe.
I can't wait to get my hands on more green tomatoes because I'm so in love with these fried green tomato BLT sandwiches. I hope, hope, hope you'll try them, too!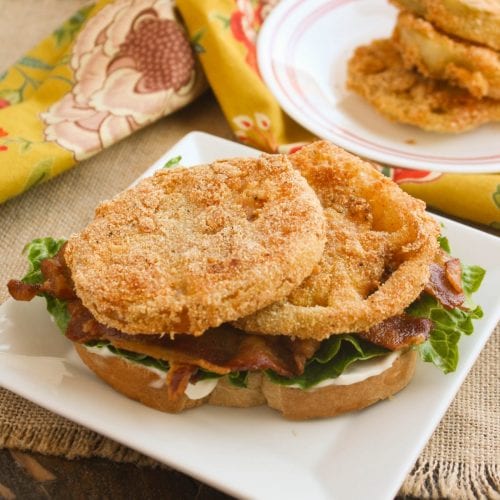 Fried Green Tomato BLT
Patricia Conte
Give you BLT sandwich some extra pizzaz and swap out fresh tomato slices for fried green tomatoes.
Ingredients
1-1/2

cups

vegetable oil

enough to fill a skillet about 1/4-inch up from the bottom

2

large green tomatoes

cut into 1-inch rounds

1/4

cup

flour

1/4

cup

cornmeal

2

eggs

beaten

Salt

ground black pepper, and smoked paprika to season

1/4

cup

mayonnaise

6

slices

bacon

cooked

2-4

large lettuce leaves

4

slices

thick sandwich bread
Instructions
Toast the bread in the oven, or on a grill pan sprayed with nonstick cooking spray. Keep warm and set aside.

Add the flour to a shallow bowl, the cornmeal to a second bowl, and the eggs to a third. Season the flour and the cornmeal with some of the salt and ground black pepper. Set aside.

Season both sides of each tomato slice with the salt, pepper, and smoked paprika.

One slice at a time, add a tomato slice to the flour and coat both sides. Next, dip it into the eggs, and make sure both sides and the edges are coated. Allow the excess egg to drip back into the bowl. Finish by adding the tomato slice into the cornmeal. Use your fingers to gently pat the cornmeal onto both sides of the tomato. Transfer the tomato slices to a baking pan.

Place another baking pan near the oven with 1-2 layers of paper towel on it.

Add the oil to a large skillet on medium-high heat. When hot, reduce the heat to medium. Let it sit for a minute or two.

Add the coated tomato slices, a few at a time, to the hot oil. Cook for about 2 minutes on each side, or until golden.

Transfer to the paper towel-lined baking pan.

Assemble the sandwiches by layering the mayonnaise, bacon, lettuce, and tomato slices on the toasted bread.

Serve immediately.
Patricia Conte
Patricia Conte is the writer, recipe developer, and photographer behind Grab a Plate. She credits her love of cooking, baking, and entertaining to her Italian immigrant family who is also passionate about all things food! Visit her at Grab a Plate where she shares her love of food, recipes, and bites in between. Follow Patricia on Twitter, Facebook, and Instagram.