Fried Green Tomato BLT with a Sweet Basil Mayonnaise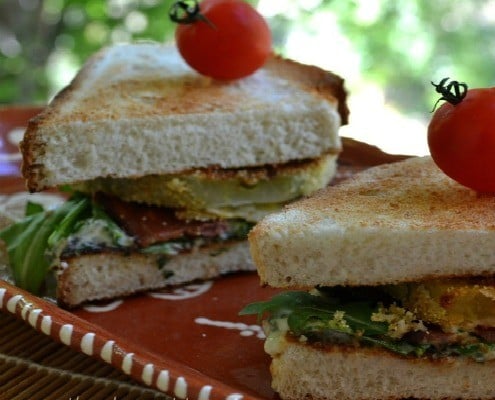 Before the arrival of the first frost, Valerie Harrison recreates a twist on a standard bacon, lettuce and tomato sandwich with savoury fried green tomatoes, peppery arugula,and salty bacon all balanced with a creamy basil mayonnaise.
By Valerie Harrison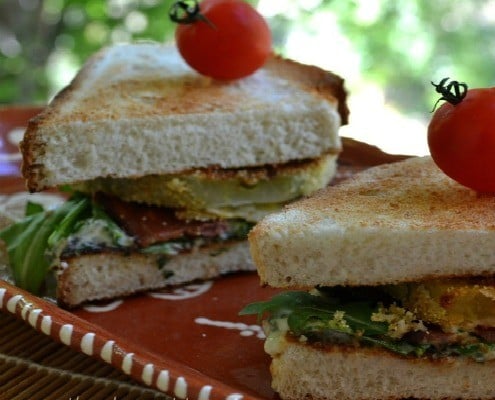 The days get a bit shorter, a nip bites at the edge of the air, and you know that all of that lush promise in our gardens and markets is going to stop delivering. But an autumn garden can be a thing of beauty. Sure, your early-summer crops have come and gone, but apples are dripping off the trees, vines are laden with ridiculously large squashes and melons, and tomatoes are everywhere.  As soon as the frost descends, those tomato plants are done for.
We do not expect frost any time soon but while at a local farmers field I picked some green unripened tomatoes since the opportunity may not come up again. Green tomatoes are just regular tomatoes picked before they turn red, and have a more piquant flavour than their ripe brethren. When I think of fried, green tomatoes I start adding "y'all" to my sentences and want to sit on my front porch sipping mint juleps with a piece of Red Velvet Cake. In my eyes they are a very Southern dish! Tomatoes grow in such abundance in the South's lush growing season that green, unripe ones need to be picked throughout the summer to prevent the branches from collapsing under their weight. In contrast, unripe tomatoes are picked here in the Great White North only at the very end of the season, when it is clear that they will not ripen before the first frost.
I was happy to recreate a twist on a standard bacon, lettuce and tomato sandwich with savoury fried green tomatoes, peppery arugula,and salty bacon all balanced with a creamy basil mayonnaise.
If you can find it, use fine white cornmeal, which I am told is the primary cornmeal used in the Southern United States where this dish originates. Buttermilk adds flavour and tang, but is not totally necessary for an outstanding result. The second day I refried my leftover Fried Green Tomatoes and served them with some mesclun greens with a dollop of Sweet Basil Mayonnaise…delicious!!!

Before the first frost I was happy to recreate a twist on a standard bacon, lettuce and tomato sandwich with savoury fried green tomatoes, peppery arugula,and salty bacon all balanced with a creamy basil mayonnaise.
Ingredients
Sweet Basil Mayonnaise:
1 cup loosely packed fresh basil leaves
½ cup mayonnaise
1 tablespoon fresh lemon juice
½ teaspoon Dijon mustard
Kosher salt and freshly cracked black pepper
Sandwich:
16 (1/8-inch thick) slices bacon
8 slices country sandwich bread
1 cup loosely packed arugula
Kosher salt and freshly cracked black pepper
Fried Green Tomatoes from Simply Recipes
3 medium, firm green tomatoes
Salt
1 cup all-purpose flour
1 tablespoon Cajun seasoning (optional)
½ cup milk or buttermilk
1 egg
⅓ cup cornmeal
½ cup fine dry bread crumbs
¼ cup peanut oil or other vegetable oil
Instructions
For the mayo
In a food processor, puree the basil, mayonnaise, lemon juice and mustard. Season with salt and pepper and set aside.
For the sandwich
Place the bacon slices in a large nonstick saute pan set over medium heat and saute on both sides until crispy, about 3 minutes per side. Set aside on a paper towel-lined plate until ready to assemble the sandwich.
Fried Green Tomateoes
Cut unpeeled tomatoes into ½ inch slices. Sprinkle slices with salt. Let tomato slices stand for 5 minutes. Meanwhile, place in separate shallow bowls: the flour and Cajun seasoning (if using), buttermilk and egg, and bread crumbs and cornmeal.
Heat the peanut oil in a skillet on medium heat. Beat the egg and the buttermilk together. Dip tomato slices in the flour-seasoning mix, then buttermilk-egg mixture, then the cornmeal-bread crumb mix. In the skillet, fry half of the coated tomato slices at a time, for 3-5 minutes on each side or until brown. Set the cooked tomatoes on paper towels to drain.
To assemble the sandwich
Slather each slice of bread with a generous amount of the basil mayo. Top 4 of the bread slices with 4 pieces of crispy bacon, 2 fried green tomatoes and top with arugula. Finish by topping the sandwich off with the other slice of bread.
Valerie Harrison
Valerie is the author of More Than Burnt Toast living in British Columbia, Canada. Join Valerie as she explores the worlds cuisine using local and sustainable ingredients found in the Pacific Northwest. Every day we should be inspired and excited about what we are eating even if it just means making use of a wonderful find at our local farmers market.