Fried Artichokes with Smoked Sausage Mayo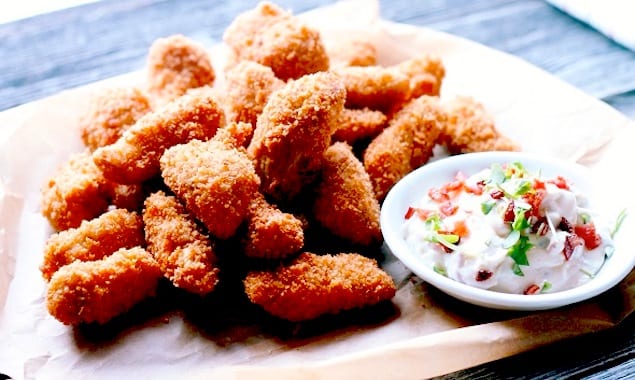 Livened up with lemon zest and paprika, these crispy breaded and fried artichoke hearts are wonderfully satisfying – crispy on the outside with a smooth, almost creamy inside.
By Bryan Picard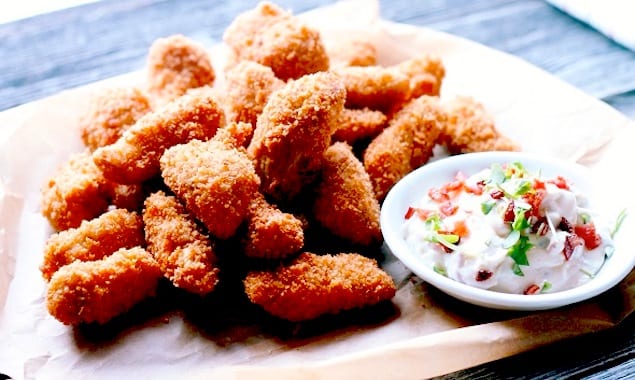 Enjoy these appetizers with a glass of white wine. You can also substitute firm cheese for the artichokes and have home-made cheese croquettes. If smoked sausages can't be found, cured sausage or even bacon will work nicely as well.

Fried Artichokes with Smoked Sausage Mayo
Livened up with lemon zest and paprika, these crispy breaded and fried artichoke hearts are wonderfully satisfying – crispy on the outside with a smooth, almost creamy inside.
Ingredients
20-24 cooked artichoke hearts
2 eggs, beaten with 2 tablespoons milk
½ cup flour
1½ cup bread crumbs or panko
1 teaspoon hot smoked paprika
zest of a lemon
a few cups of frying oil (peanut, sunflower)
sea salt
Mayo
½ cup mayonnaise
2-3 slices smoked dry sausage, chopped
1 teaspoon Dijon mustard
1 teaspoon maple syrup (optional)
1 clove garlic, chopped
Instructions
Marinate the artichokes with half the lemon zest and a pinch of paprika for 10 minutes.
Take three large separate bowls. Put the eggs in one, the flour in another, and the bread crumbs with the rest of the zest and paprika in another. Season each with a pinch of salt.
In a medium pan, heat up the oil until it reaches 350°F. You need at least 3 inches of oil.
Put the artichokes in flour and dust them well.
Take a few at a time and dip them into the eggs then coat them with the crumbs and set aside on a plate. Repeat with the rest.
Once your oil is at temperature, turn on the fan and fry the artichokes in three batches, to avoid the oil to cool, for a few minutes until they're golden brown. Set aside on a wire rack and serve straight away.
Mayo
In a pan, cook the sausages with a bit of oil until crispy. Remove from heat.
Mix together the mayo, dijon, garlic, maple syrup and the cooled cooked sausage.
Serve with the fried artichokes.
Bryan Picard
Bryan Picard is a wild and homegrown food enthusiast. He lives in the Maritimes in Canada and has worked the kitchens as a cook and chef for the past ten years. He writes on his blog The Bite House.