Fresh Strawberry Ice Cream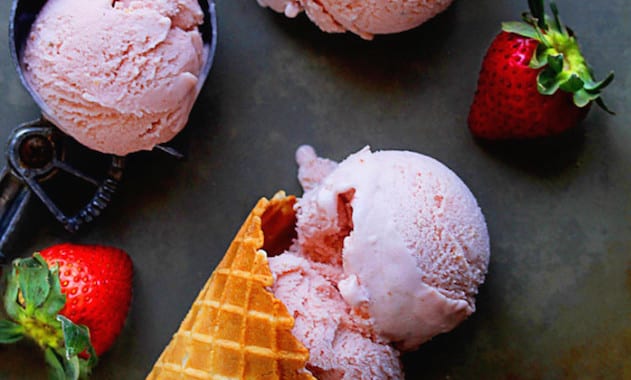 Homemade strawberry ice cream made with rich heavy cream and speckled with fresh spring berries. A creamy delight to cool you down in sweet style.
By Jocelyn Delk Adams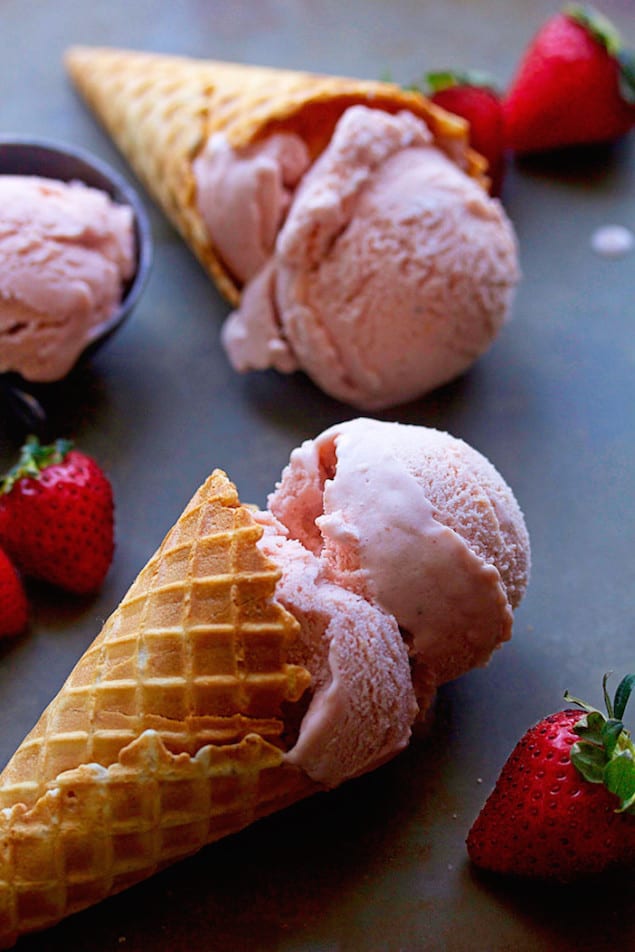 This sensational strawberry ice cream should be made now with spring berries and enjoyed all summer long.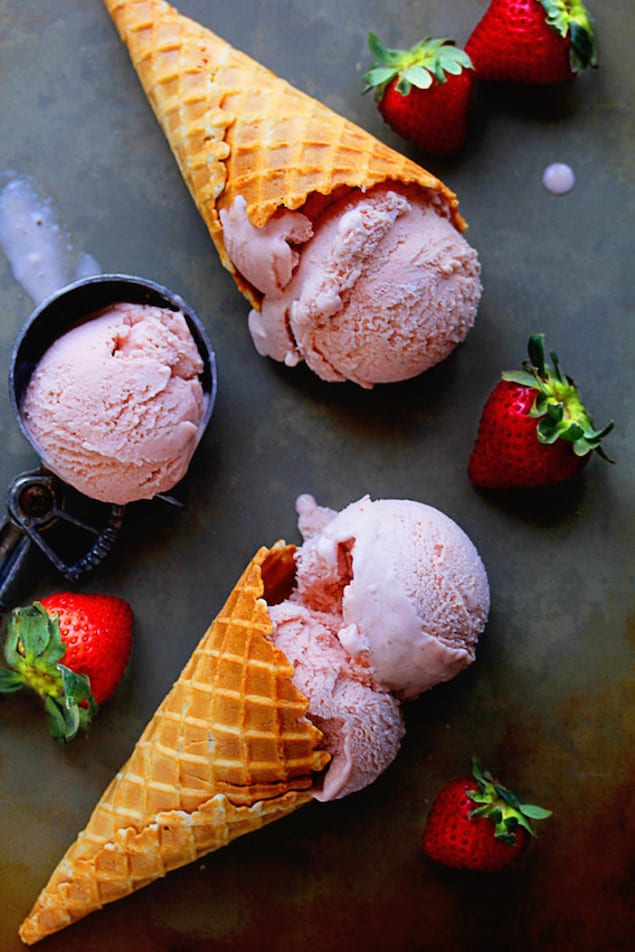 Fresh Strawberry Ice Cream
Homemade strawberry ice cream made with rich heavy cream and speckled with fresh spring berries. A creamy delight to cool you down in sweet style.
Author:
Jocelyn Delk Adams
Recipe Type:
Ice cream, Dessert
Ingredients
3 whole large eggs
2 egg yolks
1½ cups granulated sugar
2 cups heavy whipping cream
2 cups half and half
1 pound of strawberries, pureed with 2 tablespoons of granulated sugar
1 tablespoon pure vanilla extract
Red food coloring, if desired
Instructions
Beat eggs and egg yolks in a medium sized bowl. Next add sugar to the bowl and whisk together.
Add heavy cream and half and half to a large pot and heat to boiling level. Remove from heat.
Slowly add three tablespoons of the hot milk mixture to the egg mixture to temper it and whisk together to combine. Then slowly add in the rest of the milk mixture and continue whisk the entire time to make sure it doesn't scramble.
Stir in strawberry puree, vanilla extract, and food coloring, if using.
Place the mixture in the refrigerator for 2-3 hours to chill completely.
Add your mixture to an ice cream maker according to the manufacturer's instructions and freeze.
Store in freezer while not serving.
Jocelyn Delk Adams
Jocelyn Delk Adams is the founder of Grandbaby Cakes, a food blog inspired by her grandmother devoted to classic desserts and savory recipes, modern trends and showcasing the pastry field in an accessible way. She is a brand ambassador and writer for top brands such as Pillsbury, Better Homes and Gardens, Parade Magazine, Safest Choice Eggs, KitchenAid, Dixie Crystals Sugar, Jif Peanut Butter, and many more. In the short span of 2 years, Grandbaby Cakes has been featured in Better Homes and Gardens, Ebony Magazine, The New York Times Online, Refinery 29, Cupcakes and Cashmere, The Kitchn, Fox News, WCIU, Chicago Social Magazine, the Chicago Sun-Times and Splash Magazine, among others. She is currently writing her first cookbook which will be published in Fall of 2015, and is the founder of A Charitable Confection, an annual anti-violence dessert fundraiser featuring the top bakeries in Chicago. Jocelyn hopes Grandbaby Cakes will inspire a new generation of dessert enthusiasts to learn to bake and not feel guilty about enjoying dessert.