Jessie Chien Bryson finds a small artisanal treasure in the form of smoked tofu at her local market, and provides an umami-rich stir fry recipe for your pleasure.
By Jessie Chien Bryson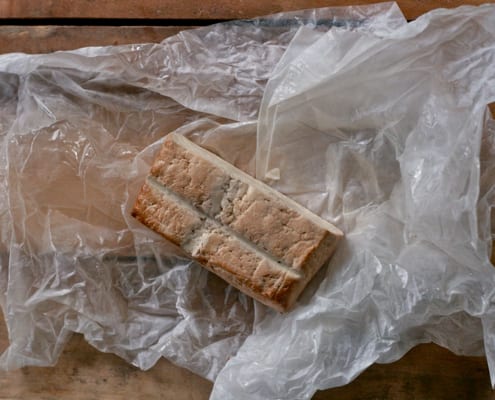 Several months ago while in China, I waxed poetic about the virtues of good, smoked, baked tofu. I shared with you an excellent recipe for tofu stir fry right here on Honest Cooking- easy, tasty, fast, and fresh.
Now I'm back in the U.S., and the ideas of good, fresh food can be found everywhere around me. I'm elated! I've found myself exposed to a number of folks who are bringing back the artisan foodways of yesteryear. From farmhouse cheeses, to homemade preserves, to in-house curing of meats, small business are founded to promote small scale production of quality, local, and tasty provisions.
Neopol Smokery is part of this movement. Based in Baltimore, Maryland, their provisions feature a variety of smoked fish, but also extend to smoked spices, herbs, and most intriguing to me – smoked tofu.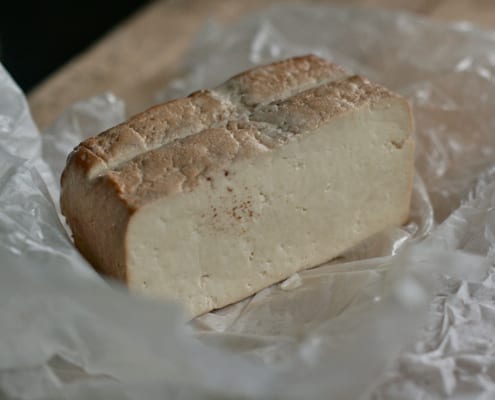 I brought a cube of Neopol's smoked tofu home with me last weekend. This isn't your typical, store-bought, mild-flavored, densely packed smoked tofu. No, it's a grill-marked, heavily scented, rich and smoky tofu, weighty, but pillowy and then firm, all at the same time. Slicing off a raw piece at home, I deemed the intense smokiness beckoning to be accompanied by other earthy, umami-rich ingredients such as mushrooms and leeks. The tofu, somewhat bland on its own, desired a kick of flavors that could easily be lent from soy, ginger, and mirin.
Now as a writer, I shoot for variety in my creative work. But sometimes, when I come across something so good and so fresh and made with some much love and care, variety just gets pushed to the sidelines. In this case, it's not so bad.
See Also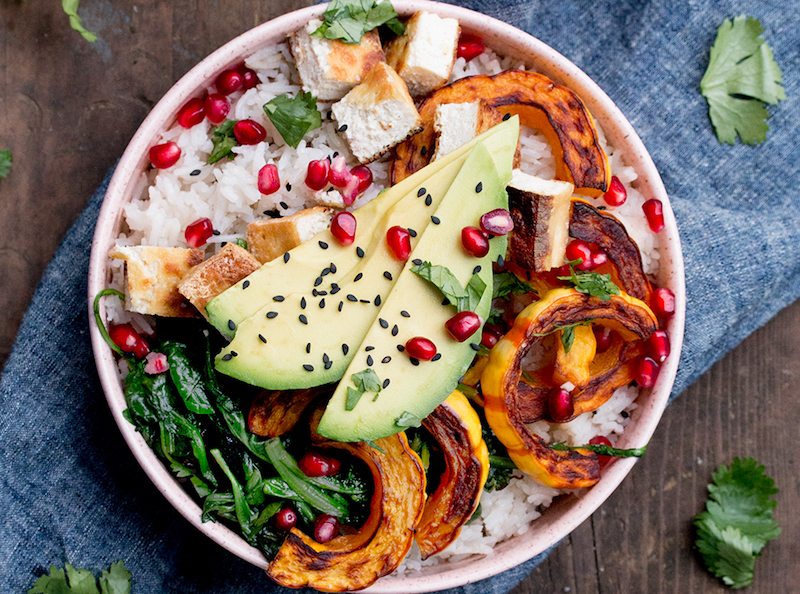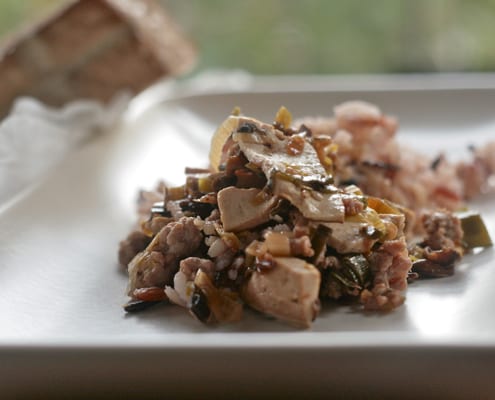 Print
Fresh Smoked Tofu Stir Fry
---
Author:

Jessie Chien Bryson

Total Time:

25 minutes

Yield:

2

-3

1

x
Description
If you're got your hands on a smoker, I encourage you to try making your own smoked tofu. Of course, the store-bought stuff is a fine enough substitute – I understand not everyone has access to this artisanal treasure that I've found!
---
1

medium leek, greens and whites, chopped

1

clove garlic, minced

1

cube smoked tofu, approx 8 oz., thinly sliced

4 oz

. mushrooms, any variety (cremini & hen-of-the-woods used here), chopped/sliced into small pieces

2 Tbsp

. mirin

1 Tbsp

. soy sauce

1 Tbsp

. sesame oil

1

small nub ginger, finely minced (approx

1/2 tsp

)

6 oz

. ground turkey
---
Instructions
Heat a bit of vegetable oil over high heat on a large skillet or wok. When oil is hot, add garlic and leeks. Saute for 3-5 minutes, or until leeks are soft.
Lower heat slightly to medium high. Add tofu and mushrooms. Let cook for 3-5 minutes, turning occasionally to saute. Don't stir too vigorously, or the tofu will break up. You want the tofu to brown on the sides and the mushrooms to become soft.
Mix the mirin, soy sauce, sesame oil, and ginger in a small bowl. Add to the stir fry, and sautee. Add the ground turkey, and cook until turkey is well done, approx 5 more minutes.
Serve, hot, accompanied by rice.
Notes
If you love spicy fare, this dish would do well with the addition of a couple of chili peppers or a teaspoon of hot sauce.
Prep Time:

10 mins

Cook Time:

15 mins
Jessie Chien Bryson
Jessie Chien Bryson grew up spending sunny California Thanksgivings eating 20lb. free-range turkeys along with sides of Chow Mein, which is what she thinks cemented her insatiable interest of food cultures and sustainable methods as an adult. She recently spent two years in Guangzhou, China, where the locals were said to eat anything with four legs but a table and anything that flies but a plane. She's now on the other side of the world in Dar es Salaam, Tanzania, where she keeps a diary of food, travel, and expat adventures at www.jessbopeep.com