Fresh Pineapple Ice cream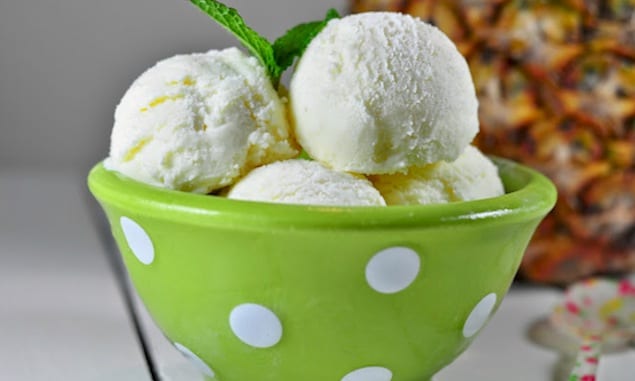 This delicious ice cream is creamy and bursting with pineapple flavor. Made with fresh pineapple, this recipe is delicious with all the nutrients in tact, without any eggs.
By Swathi Iyer
This fresh fruit filled ice cream is worth a try.

Fresh Pineapple Ice cream
This delicious ice cream is creamy and bursting with pineapple flavor. Made with fresh pineapple, this recipe is delicious with all the nutrients in tact, without any eggs.
Ingredients
2 cups freshly chopped pineapple
¾ cup sugar
1 cup heavy cream
1 cup half and half
½ cup milk
Instructions
In medium sauce bowl cook pineapple with ¼ cup sugar in a medium flame for 30 minutes.
once it is cool enough to touch grind them into fine puree
In a bowl add heavy cream, half and half and milk and rest of sugar and mix well. Make sure to dissolve the sugar completely.
To this cream- half and half- milk mixture add pineapple puree and chill it overnight, or at least 4 hours.
Next morning make ice cream according to manufactures instructions.
If you don't have ice cream machine: try this method.
First freeze a baking dish while you are preparing the ice cream mixture. Pour mixture into frozen baking dish, freeze for 45 minutes. Take it out, break up frozen bits with whisk or spatula. Repeat this process at 30 minute intervals until it's nearly impossible to break apart anymore. Scoop into Tupperware containers and place in freezer until ready to serve.
Swathi Iyer
Swathi ( Ambujom Saraswathy) loves to explore cuisines from all over the world, and write about the ones that she and her family enjoyed on her blog Zesty South Indian kitchen. She loves to gives an Indian touch to several of the world cuisine, and has weakness for freshly baked bread. She is also a mom to two wonderful young kids who gives a up or down vote to the food she creates.