A perfect summer peach is delicious all on it's own, but that doesn't mean it can be made even better with Amaretto, butter and sugar.
By Helena Berthon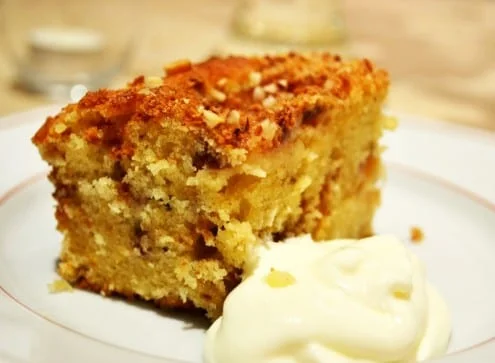 As the hot, balmy days of the English summertime (no sarcasm intended) draw to a close, I felt the irrepressible desire to savour one last, lingering summer treat before we all don huge woolly jumpers and spend our evenings huddled on the sofa tucking into meaty pots of stew – not that stew is a bad thing…at all. Nom nom.
And a true summer treat is a peach. A glorious, furry peach that dribbles sweet, sticky juice all down your chin when you bite into it – a game for your tongue of noisily trying to swipe and slurp every last drop before it all ends with wet, slimy hands and an orange-hued rim around your mouth. YUM. Ah, if only. I live in England. Land of inexplicable mid-summer torrential rains and temperatures that rarely offer sun-bathing potential. Not quite the climate for a fat, juicy peach. So, to the supermarket I go to find these beauties. And what I find is a rock hard bullet; a crunchy, unripe grenade that would do better to be used as a weapon than put into a cake. But this is where the marvels of HEAT come in – whack it in the oven, and what a makeover! The peach of my dreams – and a bit of Amaretto, butter and sugar can only make it all the more dreamy. Complete heaven. Slurp, dribble, slurp.
Fresh Peach and Amaretto Crumble Cake
A perfect summer peach is delicious all on it's own, but that doesn't mean it can be made even better with Amaretto, butter and sugar.
Ingredients
170g butter
170g caster sugar
4 large eggs
180g plain flour
1¼ tsp baking powder
1 tsp vanilla extract
50g almonds
70g Amaretti biscuits
For the baked peaches
4 peaches
50g butter
50g light brown sugar
a good slug of Amaretto
Instructions
Preheat the oven to 180°C. Grease and line a 20cm x 20cm square tin (or similar sized rectangular tin).
Start by halving the peaches, removing the stones and laying them cut side up in a baking dish. Generously splosh over the Amaretto and then dot the butter and sprinkle the sugar over the peaches. Put in the oven for about 40 minutes depending on initial ripeness. They are done when a knife slides through easily. Put the peaches to one side to cool slightly and turn the oven down to 170°C.
In the meantime, make the crumble topping and the sponge mix. For the crumble, put the Amaretti biscuits into a plastic zip-lock bag and bash them with a rolling pin until you get relatively even crumbs. Finely chop the almonds and add them to the bag, giving the mixture a shake to combine. For the sponge, cream the butter and sugar until paler in colour. Add the eggs one at a time, beating well after each addition. Stir in the vanilla extract. Sift in the flour and baking powder and fold to form a smooth glossy sponge mixture. Mash or chop up three of the peach halves and fold into the sponge. Spoon half of the mixture into the tin, then scatter three-quarters of the crumble mixture over the top. Spoon the remaining sponge over the top and then carefully smooth flat. Cut the remaining peach halves into half cm slices and layer in rows on top of the sponge mixture. Scatter over the remaining crumble mixture.
Put in the oven for about 45-50 minutes or until the cake is nicely browned on top and a skewer comes out clean. Leave to cool for 5 minutes before transferring to a wire rack. Fantastic served warm with a dollop of yogurt or crème fraîche as a pud, or on its own at teatime.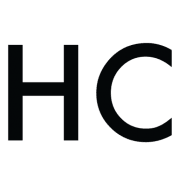 Helena Berthon
Helena is a huge foodie making the most of the explosive gastronomic scene in London, England. She has had her own food blog, http://hellyfillsherbelly.com, for almost two years in which she combines recipes and food styling, with witty and engaging stories. At the moment, she's working all hours in the world of food television, which although hard work, is the perfect opportunity to taste some top notch food. She loves eating, restaurants and cooking, and can't imagine a life that doesn't revolve around food.