So often, simplicity triumphs. A frying pan for the girolles, sautéed in a little butter, a squeeze of lemon, a scattering of parsley and a rich golden Burford Brown egg in the middle of it all, yolk to be broken to gloriously coat the silky mushrooms.
By Helena Berthon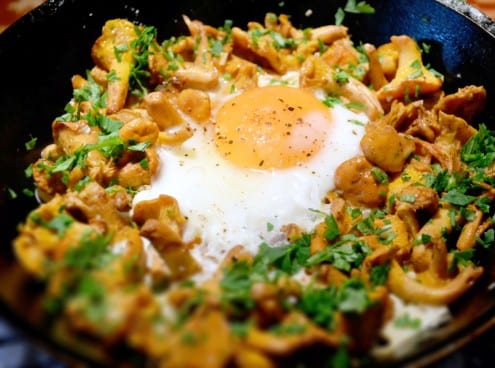 Fresh Girolles, Burford Brown Egg, Parsley, Garlic and Lemon
So often, simplicity triumphs. A frying pan for the girolles, sautéed in a little butter, a squeeze of lemon, a scattering of parsley and a rich golden Burford Brown egg in the middle of it all, yolk to be broken to gloriously coat the silky mushrooms.
Ingredients
A knob of butter or a glug of olive oil
2 large handfuls fresh cleaned girolle mushrooms
1 garlic clove, finely chopped
A squeeze of lemon juice
A handful of chopped flat-leaf parsley
1 Burford Brown egg
Salt and pepper
Instructions
Add the butter or olive oil to a small frying pan and wait for it to heat up. Then, add the cleaned girolles and some seasoning and sauté for about 5 minutes until they are glossy and their smell starts wafting from the pan. Add the chopped garlic and sauté for a few more minutes. Then, make a small hollow in the centre of the mushrooms and crack in the egg, giving it a grind of pepper and a small pinch of sea salt flakes. Cover with a lid or plate and leave the egg to cook until the white is firm but the yolk is still runny. Squeeze some lemon juice over the mushrooms and sprinkle over the parsley. Tuck in immediately. Maybe get a crusty chunk of bread involved too so none of the yolky mushroom sauce goes to waste. Yum.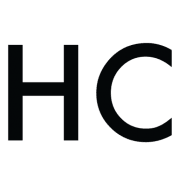 Helena Berthon
Helena is a huge foodie making the most of the explosive gastronomic scene in London, England. She has had her own food blog, http://hellyfillsherbelly.com, for almost two years in which she combines recipes and food styling, with witty and engaging stories. At the moment, she's working all hours in the world of food television, which although hard work, is the perfect opportunity to taste some top notch food. She loves eating, restaurants and cooking, and can't imagine a life that doesn't revolve around food.