This bean dip is surprisingly creamy from the soft combination of white beans with olive oil and keeps well in the refrigerator.
By Rinku Bhattacharya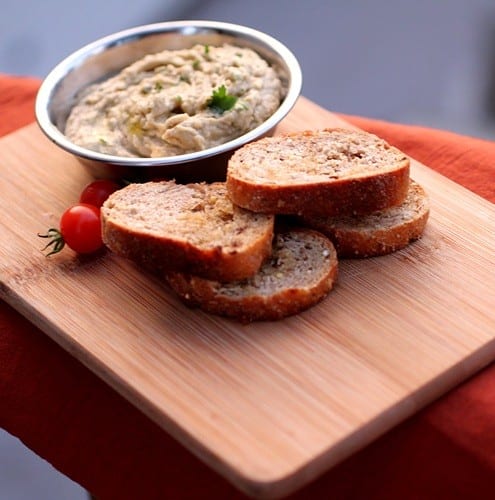 The truth be told, white beans were on my agenda irrespective of the date and time of the year. This being said, one could not ignore the fact that it was summer and pretty close to Bastille Day, I wanted something french inspired and made with low heat. Bastille day as most people know, is the beginning of the french revolution and is celebrated on July14 th. There is nothing revolutionary about this recipe, but it is predictably tasty and full of comforting goodness and made unattended in a slow cooker.
Grilling on a really hot day never quite made much sense to me. I am strange that way. The truth of the matter is, I do not really function well when it is very hot. I tend to get tired, and even the kitchen which is my usual solace seems to become a rather unwelcome place. Well, that is when I turn to my slow cooker.
I am totally back to slow cooking. I use my slow cooker happily and extensively all through the year. It is less about fixing and forgetting, since I do tend to supervise and nurture the dish, it is mostly about the quite cooking that does not generate a lot of heat.
I made this lovely white bean spread last night that is a french classic adapted for the slow cooker. It is surprisingly creamy, mostly the soft combination of white beans with olive oil and keeps fairly well in the refrigerator. The cherry tomatoes are out, so today we enjoyed this with whole grain crostini and tomatoes.
French Inspired White Bean Dip
Ingredients
¾ cup white beans ( I used northern and cannelloni beans)
4 cloves garlic
1 tablespoon freshly chopped rosemary
1 teaspoon red pepper flakes
2 cups vegetable stock
Salt to taste
½ cup extra virgin olive oil
½ lime or lemon
1 tablespoon chopped fresh parsley
Toasted whole baguette slices
Cherry tomatoes
Instructions
Place the beans, garlic, rosemary, red pepper flakes and vegetable stock and salt in a slow cooker.
Cook on high for 3 hours. The beans should be soft and the moisture mostly absorbed.
Cool the mixture slightly.
Place in a blender and add all but 1 tablespoon of the oil.
Squeeze in the lemon juice and blend until smooth.
Place in a serving bowl and sprinkle with parsley and drizzle the remaining 1 tablespoon of oil before serving with toasted whole grain baguette slices and cherry tomatoes.